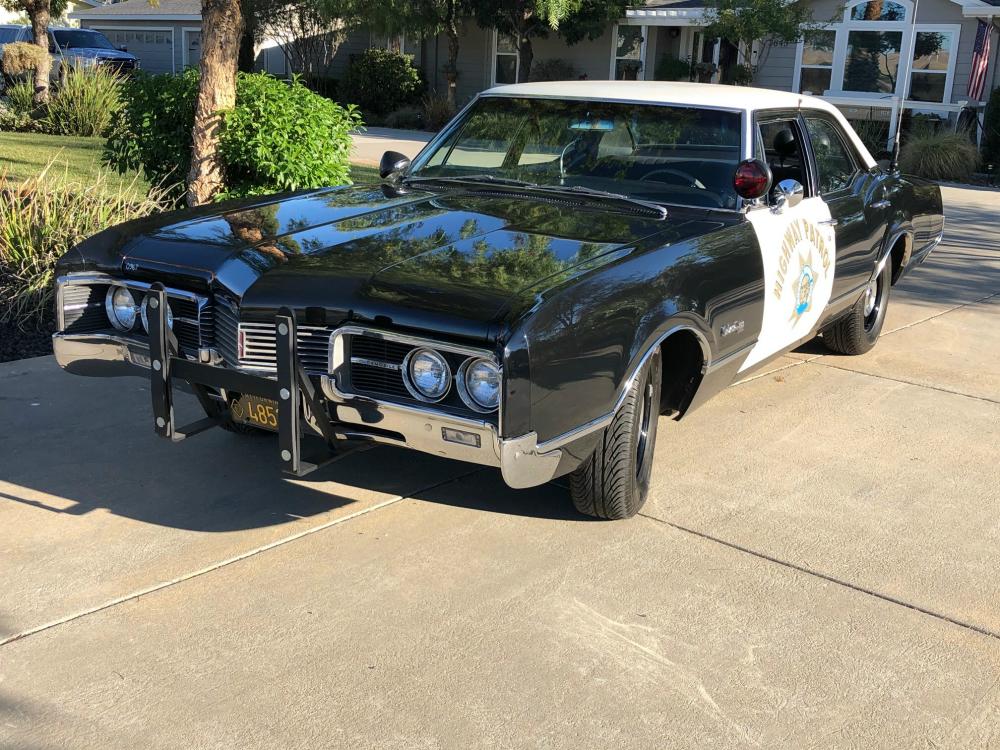 In 1967, Oldsmobile was able to briefly snatch a moment away from Dodge when the California Highway Patrol (CHP) agreed to buy 1967 Oldsmobile Delmont 88 Apprehender's as it's 1967 patrol car.
Sure, it doesn't sound like much: just another fleet transaction, big deal. However, the CHP has historically been one of the largest, if not the largest, purchaser of law enforcement vehicles in the United States. The agency's size has allowed it to demand certain features not normally offered by car manufacturers. Even on police packages. And its purchasing decisions tend to influence other law enforcement agencies across the country.
Factor in that CHP bought Chrysler products exclusively for the previous decade, and Oldsmobile's victory in 1967 came off as quite the coup.
Too bad the victory lasted just one year.
Why that happened remains up for debate. Oldsmobile had plenty of experience producing cop cars; Lansing worked closely with the CHP to produce the division's first police cars shortly after the introduction of Oldsmobile's OHV V-8 in 1949. While Oldsmobile never saw the success in the police car market that Chevrolet, Ford and Plymouth saw, it still developed police packages throughout the 1950s and 1960s. One of those packages, under production code B01, formed the basis for the 1964 4-4-2, which used the cop car's heavy-duty front and rear suspension components, performance rear axle and front and rear anti-roll bars.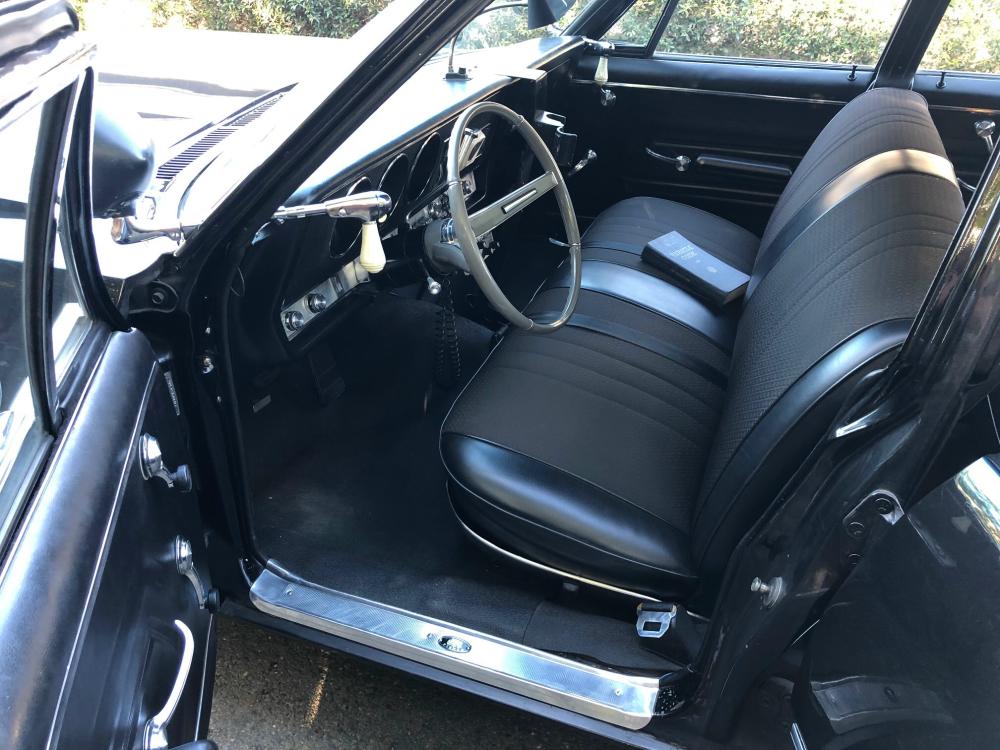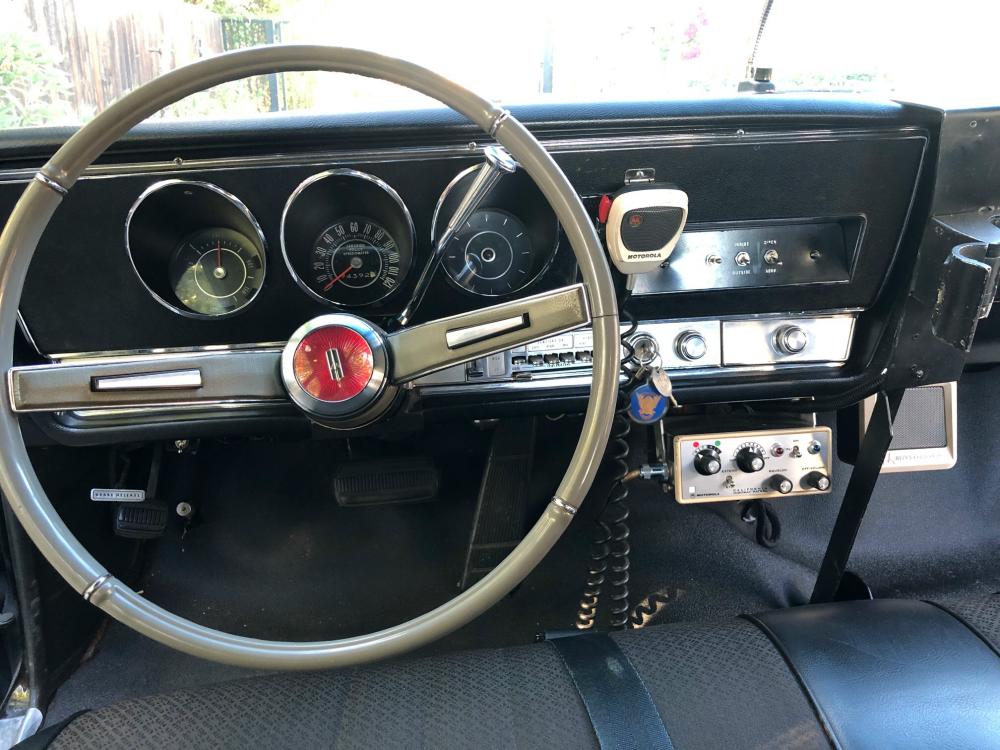 The B01 police package, however, applied to cars ordered for normal police patrol duty; Oldsmobile called it the Apprehender City Cruiser. For law enforcement agencies like the CHP, which demanded more from its cars than daily toodling around town, Oldsmobile offered the severe-duty B07 package, called the Apprehender Highway Patrol.
While Oldsmobile did create B07 packages for its F-85 and Cut-lass intermediates, in the full-size range, the division only offered it on the Delmont 88 and the more upscale Delta 88. Even then, Oldsmobile stipulated that the B07 package in the full-sizes couldn't be paired with the 330-cu.in. engine; instead, those B07s had to use the 425 to get the 4,300-pound behemoths up to pursuit speeds.
Excess weight, however, wasn't much of a drawback for police agencies at the time. According to an article on Oldsmobile police packages from a 1968 issue of Speed and Supercar Magazine, agencies actually sought out heavier police cars.
"It seems that both city and highway police are demanding bigger, heavier cars for cruiser and pursuit work mostly because of the softer ride and additional space," the article read. "The police are finding that heavier cars can give a better ride with the stiff, heavy-duty suspension that's necessary for durability and high-speed pursuit."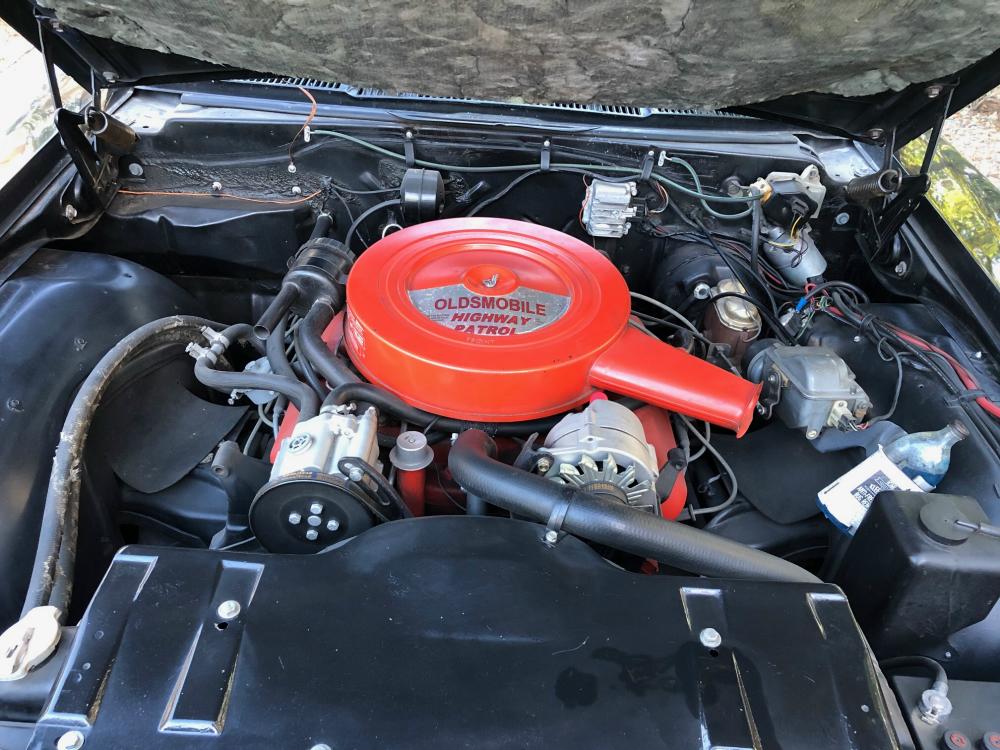 And the available engines of the day had enough brawn to move the bulk. The 425, with its forged-steel crankshaft, developed anywhere from 300hp to 385hp; the latter (engine code RT) was used exclusively in the Toronado, thus leaving the 375hp version (engine code RS, also used in non-police full-size Oldsmobiles) as the top engine in the B07 Delmont 88s.
The exclusivity of the B07 packages came in the suspension modifications that then-assistant experimental engineer Ted Louckes developed. Louckes, who later became Oldsmobile's chief engineer, endowed the B07 packages with stiffer springs all around; the front coils increased in stiffness by 67 percent–from 335 to 560 pounds per inch–while the rear coils increased 108 percent, jumping from 125 to 260 pounds per inch. To handle the stiffer rear coils, he designed reinforced lower control arms in the four-link setup. The front anti-roll bar increased in diameter from one inch to 1.03 inches, and Louckes added a 0.88-inch rear anti-roll bar.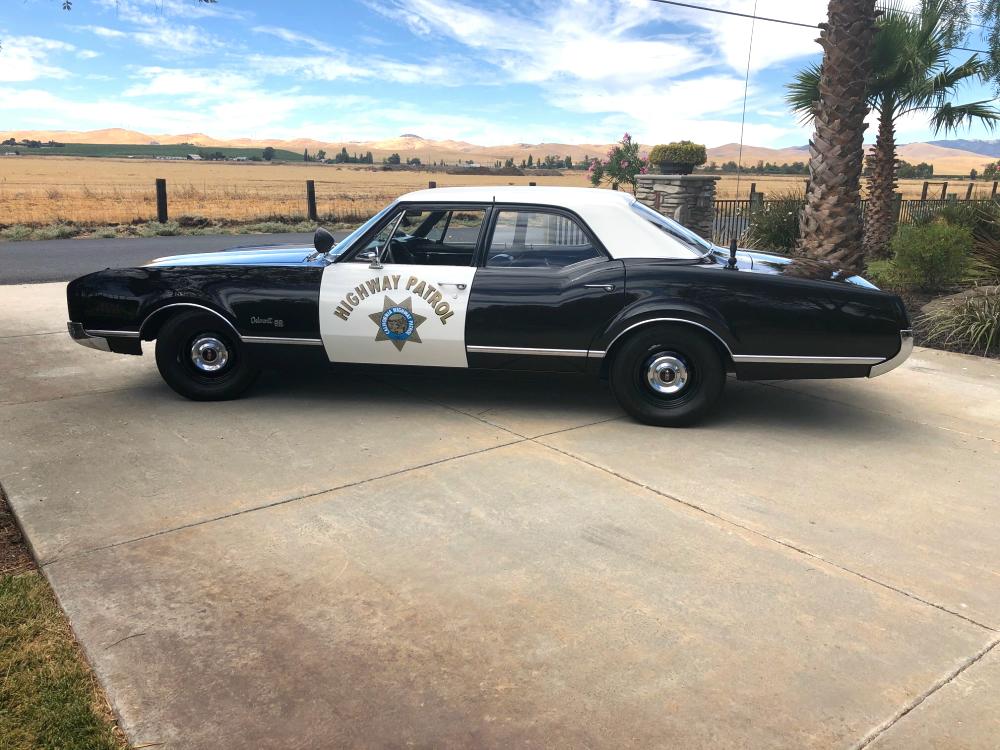 In an interview in that same issue of Speed and Supercar Magazine, Louckes said the addition of the rear anti-roll bar "gives the steering a more neutral feel on high-speed curves, so the front end doesn't tend to plow and feel heavy in the turn. What we're doing, in effect, is to… make the rear tires work harder in the turn. By distributing the cornering work more evenly between the four tires we get more loyal cornering power."
He also said he designed the springs to be so stiff because "these cars aren't always running on straight or smooth highways. Many times a car being chased will dodge off on a rough country road. Or many times a police car will have to run off on the shoulder to avoid another car in a high-speed chase. There have been cases where they have to run partway down into a ditch, and back out at 80 mph.
"This is mighty hairy business… The main reason for the stiff springs is to prevent excessive 'bottoming' of the suspension when we hit hard bumps at high speeds. This bottoming can throw the car out of control or break parts."
Aside from the stiffer suspension, the B07 package also included heavy-duty shocks, a certified calibrated speedometer, heavy-duty cooling equipment and a heavy-duty Turbo Hydra-Matic 400 three-speed automatic transmission. Louckes also noted that the Oldsmobile police packages were built on heavy-duty frames, and noted the use of special, heavy-duty fully welded wheels and a choice of tires: Goodyear Police Special Speedway Blue Streaks or Firestone 500s.
Which all seemed rather sufficient for the CHP. During those years, the agency had a long list of stipulations, from the seemingly mundane–a minimum wheelbase of 122 inches–to the extreme: the ability to maintain 125 mph in up to 120-degree heat for a set amount of time.
From 1956 to 1966, one Chrysler division or another had been able to meet those stipulations and then submit the lowest bid. "CHP always stuck with Dodge; they never ordered Plymouths," said Kevin McLaughlin, a CHP historian and police car restorer. "Only once in that time, in 1962, did they use Chrysler's Newport Enforcer, and that was only because Dodge had redesigned its full-size cars that year on a much shorter wheelbase." Yet midway through 1962, Dodge introduced the Custom 880 on a 122-inch wheelbase, paving the way for further CHP contracts. And a few years later when the Polara adopted a 121-inch wheelbase, Dodge added an extra inch of wheelbase in the police package versions.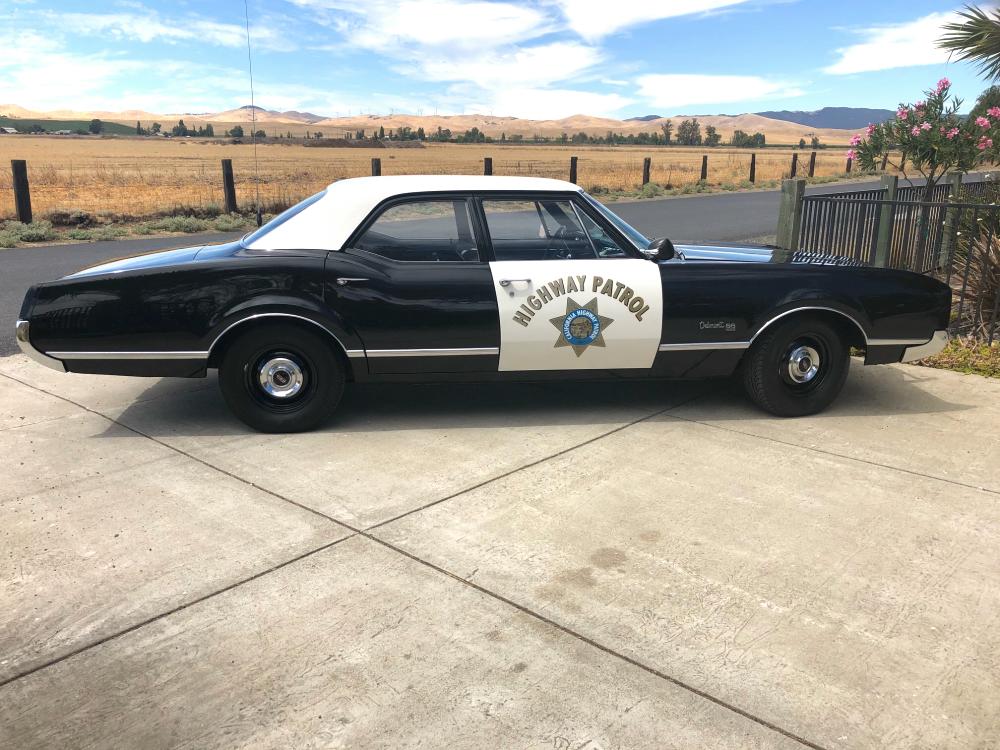 As hard as Dodge fought for the CHP contract, then, it seemed odd that it would lose the contract so easily to Oldsmobile in 1967. Dodge had just redesigned the Polara that year on a 122-inch wheelbase, and had just released a 375hp version of the 440. And as McLaughlin pointed out, Dodge was able to sell Polaras to the CHP for $2,546 each in 1966, about $75 less than what Oldsmobile charged for B07 Delmonts (and in 1968, Dodge dropped the price even further, to $2,433), "so cost probably wasn't a factor," McLaughlin said.
Ed Sanow, author of Dodge, Plymouth and Chrysler Police Cars, 1979-1994, raised another possibility. "By now (1967), the other automakers were accusing Dodge of 'sleeping' with the California Highway Patrol," he wrote. Sanow, however, didn't offer any reason why the CHP chose Oldsmobile (and its related dealership, Foulks Motor Company in Sacramento) over the many other manufacturers that surely vied for that contract. He did, however, offer reasons for why Oldsmobile lost the contract after 1967.
"Some officers described the 1967 Oldsmobile as 'The worst thing the State ever did to us!' " Sanow wrote. "Officers complained of weak brakes and poor handling. Maintaining a full tank of gas and adding three or four boxes of flares in the trunk aided handling; however, extended periods of idling would cause the Oldsmobile to 'load up.'"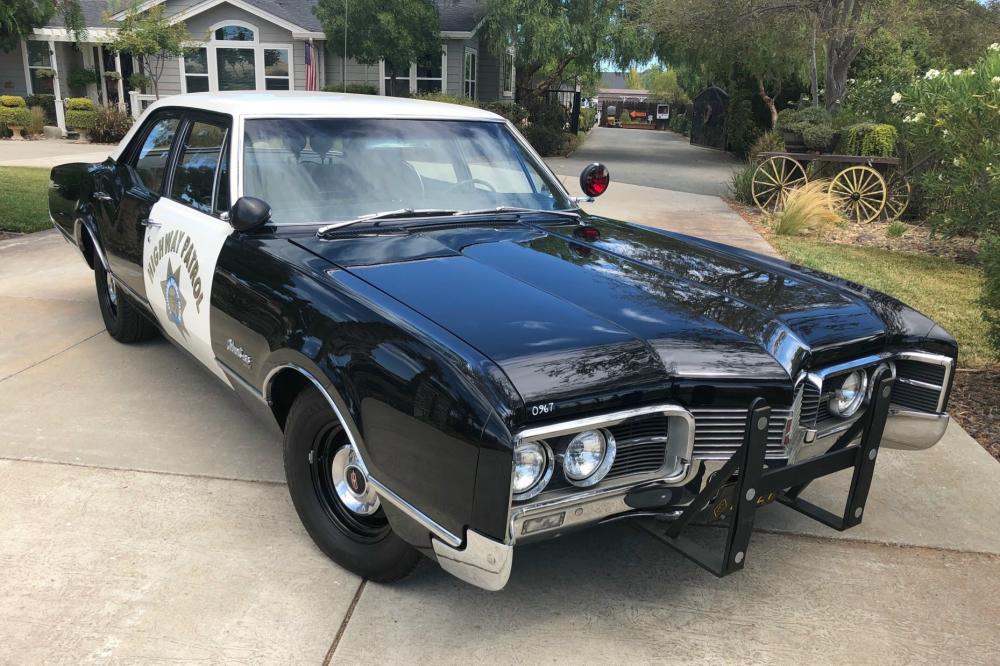 McLaughlin said the CHP issued a thick stack of repair memos while the 1,428 Oldsmobiles that it purchased circulated throughout the agency. The memos describe assorted problems including spark plug fouling, rear springs becoming loose after the cars were jacked up, backfiring and blowing out mufflers, cracks on the lower control arms, and carburetor secondaries sticking and causing the loss of the top end. Additionally, the front pushbar didn't extend far enough to prevent damage to the protruding front corners of the 1967 full-size body. In fact, they were so close to the front of the car that the officers were not able to see it over the hood. The last memo of the series instructed CHP garages across the state to just not bother fixing the corners until the cars were decommissioned.
"Normally, every car has issues, but the CHP just weren't in love enough with the Oldsmobiles," McLaughlin said. "One old-timer told me a story about how a sergeant took a brand-new Oldsmobile out one night, but then couldn't figure out the seatbelts because they didn't have the buttons like the Dodges, so he had to wiggle out underneath the seatbelt."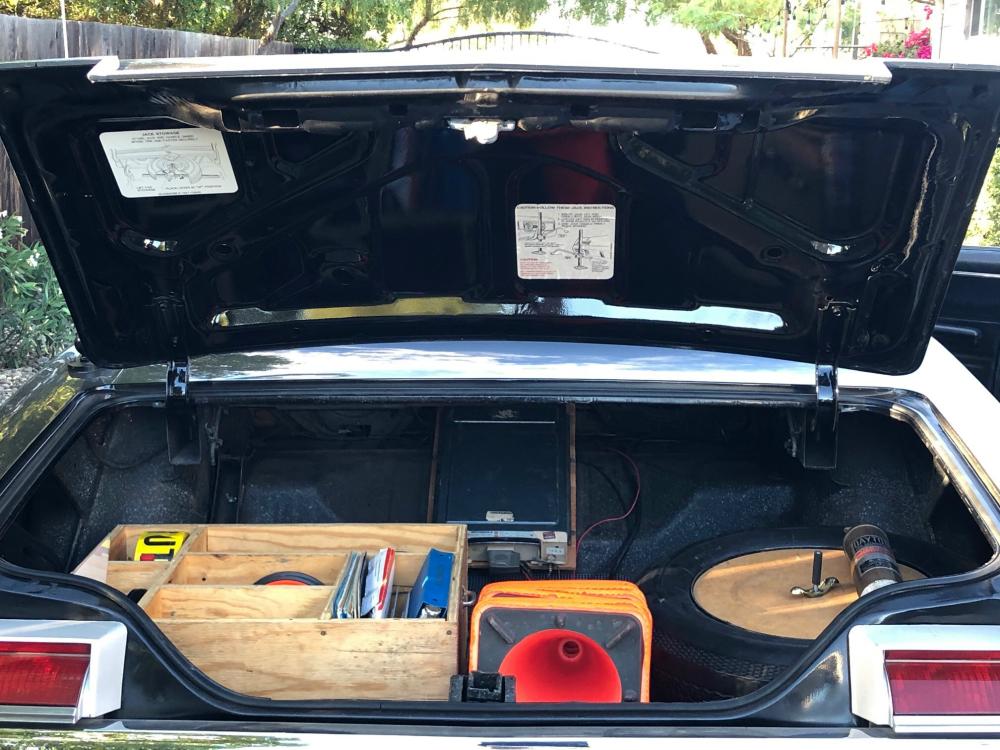 Unsurprisingly, Dodge won the CHP contract for 11 of the next 12 years; only Mercury repeated Oldsmobile's one-and-done act, with the Monterey in 1970.
"Inside is workaday enough that it's barely recognizable as an Oldsmobile," he continued. "No concessions for comfort, no sparkle or flash. Rubber mat, itchy cloth seat that stops at your shoulder blades, no clock or even an AM radio; even the normally chromed door armrest trims are painted black. The only gauge to pay attention to inside the car is the police-certified speedometer, which is the only one that matters if you're hunting down speeders. It's all very austere–but then again, this buggy is built for business, not pleasure.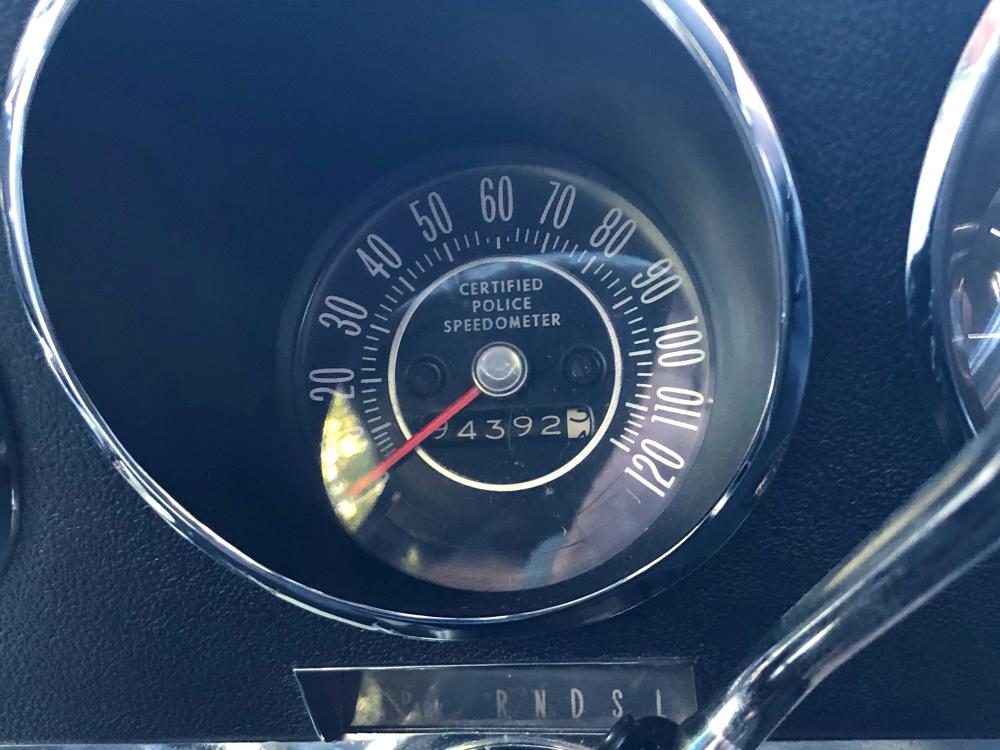 "Twist the key, and the big 425 immediately kicks over into a low rumble–smooth and purposeful on its own merits without the benefit of exhaust or camshaft trickery. Off-idle torque is evident, and the noises through the pipes are delicious and thick with authority, but the explosiveness we were anticipating never arrived.
"Steering is fully manual, with a white wheel to prevent hot hands on sunny California days. The manual box was specified, we're told, to improve road feel in pursuit situations, but between the 20 degrees of on-center slop, the manual steering box's eternal lock-to-lock (even the mildest of bends require half a turn of the wheel or more), and the sheer amount of work you invest behind that spindly wheel, it actually distracts from the rest of the driving experience. At triple digits on the open road, it may make some sense. Around town, it's a distraction.
"And that's just trying to keep it straight ahead. Once you're in the turns, there are massive amounts of lean, and it's easy to squeal the Goodyear Eagle blackwall radials. You'd think there would be a ride tradeoff, that perhaps, being an Oldsmobile, there would be some softness dialed into the suspension as indicated by the low-speed understeer, but there isn't. It may smooth out at highway speeds, but around town, it's crashy and even a little nervous."
So while there's no proof that administrative reasons didn't figure into the 1968 purchasing decisions–Dodge could very well have drastically reduced its bid just to regain the contract–we can see that the officers of the CHP had some very valid complaints about the B07 Delmonts.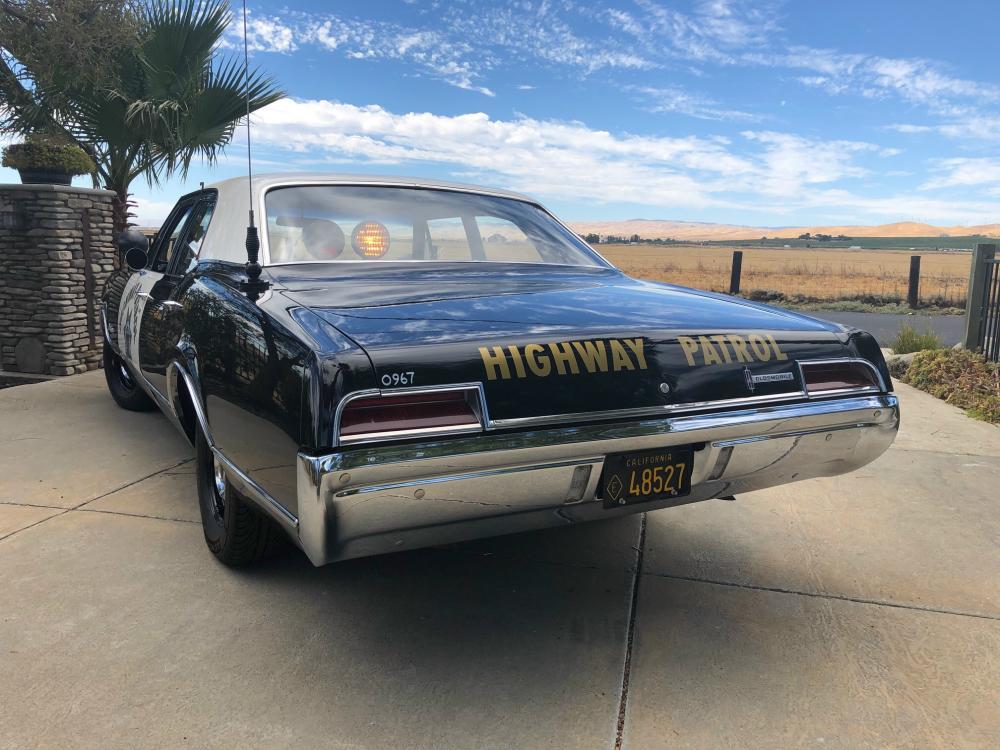 1967 Oldsmobile Delmont 88 Police Apprehender Specifications:
Price Fleet price:
$2,622 Base
MSRP: $3,071
Options on car profiled: B07 Police Apprehender package
Engine Type:
Oldsmobile OHV tall-deck V-8, iron block
Displacement: 425 cubic inches
Bore x Stroke: 4.125 x 3.975 inches
Compression ratio: 10.5:1
Horsepower @ rpm: 375 @ 4,800
Torque @ rpm: 470-lbs.ft. @ 3,200
Valvetrain: Hydraulic valve lifters
Main bearings: 5
Fuel system: Single Rochester Quadrajet carburetor, mechanical pump
Lubrication system: Pressure, gear-type pump
Electrical system: 12-volt
Exhaust system: Dual exhaust
Transmission Type:
Turbo Hydra-Matic 400 three-speed automatic
Ratios 1st: 2.48:1 2nd: 1.48:1 3rd: 1.00:1 Reverse: 2.07:1
Differential Type:
Oldsmobile Hotchkiss-type hypoid Ratio: 3.08:1
Steering Type:
Manual, recirculating ball Ratio: 24:1
Brakes Type:
Hydraulic, power assist
Front: 11.88-inch four-piston disc
Rear: 11-inch drum
Chassis & Body Construction:
Body on reinforced frame
Body style: Four-door sedan
Layout: Front engine, rear-wheel drive
Suspension Front:
Independent, unequal length A-arms
Coil springs
50-50 telescoping shock absorbers
1.03-inch solid anti-roll bar
Suspension Rear:
Four-link
Coil springs
50-50 telescoping shock absorbers
0.88-inch solid anti-roll bar
Wheels & Tires Wheels:
Reinforced steel disc Front: 15 x 6 inches Rear: 15 x 6 inches
Tires: Goodyear Police Special (Currently: Goodyear GT+4 radials)
Front: 15 x 8.45 inches (Currently: 235/70R15)
Rear: 15 x 8.45 inches (Currently: 235/70R15)
Weights & Measures:
Wheelbase: 123-inches
Overall length 217-inches
Overall width 80-inches
Overall height 55.5-inches
Front track 62.5-inches
Rear track 63-inches
Curb weight: 4,327 pounds
Capacities:
Crankcase: 5-quarts
Cooling system: 18.5-quarts
Fuel tank: 25-gallons
Transmission: 9-quarts
Calculated Data:
Bhp per c.i.d.: 0.88 Weight per bhp: 11.54 pounds Weight per c.i.d.: 10.18 pounds
Production:
21,511 Delmont 88 four-door sedans
1,428 B07 Police Apprehender versions purchased by the CHP.
Performance:
0-60 mph: 8.0 seconds
1/4-mile e.t.: 15.3 seconds @ 91.6 mph
More Photos:
Click the photos to enlarge.