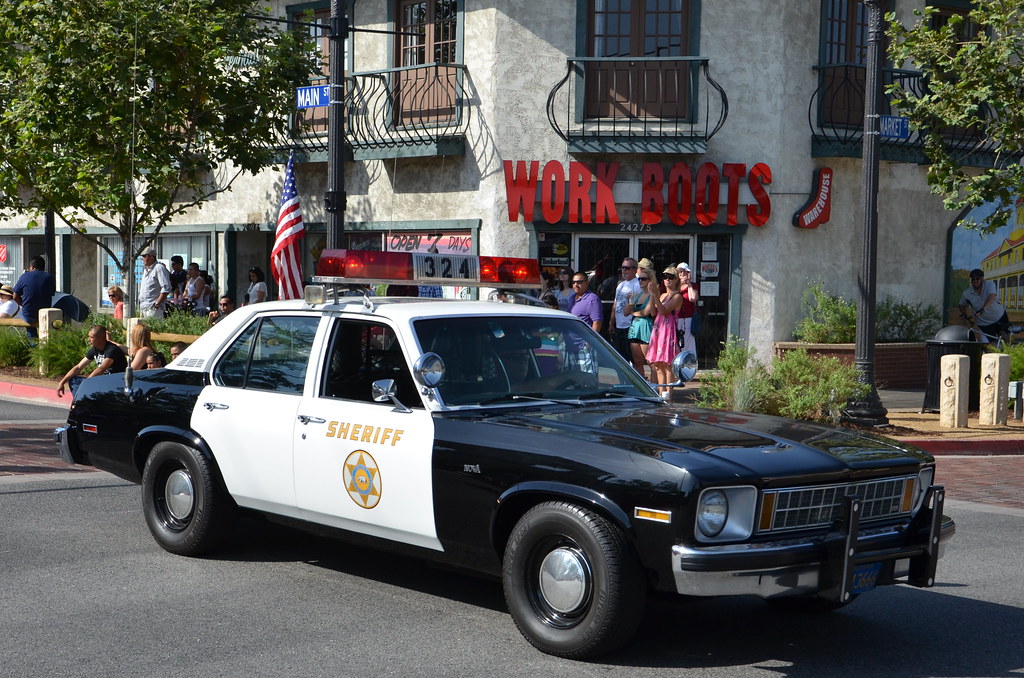 For the 1975 model year the Nova was heavily revamped, and was updated to use the new subframe that Camaro had been using since 1970. The 1975 model year may have been one of the worst years ever for horsepower per cubic inch at Chevrolet, but at least the new Nova handled well to compensate for its lack of power.  Along with the F-bodies and X-bodies, this same basic suspension geometry and control arm design was also used in GM Colonnade intermediates. This is why these A-bodies handled so much better than there much loved predecessors despite their extra weight and girth.  This same front suspension was likewise the basis of the much lauded downsized B-body cars introduced in 1977.
The 1973 OPEC oil embargo had a big short-term impact on auto sales, but it also had some fleet managers starting to think about more fuel efficient options. The Los Angeles Sherriff's Department (LASD) with its massive fleet of gas guzzling police cars was one organization that started to look at more fuel efficient options.  John Christy, Executive Editor of Motor Trend Magazine was a Specialist Reserve Deputy with the LASD.  He was also a big proponent of finding more fuel efficient and cost effective police cars, which he argued would save the taxpayers millions of dollars. He believed that a smaller more fuel efficient police car was a much better choice for police work.  Consequentially, Christy acted as a consultant with the LASD to help design a vehicle test procedure that would identify the best police car to meet needs of LASD.
John Christy, LASD Lieutenant Bill Kirley and some GM engineers met and discussed the future of police cars.  They agreed that it was time to move to smaller patrol cars.  Christy ended up drafting a letter to Jim Williams of Chevrolet Motor Divisions Public Relations Department in January of 1974.  He told Williams that Motor Trend was working in conjunction with the LASD to test the feasibility of using compact cars for law enforcement functions.  His guidelines were that the car must be a 4-door sedan with a wheelbase of 96″ – 112", have a six cylinder or V8 engine with a maximum displacement of 350 cubic inches, an automatic transmission, front disc brakes and air conditioning.  Any carburetion could be used but there needed to be a balance of economy and performance.  Christy ended the letter by saying, "Due to the current energy crisis and the wide interest of government agencies and the public at large in energy saving alternatives, we feel that this program will have wide-spread impact and value for all concerned.  May we count on your assistance?"
Chevrolet for years had offered police packages for their cars, but Chevrolet's police packages were never as comprehensive as Ford and Chrysler's.  That fact was that Chevrolet really didn't need those police car sales and only put in a half-hearted effort compared to the competition.  Chevrolet police car sales reflected this, being dominated by Ford and then Chrysler.  Nevertheless, after receiving this letter from Christy, Chevrolet decided to take up this challenge and put forth a real effort to make a good police car.
Chevrolet assigned two experienced engineers to lead the project.  They were Jim Ingle, a suspension specialist engineer from the F-body program and Harry Hammond of Special Projects, who formerly worked on Chevrolet Taxi projects.  The two engineers started out with a plain white 1973 Nova taxi cab.  The 6-cylinder drivetrain was yanked and replaced with an L48 350-4bbl with dual exhaust rated at 185 hp (SAE net) and a specially tuned TH350 transmission.  The taxi interior remained but they added a heavy-duty radiator and alternator, front disc brakes, larger drum rear brakes and a 3.08:1 limited slip differential.  The Nova got some parts from the Z/28 parts bin including the dual snorkel air cleaner, the 4-spoke steering wheel, and the quick ratio steering box.   The engineers tested several suspension combinations to find the best springs, shocks, bushings, anti-roll bars and eventually found a combination that made Nova handle well.
Once the car was complete, Ingle and Hammond drove the Nova prototype hard and fast from Detroit to California to put it through its paces. It performed admirably. The Nova prototype was tested in LASD's tests with MT and it did exceedingly well.  The LASD vehicle test used traditional police cars as the baseline.  These cars were a Plymouth Satellite, Dodge Coronet and AMC Matador.  However, the Nova wasn't the only compact in the competition.  Other compacts included a 350 powered Pontiac Ventura, AMC Hornet with a 232 six, a Dodge Dart with a 360, and a slant-six Plymouth Valiant.  In addition, there was a specially prepared Volvo 164E that participated, a car that had an excellent track record as a police vehicle in a Europe.
The much more powerful Dart easily outran all the other cars, but wasn't the winner as this test was about overall performance and functionality as a police car. Beside straight line performance the cars were scored on handling, braking, fuel economy, ergonomics, mechanical repair, major component heat test, and communications evaluation.  When the overall test results were calculated the Nova came out as the best American car.  The Nova virtually tied the Volvo, with the Volvo scoring slightly higher at 78.17 versus 78.14 points overall.   MT said the Nova "does everything the Volvo does, though where the Volvo is mannerly, the Nova is Muscular."  In comparison, the traditional Plymouth Satellite, Dodge Coronet and AMC Matador scored 69.831, 68.503 and 67.672 points respectively, scoring significantly lower than the Volvo, Nova and Dart.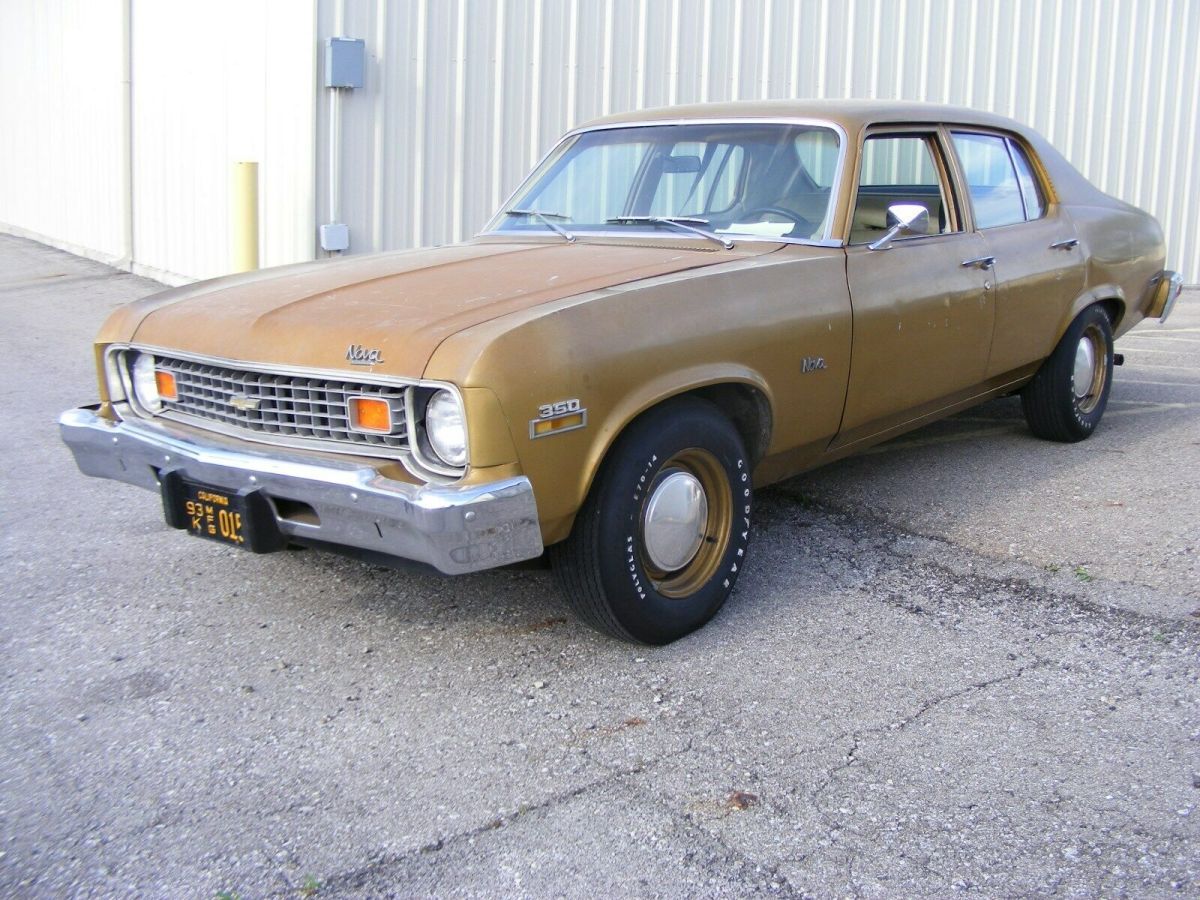 1974 Chevy Nova 9C1 Demonstrator
The LASD was highly impressed by the Nova, and immediately placed an order for (11) 1974 Nova police cars for further evaluation.  The City of Fountain Valley Police also ordered (4) Nova's.  In addition to these (15) cars, there was one more Nova built for the Fleet Sales Manager at Chevrolet's Los Angeles Zone Office to be used as a demonstrator.  That car was later sold to LASD and put into police service.  That demonstrator Nova till exists today, probably the only original 1974 Nova Police car to survive.
These 1974 Nova police cars were essentially prototypes and they were a little on the crude side.  Regardless, they were highly successful in field use and it resulted in Chevrolet making the Nova 9C1 a regular production vehicle available as a COPO vehicle for 1975.  Unlike the full-size and intermediate size Chevrolet police cars, which could be ordered a la carte, the Nova 9C1 only came in one format:  4-door sedan, 350 LM1 engine, TH350 transmission, and 3.08:1 rear axle ratio.  There were no wimpy six-cylinders or half-assed versions.   Chevrolet specifically designed the Nova 9C1 as a complete package.
There were some changes for 1975 production from the 1974 prototypes.  The 350-4bbl LM1 350 replaced the L48 used in the 1974 cars.  The Nova 9C1 LM1 engine didn't see any performance upgrades over the civilian version; however, it did have more heavy duty valve train components to cope with police service. The 1975 model year marked the first year that GM used the catalytic converter, so the true dual exhaust was no longer used.  The Nova had "dual outlet" exhaust where a single exhaust pipe entered a transversely mounted muffler which had dual outlets.  Like civilian models, the Nova 9C1 used GM's new HEI ignition and the dual snorkel air cleaner was replaced with a new cold air intake setup.
Since California was a big market for these police Nova's, the engine was designed to use the California emission package in all versions.  Doing so allowed Chevrolet to better engineer the carb jetting, ignition timing, and camshaft profile to work well with the emissions package. This resulted in a much better overall engine, especially compared to so many engines where the California emissions package was just added on after the fact.  The 1975 LM1 was rated at 155 hp (SAE net), which was a 30 hp drop from the 1974 L48 engine.  Despite this big loss in power on paper the 1975 Nova 9C1 performed better overall than the 1974 car in the LASD police tests.
In addition to the mechanical changes, the redesigned body resulted in significantly improved visibility, a great asset for a police car.  The total glass area increased, in particular the rear door window was larger and the windshield saw a 15% increase in size.
While the 1974 Nova police car prototype had good handling, it came at the compromise of a harsh ride.  The 1975 Nova was redesigned using the formerly mentioned improved front suspension geometry.  This improved suspension design allowed engineers to not only improved handling, but improve the ride comfort.  Motor Trend even went as far to call the '75 Nova 9C1 the first American car to have "European ride."  While, the handling was good, it was not quite in the same league as a Mercedes, in particular on rough roads where its leaf spring axle will hop about. Nonetheless, the point is, this suspension setup was a massive improvement over anything previously offered by the Big Three.
The Nova competed in the 1975 LASD test against the 401 powered AMC Matador and the 360 Powered Plymouth Fury.  While acceleration wasn't the quickest, it handily out braked and out handled the larger police cars.  The Nova was also the most fuel efficient.  The Nova was declared the overall winner and the LASD recommended that one-third of its 1975 fleet become Nova 9C1s.  This was the beginning of the Nova becoming one of the most popular police cars for urban police departments.
The Nova 9C1 continued in production until 1978, with a few changes occurring along the way. In 1976, the 9C1 package was also available on the 2-door Nova, and a new special police rear seat option for the 4-doors gave improved knee room and easier entry and exit.  It continued to be the top performer on the LASD police tests, and in fact became the exclusive police car for LASD for 1976, 1977 and 1978.  By 1978 though, other cars were catching up to the Nova.  Chevrolet had its new downsized Impala, which was closing the gap between the former leviathan police cars and the compact Nova.  While the 1977 Impala 9C1 wasn't a game changer out of the gate, its performance was fairly close to the Nova. It also had fuel economy that was drastically improved over previous large police cars.  Chrysler was also making a more competitive compact police car with the 360 powered Volare and Aspen.  These Mopar's performed and scored close to the Nova.  Like Chevrolet's B-body, these Mopar's wouldn't come into their own until the 1980s when they evolved into the M-body Dodge Diplomat and Plymouth Fury.
By 1979, the Nova 9C1 was gone, replaced by the new downsized A-body Malibu. While also a successful police car that became the LASDs next police car of choice, it certainly wasn't the game changer the Nova 9C1 had been.  Before the Nova, the vast majority of police cars were large cars that guzzled gas, and often didn't have the brakes or handling to match their powerful engines.  The Nova was arguably the best police package of the 1970s and it resulted in the LASD and many other police departments moving to smaller, more fuel efficient police cars.
So while Ford may have been cleaning up selling the sizzle of the Granada, Chevrolet was revolutionizing the police car market. The Nova 9C1 first of Chevrolet's specialized police cars and unlike past Chevrolet police cars, it was a highly tuned package specially engineered for police duty. It was the beginning of Chevrolet's future success with police vehicles that eventually allowed Chevrolet to become the leader in police vehicles during the 1980's, overtaking Chrysler products from their long reign at the top.  Chevrolet would remain at the top until 1996, when the last Caprice 9C1 rolled off the line.
Resource: curbsideclassic.com
1974 Chevy Nova 9C1 Specifications

Engine Cubic Inches
350-V8
Carburetor / Exhaust
4 BBL / Dual
Horsepower @ RPM
185 @ 4000 (155 after 1974)
Torque lbs ft & RPM
270 @ 2600
Compression Ratio
8.5
Axle Ratio
3.08
Tire Size
E70-14
Suspension Front
Coil Springs / Stabilizer Bar
Suspension – Rear
Leaf Springs / Stabilizer Bar
Brakes
Front Disc / Rear Drum
Overall Length
196.7″
Overall Height
53.9″
Weight
3,434 lbs
Wheelbase
111″
Head Room – Front / Rear
39.5″ / 37.3″
Leg Room – Front / Rear
41.7″ / 35.3″
Shoulder Room – Front / Rear
56.6″ / 56.2″
Hip Room – Front / Rear
55.9″ / 54.9″

Performance Results

0-60 MPH
10.0 Seconds
Standing 1/4 Mile
83.0 MPH
Fuel Economy
11.8 MPG
1978 LASD Test Results

Engine
350 4BBL
Horsepower
150 hp
Test Weight
3,650 lbs
Wheelbase
111″
0-60 MPH
9.0 seconds
1/4 Mile Speed
83 MPH
Brake Power
0.905 g
Skid Pad
0.825 g
Fuel Economy
14.1 MPG

More Police Details
The police 350s had more heavy-duty components (e.g., tougher valve springs) that improved durability. They didn't get any performance-enhancing modifications.
The transmission was a special heavy-duty police issue Turbo Hyrdamatic 350. It had an auxiliary fluid cooler and recalibrated shift points. Its higher line pressure allowed it to "spool up" more quickly, giving a slight acceleration edge. Its shifting was quicker and more precise.
The cooling system was heavy duty. This car could idle or run "pedal-to-the-metal" for a long time without overheating.
The brakes were oversized, heavy duty units designed to stop a 4500lb Impala towing a 7000lb trailer. On top of that, they had special heavy duty linings. The Nova could decelerate at 1.2 Gs! The 9C1s also had a more responsive Z28 steering gear and many Z28 suspension parts.
Chevrolet put wiring in place for the overhead light bars and under-dash wiring for radios.
Cops liked the the Nova 9C1s so much because of their excellent handling and decent performance. While they were only designed to be patrol-class cars for city use, they were still just as fast as some pursuit cars of that era.
The Los Angeles County Sheriff's Department (LASD) was the launch customer for the '75 9C1 Nova after a prototype took their 1974 test by storm. In 1976 alone, the LASD ordered 222 9C1 Nova's.
The Nova beat up the AMC Matador 401 after catalytic converters and weight strangled its performance. Since Chrysler was the benchmark of the time, the underdog police Nova 9C1s were exceptional. The Nova 9C1 was one of the best handling road cars available. It was right up there with the 1979-81 R-body Chrysler squads. It could pull .825 Gs on the skidpad. This was better than the modern Crown Victoria Police Interceptor.
Chevrolet concurrently made a 9C1 Nova and Malibu in 1978, and completely discontinued the 9C1 Nova in 1979.
Photos of 9C1 Check Nova's:
Click photos to enlarge.