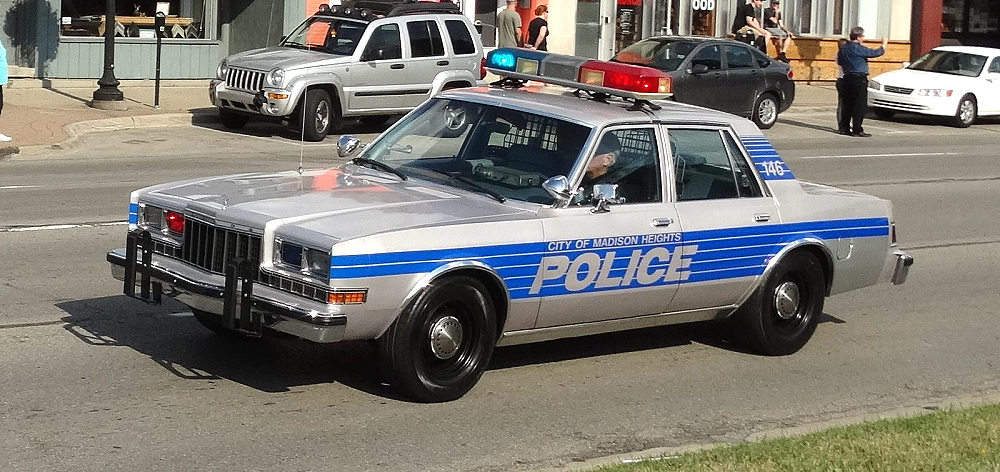 The Dodge Diplomat was restyled for 1980 (M-body), and the police package version arrived in 1981. In 1982 Plymouth started selling the Gran Fury which was basically a rebadged Dodge Diplomat, and was also available as a police package. The only significant difference between the Gran Fury and Diplomat (other than nameplates) was the grille color. On the Gran Fury it was silver, while on the Diplomat it was a dark gray.
The Plymouth Gran Fury and Dodge Diplomat shared the same body from 1982 to 1989, with only grills and tail lights to tell them apart.  The M-body police cars shared many mechanical features with the F-body cars they replaced. The brakes, suspension, and wheelbase were all identical. The Dodge Diplomat and Plymouth Gran Fury did very well as police cars in the 1980's, with price being their strongest selling point.
The Diplomat / Gran Fury were smaller than the Chevy and Ford competition, but had better performance than the Ford up to 1989 and performance better than the Chevy up to 1983, and close performance after that. No styling changes were made to the Diplomat and Gran Fury over their lifetime, Instead the cars were steadily improved in engines, performance and safety features.
For 1985 a SE edition Diplomat went on sale with a restyled front end (looking like a Chrysler 5th Avenue) . A few SE edition Diplomats made their way into police forces, but these cars cost more so not many were sold as police cars, most were unmarked cars.  Cars made after May 1988 had drivers side airbags. In the United States, the Dodge Diplomat out-sold the Plymouth Gran Fury every year as cop cars.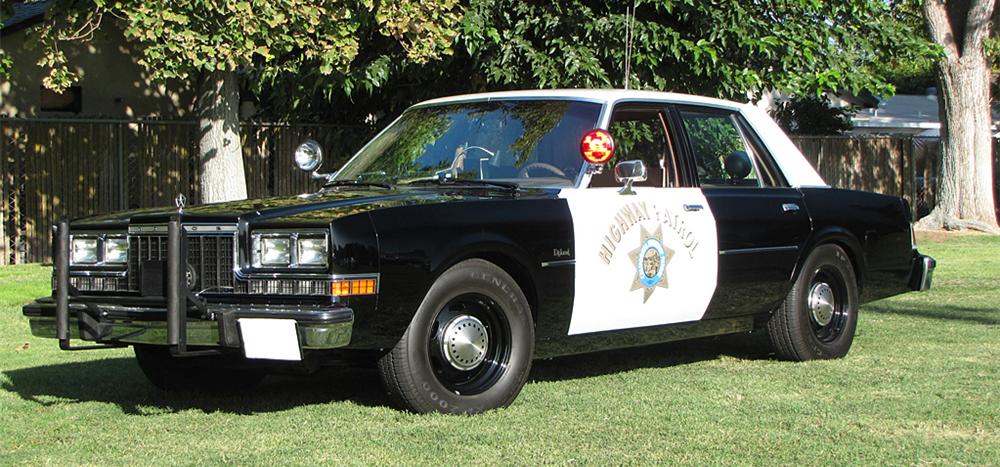 (California Highway Patrol Didge Diplomat)
The California Highway Patrol was a loyal user of Dodge products since the 1950's, and this continued in the 1980's with the Dodge Diplomat. The Diplomat was chosen for enforcement class vehicle in 1981, 1983, 1985, 1986, and 1988. The Ohio State Highway Patrol chose the Plymouth Gran Fury instead. Big cities like New York City and Philadelphia were loyal users of M-body's, and used them to the end of production.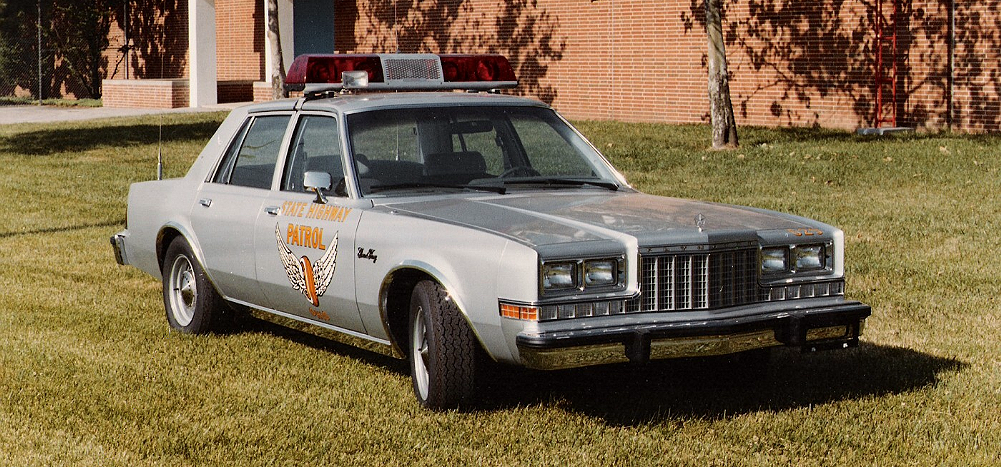 (Ohio State Highway Patrol Plymouth Gran Fury)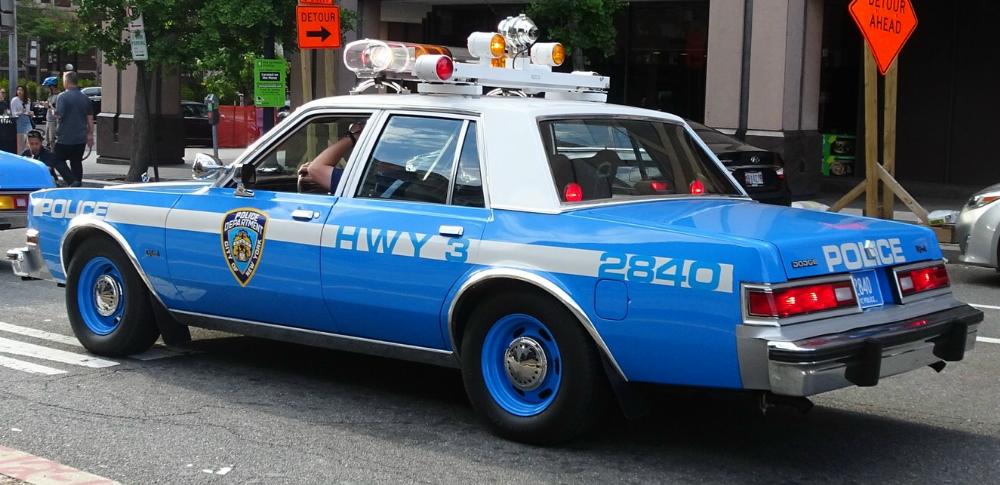 (New York Police Department (NYPD) Dodge Diplomat)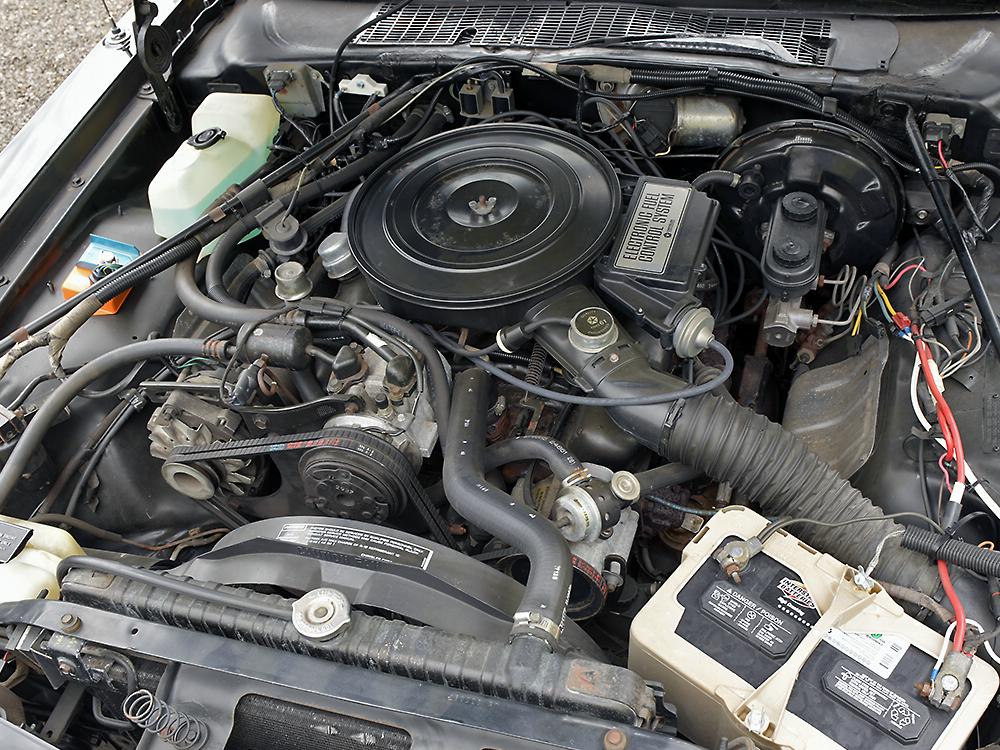 Engines:
225 CID 3.7L Slant 6 – The cars had the option of a 100 horsepower inline 6-cylinder. Gas mileage was around 18 mpg, far higher than the 318 four-barrel V8s, which got around 14 – 15.5 combined city-highway miles per gallon.
318 CID 5.2L V8 – The base motor in the police package was the 318 V8. The 318 with 2-barrel carbs were rated at 120 horsepower at 3,600 RPM and 245 lb-ft torque at 2000 RPM. The 4-barrel carb 318's were rated at 155 horsepower @ 4000 RPM and 240 lb-ft torque at 2000 RPM. In 1985 horsepower was up to 175 horsepower and 250 lb-ft torque. Cars equipped with the 318 four-barrel had roller cams and 360 heads. At the end, the standard 318's gas mileage was rated by the EPA at a lowly 15 city, 19 highway.
360 CID 5.9L V8 – The 360 V8 was an option for the 1981-1984 cars. It made 185 horsepower @ 4000 RPM and 275 lb-ft torque at 2000 RPM. The 360 police engine was identical in output to a standard 360, but toughened for continuous high speed use with a double roller timing chain, forged crank, and windage tray.
Transmissions:
The heavy-duty A-727 automatic transmission was dropped at the end of 1982, leaving the A-904 or A-999 in its place. Danny Moore wrote that the A-998 had four or five clutches while the A-904 had three; by 1975, the A-998 was used with the 360 two barrel, and by 1983 the A-727 was changed to the A-904 in squads.
Performance:
In 1984, the Michigan State Police tested the 318 two barrel and the four barrel, and found that the extra 35 horsepower and 5 lb-ft of torque in the four-barrel cars led to a hefty improvement. The Gran Fury two-barrel managed 0-60 in 13.1 seconds, with a stunning 61 second 0-100 and 19.5 second quarter mile; gas mileage was, however, with a 2.94:1 ratio, 16.5 mpg. The Gran Fury four-barrel, weighing just 35 pounds more, ran 0-60 in 10.9, 0-100 in 34 seconds, and the quarter mile in 18.2. Gas mileage with the same axle ratio was 14.6 mpg, though.
The two-barrel car had a 106 mph top speed; the four-barrel, 121 mph. Numbers varied each year depending on conditions, but aside from a 2.24:1 axle ratio on two-barrels in some years, they were moderately similar. (With the two barrel and 2.24 ratio, the 318 sucked down 14 miles per gallon, and did a 15-second 0-60 in 1989; but the top speed was up to 111 mph and quarter-mile time was 20 seconds.)
in 1985 the model with 4-door sedan body and V-8 318 cui engine size, 175 horsepower (SAE net) of power, 250 lb-ft of torque, 3-speed automatic powertrain offered since October 1984 for North America U.S. Police use only.
Police Package Codes:
The E48 option was the 318 four-barrel; the E45, the 318 two-barrel; the general squad package, A38; and the 360, E58. In 1984, the squad package became AHB, and the two and four barrel 318s became, respectively, the ELD and ELE. The AHB would provide tighter, firm-feel power steering; extra heavy duty suspension with front and rear sway bars, heavy duty front and rear springs, strut bushing, and shock absorbers; and wide-ratio TorqueFlite automatic.
Problems:
There are some weaknesses that dogged the Diplomat/Gran Fury platforms, where extreme usage by law-enforcement agencies uncovered a glaring flaw in the construction. Law enforcement agencies were faced with patrol cars whose front suspensions sagged over time, causing uneven tire wear (from negative camber), poor high-speed handling (from toe-out), and severe brake pull (also from toe-out). While the sagging suspension wasn't a unique event in and of itself, it was quite rapid, particularly under aggressive braking. Plagued with alignment issues when pushed to their limits by law-enforcement agencies, the problem was found attributable to K-members produced from inferior materials on foreign soil. The K-member serves a multipurpose function and is responsible for cradling the engine and locating the suspension, steering, and brakes. The problem was supposedly removed and the situation rectified by the 1988 model year.
Clues That It's A Police Package: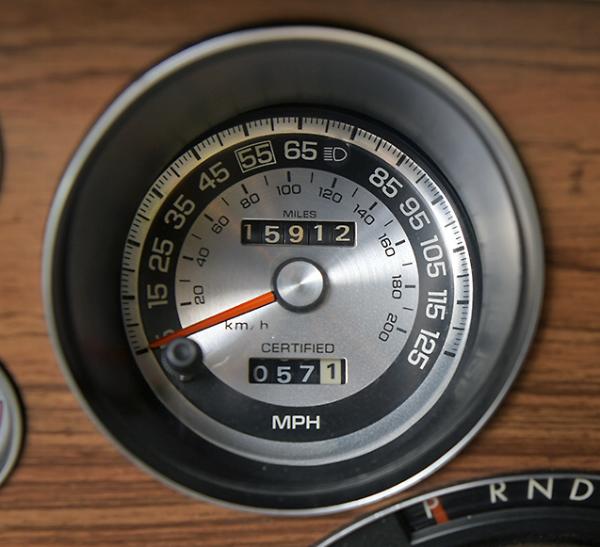 Speedometer – 125 MPH 'CERTIFIED' speedometer.
"S" In the VIN # – This indicates the heavy duty 4bbl 318. This almost always means "police package". A FEW private owners may have ordered that engine option, but they are almost exclusively seen on police cars. However, some municipalities did use police cars with other engine options, i.e. ordinary duty 4bbl 318s and even 2bbl 318s.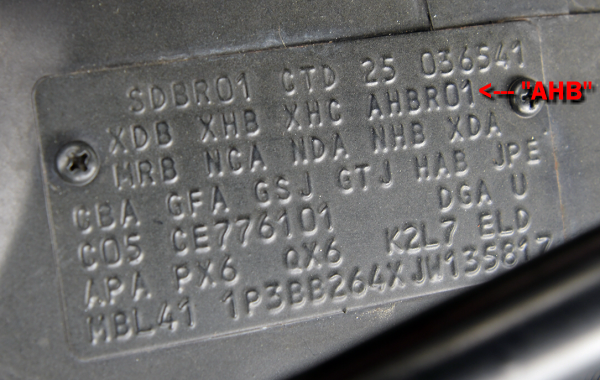 Under hood ID Tag – Look for an ID tag on the top of the left hand inner fender which is held in place by two screws. On the plate is all of the body, trim, paint color, style and manufacturing info. For model years prior to 1984, Chrysler, Dodge and Plymouth used the "A38" designation for police packages. From 1984 forward Chrysler changed the code to "AHB". The code should be in the second or third line of information. A38 was dropped after 1983, it was used on the Diplomat/Fury for the those models with the pursuit six cylinder.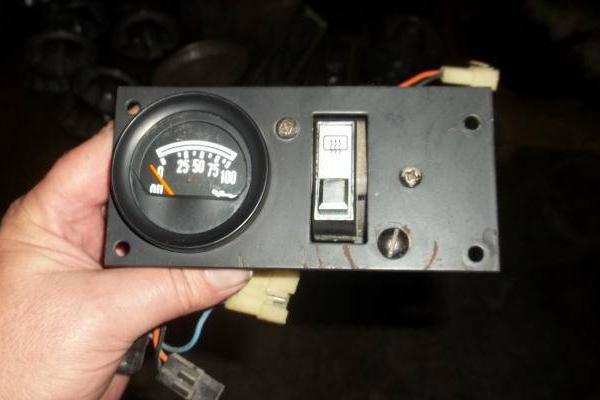 Oil Pressure Gauge – Some of these cars came with a mechanical dash mounted oil pressure gauge.
Other Police Car Specifications Not Found In Civilian Models:
Engine: The engine should be a 318 with 360 heads, four barrel intake manifold, heavy duty exhaust manifolds, double roller timing chain, hyperutectic pistons, special piston-to-block clearances (allowable by use of the hyperutectic pistons), heavy duty chrome plated oil rings, forged steel connecting rods, heavy duty valve springs, high strength rocker arms, high temp cylinder head cover gaskets, high temp valve seals and shields, lubrite treated camshaft (4bbl hydraulic version had 430/444 lift with 268/276 duration, roller version had 391/391 lift with 240/240 duration), nimonic exhaust valves, special kolene cleaned cylinder heads, special silichrome-1 temp steel intake valves, and a heavy duty water pump.
Transmission: Transmissions will range from the heavy duty A727 (definitely available in 1983 and probably later as a special order), the 5-clutch A998 or the A999 (based on the A904). Some police cars may have 1st gear locked out (i.e. no manual downshifting to first gear – only automatic downshifting). This was done by Chrysler to prevent police personnel from slamming down into first to slow down quickly after a high speed chase and to prevent them from doing the same for quicker acceleration thus over-revving the engine. The lock-out may have been removed when the car was prepped for sale to the civilian market.
Suspension: Police cars came with stiffer suspensions and heavier sway bars than civilian versions. Some police cars may also have solid cast iron K-member isolators rather than the civilian rubber ones. This makes the ride somewhat harsher than their civilian counterparts, but greatly improves handling.
Differential: Police cars have the 8-1/4″ differential with Sure-Grip, and should also have the 2.94 gears unless otherwise ordered or changed. Civilian models have the 7-1/4″ rear ends without Sure-grip and much lower gear ratios.
Rear Axles: Police cars have single-diameter axle tubes. Civilian models have the lighter-duty axle tubes that narrow in diameter as they get close to the differential.
Tires: If they haven't been switched, police cars will have wider performance tires. They usually came with Goodyear F32 P215/70 R15 tires.
Wheels: Police cars have 6 slotted 15×7″ steel wheels with 4.5″ bolt circles. Hub caps will usually be the small "dog dish" type that snap onto the center of the wheels.
Brakes: The brakes will have 11″ drums. Civilian versions) are 10″. The only exception to this are taxi packages, which will also have 11″ drums.
Real or Myth?
The rumor goes like this: sometime in either the late 1980s or early 1990s a county in Florida set aside some of their Dodge Diplomat and Plymouth Gran Fury ex-cruisers for drug interdiction purposes. These cars had their 318/904s yanked out and replaced with something a little more special out of the Mopar Performance catalog. There's a bit of disagreement as to what, exactly, the motor was, but most believe it was a crate motor 360 backed to a 727 transmission, though a few claim big-blocks were swapped in instead. Power is usually guessed at 350 wheel horsepower with well over 400 ft-lb of torque, and that top speeds pushing 145 MPH was normal.
Another rumor says that the last Dodge Diplomats used by the FHP was the 1987 Diplomat, with the four-barrel 318. It is claimed that the factory dropped several hundred "mislabeled" 360 engines into the FHP Dodges. These less than aerodynamic cruisers had a 130 mile an hour top speed and could sprint from 0 to 60 in 8 seconds.
Resources:
More Photos:
Click the photos to enlarge