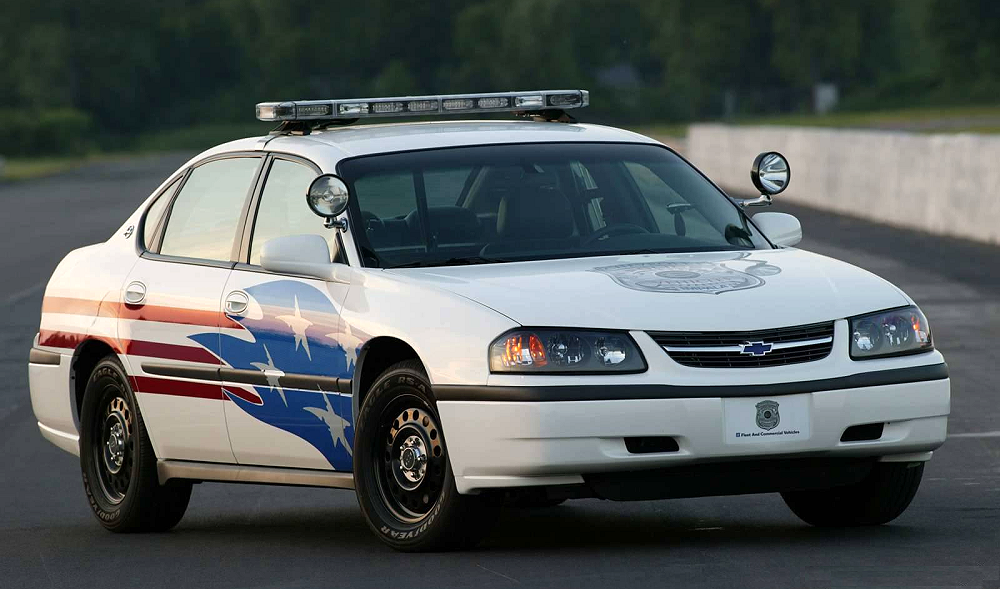 Chevrolet revived the Impala name for the 2000 model year. With a wheelbase three inches longer (though an inch shorter overall) than the Mid-size Lumina, the new Chevy Impala was categorized as full-size by cars.com but mid-size by Consumer Guide Automotive. Based on the Lumina's W-body platform, it was built at Oshawa Car Assembly in Oshawa, Ontario, Canada. Unlike the earlier Impalas built on a B-body, this one was front-wheel drive.
Chevrolet also released a 9C1 Police Package version of the car in 2000, as well as the 9C3 Undercover Police Package first released in 2001. Available only to law enforcement agencies, fire departments, and EMS agencies, it has had much more success than its predecessor, the Lumina 9C3. The 9C1 was a base model with a stronger suspension and the 3.8 liter (231 cu in) V6 engine. It also came with the option for a rear vinyl bench seat and front cloth bucket or bench seats, both cloth front and rear seats, or vinyl front and rear seats. It also offered preparation for a criminal cage to be installed between the front and rear seats. It was only available in a few basic colors. Another addition was the "SURV MODE" switch that replaced the fog light switch found on the LS. This enabled the driver to turn off all lights in the vehicle and "hide"; something not allowed with the civilian models, as automatic headlights were standard. The 9C3 was comparably equipped to the 9C1, but the ability to add other convenience options and more paint and interior choices set the 9C3 apart.
Sales for the Impala 9C1 and 9C3 were strong with law enforcement and they were especially popular with large city fleets such as the NYPD and Philadelphia Police Department.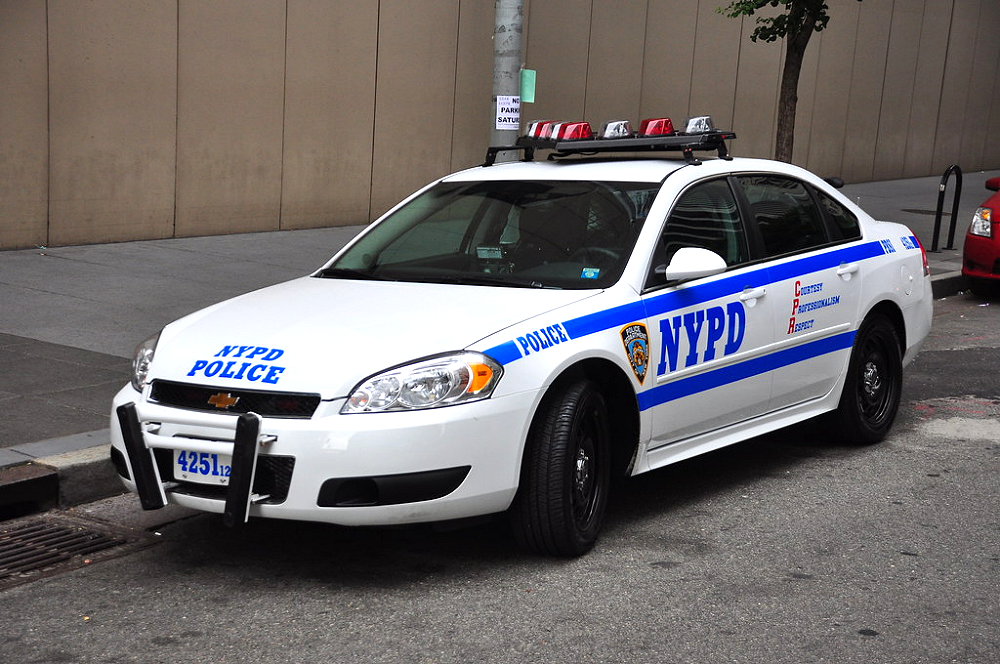 The 2000-2005 Impala was powered by the 3.8L Buick V6 engine that made 200 horsepower and 200 lb-ft of torque. The 3.8L V6 was mated to a heavy duty four-speed 4T65-E HD transmission. Mechanically, the Impala 9C1 featured many upgrades over the standard Impala including auxiliary oil coolers for the engine oil, power steering, and transmission, a heavy duty radiator with heavy duty fans and extended life coolant, heavy duty front struts, heavy duty shock absorbers, police calibrated brakes, heavy duty front brake pads, and a 125 amp alternator. The Impala 9C1 had a 0-60 time of 9.2 seconds and a top speed of 124 mph. Also, traction control was not available on the 9C1. The interior featured several features not available on civilian Impalas including stab-proof front seatbacks, heavy duty front seats, a 100 amp auxiliary power point in the trunk, and "Surveillance Mode"; which was a button that disabled all interior lights to allow officers to hide themselves better. The 9C1 featured a standard AM/FM radio, standard dual zone climate control, a standard driver side torso airbag (2005), and lockout protection; which prevents the driver from locking the keys in the ignition in the event someone tries to lock the doors. This generation 9C1 was very popular with large inner-city departments such as the NYPD.
The Chevrolet Impala was re-designed for the 2006 model year, once again riding on the W-body platform. The 9C1 was also included in the redesign, and it received significant upgrades over the previous generation. For the 9th generation, the 9C1 was based on the LS trim. A 3.9L GM High Value Engine V6 was now the standard and only powerplant, making 242 horsepower and 242 ft-lb of torque. It was mated to a 4T65-E HD transmission, which was carried over from the previous generation. 0-60 time was improved at 8.4 seconds, as was top speed at 139 mph. The steel wheels were also a carryover from the 8th generation Impala 9C1, as were the optional hubcaps. Traction control was once again unavailable on the 9C1 model. The new 9th generation Impala 9C1 featured dual power seats, automatic headlights, cruise control, keyless entry, tire pressure monitor, digital speedometer readout, reinforced front seat frames with a center-mounted crush box, and side curtain airbags (which could also be deleted as an option). Like the 8th generation 9C1, the 9th generation version had auxiliary coolers for the engine oil, power steering, and transmission, heavy-duty police calibrated ABS brakes, a heavy duty 4 wheel independent suspension, and a heavy duty cooling system; this time based on the cooling system from the 9th generation Impala SS. Additionally, the alternator was upgraded to a heavy duty 150 amp unit and the battery was upgraded to a larger 720cca unit. Furthermore, dual exhaust was now standard. For 2007, engine output was reduced to 233 hp and 240 ft-lbs of torque. 2007 models also saw the addition of GM's Active Fuel Management as standard equipment, which shuts off a bank of cylinders to preserve fuel. In 2008, the 9C1 became Flex Fuel capable in a move to compete with the Ford Crown Victoria Police Interceptor. 2008 models also saw the addition of an external trunk lock tumbler. Engine output was once again reduced in 2009 to 224 hp and 235 lb-ft of torque, and 9C1's now featured standard dual zone automatic climate control; which would be deleted after 2010.
The biggest updates to the 9th generation 9C1 came in 2012. The 3.9L V6 was dropped in favor of a much more powerful 3.6L LFX V6. The new 3.6L V6 made 300 hp and 262 lb-ft of torque, and was mated to a six speed automatic transmission. 0-60 time was drastically improved at 7.2 seconds, and the 9C1 now had a top speed of 150 mph. For the first time, electronic stability control was standard on the 9C1. The 2012 9C1 also received larger, 17 inch steel wheels with front brake ventilation via the fog light housings. The front fascia also received a minor refresh in line with the civilian model Impala, which brought SS style upper and lower front grilles to the 9C1. In addition, the rear fascia now had body color trim compared to the chrome on previous models. For 2014, GM released the 10th generation Impala. The 10th generation Impala did not offer a 9C1 version, but the 9th generation Impala 9C1 remained in production alongside the 10th generation Impala with "Limited" badging. In 2016, the 9th generation 9C1 was discontinued. This generation 9C1, like the 8th generation version, was also very popular with inner city police departments.
Performance Evaluations:
2000 Chevy Impala
0-60 MPH: 8.99 seconds
0-100 MPH: 24.92
Top Speed: 124 MPH
2001 Chevy Impala
0-60 MPH: 9.20 seconds
0-100 MPH: 25.40
Top Speed: 124 MPH
2002 Chevy Impala
0-60 MPH: 9.21 seconds
0-100 MPH: 26.27
Top Speed: 124 MPH
2003 Chevy Impala
0-60 MPH: 9.25 seconds
0-100 MPH: 26.73
Top Speed: 126 MPH
2004 Chevy Impala
0-60 MPH: 9.00 seconds
0-100 MPH: 26.42
Top Speed: 123 MPH
2005 Chevy Impala
0-60 MPH: 8.76 seconds
0-100 MPH: 25.29
Top Speed: 123 MPH
Photos:
Click the photos to enlarge.