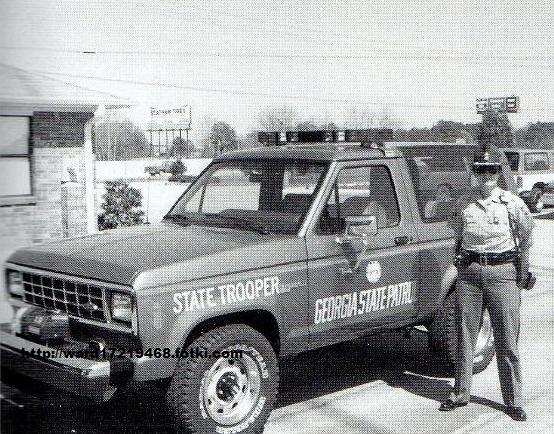 This photo of a Georgia State Patrol (GSP) Ford Bronco II surfaced in an internet search, and the quest to find more information has been slow.
In December 2013 Bobby Edwards (kapracing) got information on every GSP bought between 1983 and 1991. Knowing U14 was a VIN code for the Bronco II, Bobby was able to look through the VIN numbers in the records and found (3) Ford Bronco II's.
1983 Ford Bronco II (sold as a 1984 model year) – VIN 1FMCU14T3GLL22970 – Assigned to the garage and governors mansion
1985 Ford Bronco II – VIN 1FMCU14S7FUB63961 – Perm # 5029 – Assigned to Troop I Post 35 (Jekyll Island) – Assigned to badge #626
1987 Ford Bronco II 1FMCU14T5HUC22593 – Assigned to Post 35 (Jekyll Island)
All were blue in color.
I'm still looking for more photos and information on these Bronco II's, If you have any photos or information on any of the Georgia State Patrol Bronco II's, please use the red 'Submit' button at the bottom right.