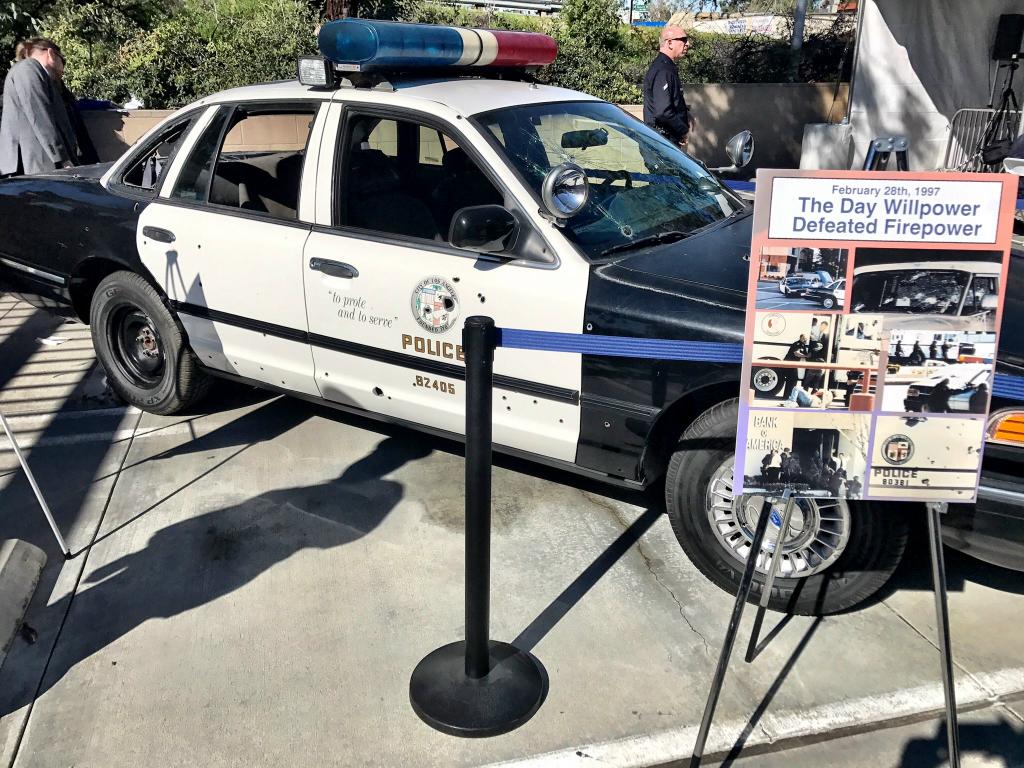 Los Angeles Times – March 5, 1997
NOTE: This is an interview from the Los Angeles Times with LAPD (Los Angeles Police Department) Sgt. Larry "Dean" Haynes about the February 28, 1997 North Hollywood shootout outside of the Bank of America. You may see photos of this LAPD cruiser online, and I want to make sure that the story behind it and the hero's that day aren't forgotten. Sergeant Haynes' police vehicle was shot 57 times, and Haynes was shot in his left shoulder and left leg. 
Somehow, Sgt. Larry "Dean" Haynes, a Los Angeles police officer for 16 years who had never before fired his weapon in a confrontation, survived.
Somehow, Haynes escaped from a furious gun battle with a robber armed with an AK-47.
And somehow, Haynes is home in Canyon Country today with his wife and two sons, recovering from a bullet wound to his shoulder and a graze on his leg.
Looking back on the frighteningly violent shootout at the Bank of America on Friday morning, Haynes said: "I was the luckiest man out there."
Lucky, definitely.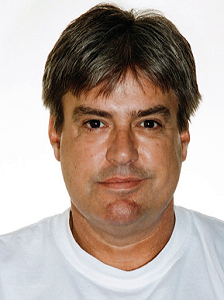 (LAPD Sgt. Larry "Dean" Haynes)
Haynes, one of the first to arrive at the North Hollywood bank when the robbers were still inside, Tuesday became the first officer who had fired a weapon to publicly discuss the shootout.
Parking his black-and-white on Laurel Canyon Boulevard to block southbound traffic, he took position behind the car, catching the eye of a fellow North Hollywood officer who first saw the suspects enter the bank in body armor.
A couple of bystanders ran up to Haynes, eager to tell the mustachioed, 41-year-old police officer that robbers were inside the bank.
But just then, the two gunmen–"dressed like commandos" Haynes said–left the bank. Haynes immediately began sending out reports on his police radio.
"Suspects leaving the bank."
"Appear to be wearing body armor."
"Carrying AK-47s."
The two men looked at the police cars around them and, Haynes said, appeared somewhat surprised. One made eye contact with Haynes, straightened and braced his weapon.
Shouting to the bystanders to stay behind the police car, he yelled at the gunmen: "Get down!"
With that began the shootout in which 11 officers and six civilians were injured and the gunmen killed.
As bullets punched holes in his patrol car, Haynes was hit.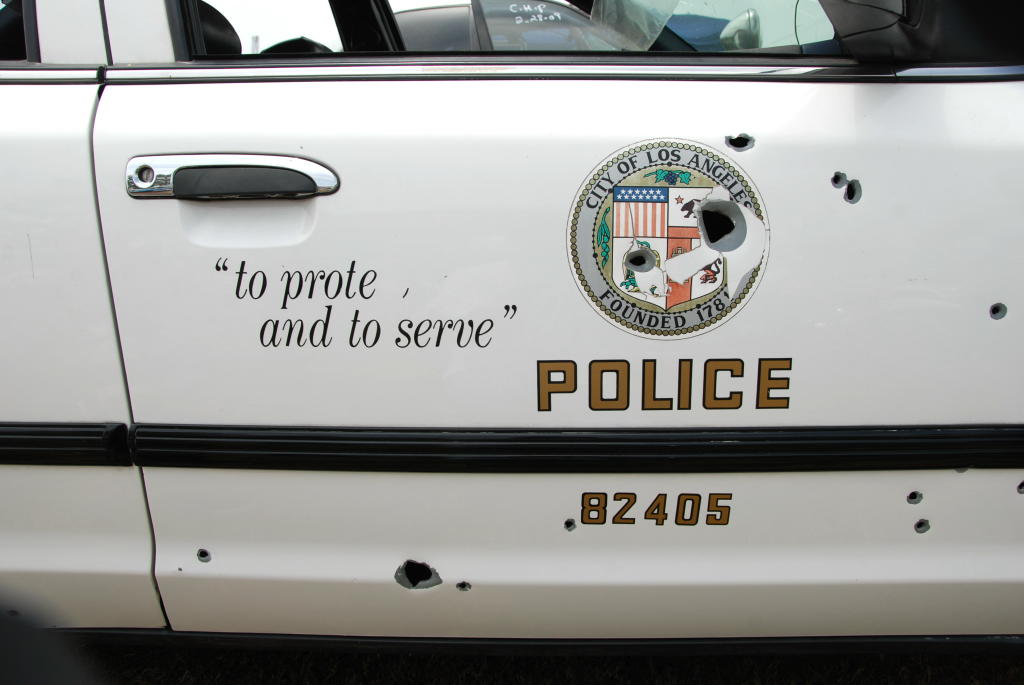 "I felt the bullet in the upper part of my arm near my shoulder. I knew I'd been hit right away," Haynes said. "I was watching the bullets tear through my car and hit the pavement near the people crouched down."
Haynes put out a help call, alerting officers that he had been shot but adding that it did not appear to be serious.
Officers began shooting from other directions, diverting the robbers' attention–at least temporarily. It was this tactic, Haynes and other police say, that saved their lives. The heavily armed robbers could not focus on one target because gunfire was coming at them from all angles.
Said Haynes: "I was so awed by the response by the LAPD officers showing up, they just kept pouring in and engaging this guy. . . . There were so many acts of heroism."
When the robber's attention appeared diverted, Haynes said he began crawling away from his patrol car. "I thought he would run up to my car and finish me off," Haynes said. "I knew I had to get away from that car."
Crawling seemed to take forever as Haynes watched bullets ricocheting off the street and pavement. But then the shooting stopped. Haynes looked up and saw the robber snapping a fresh magazine into his rifle.
Haynes ran to a nearby tree.
"Just as I got behind the tree, one [bullet] zipped by me and it hit my leg," Haynes said. "I knew I had to do something or else this guy was going to have a field day with us."
So, Haynes decided he better fire.
He fired one shot, but the bullet appeared to bounce off the robber. Angry, the robber fired back–not just one bullet but a barrage of automatic weapon fire.
"Every time I shot at him, he would just turn at me and spray," Haynes said.
Haynes spotted a young police officer he knew from the Foothill station. They gave each other a quick thumb's up and then each took a shot at the robber.
When Haynes fired, the robber again tried to shoot him. When the other officer fired his weapon, the robber turned his rage toward him.
"Every shot I'd fire, he'd shoot at least 40 more at me," Haynes said. "Officers were flying in from all directions. It was absolutely awesome."
It was then that Officer Martin Whitfield of the Van Nuys station was hit. He remained hospitalized in good condition Tuesday.
"He was yelling pretty loud when he first went down," Haynes said. But then Whitfield's shouts were drowned out by the cackling of police radios, the whirring helicopters overhead and the deafening blasts of automatic gunfire. "I put out that he was down and that I didn't know if he was conscious."
The gunmen began moving, one walking around the corner on Archwood Street. A much-relieved Haynes, who was broadcasting their movements at every turn, saw an armored truck stop and pick up Whitfield and the wounded bystanders who had been hiding behind Haynes' car.
A SWAT officer, still wearing shorts from his morning workout, popped up, carrying a shotgun. "I felt like John Wayne had come," Haynes said. "As soon as I saw that guy, I knew everything would be OK."
Haynes remained near the tree until he heard on the radio that the two gunmen had been shot. Asking a couple of officers near his car to hand him his cellular phone, he called his wife at work:
"You're going to see a big deal in North Hollywood," he said. "But I'm OK."
He neglected to tell her he had been shot.
A pair of officers drove Haynes a couple of blocks to the Fire Department's command post. From there he was taken by ambulance to Northridge Hospital Medical Center.
His wife, called by a police captain at the hospital, didn't believe her husband had been hurt. "I just talked to him. He's OK," she told the captain.
"I can only imagine what my wife felt," Haynes said.
"I realized I never thought about my wife, my family, my friends, my loved ones until those guys turned the corner," Haynes said. "Before that, it was too hectic. All I wanted to do was survive."
Links:
LA Times – Wounded Officer Tells of His Gunfight For Survival
Police Magazine – North Hollywood Shootout: Baptism Under Fire
More Photos
Click to enlarge.
Video: