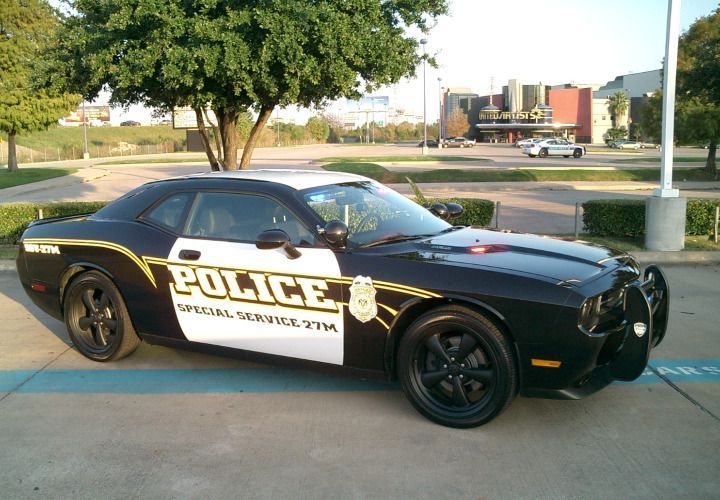 One enterprising Chrysler dealer in Dallas is offering a custom "special service" version of the re-introduced Dodge Challenger that should strike fear into the hearts and minds of traffic violators.
The vehicle comes with a custom-tuned V-8 engine that's capable of more than 400 horsepower, which would make it the most powerful patrol car available, and can reach a top speed of 165 mph.
Instead of a light bar, it deploys a custom LED light kit from Brooking Industries. Black OEM wheels complement a custom push bumper and trunk tray from Go Industries.
Single or dual spotlights ensure suspects won't be hiding in the weeds for long during a search. An electronic shotgun lock in the trunk secures a duty weapon.
Technological additions include a Digital Ally DVM-500 in-car camera and video system, as well as a Kustom Signals directional radar system that allows officers to track speeders using an infrared (IR) remote.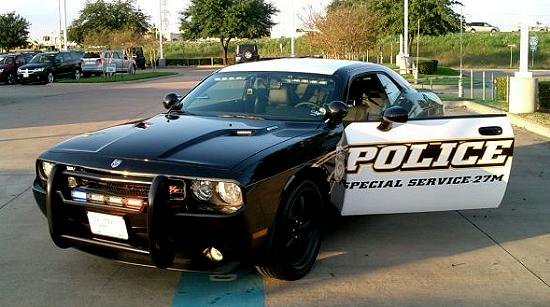 Brooking Industries interior lightbar is mounted in the windshield, along with their LED's on the push bumper.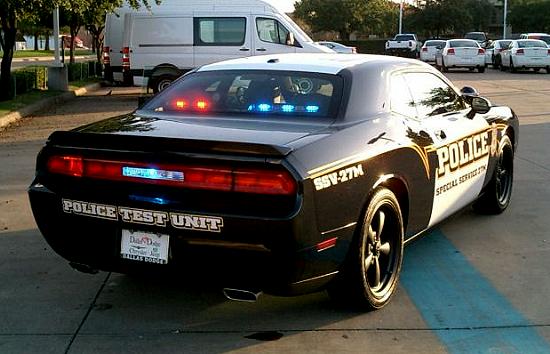 Brooking Industries produces a stealth visor interior light bar for the rear window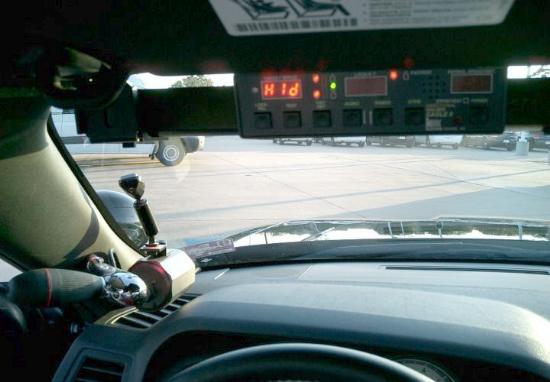 A ceiling mounted Kustom Signals radar allows officers to clock vehicles using an infrared remote.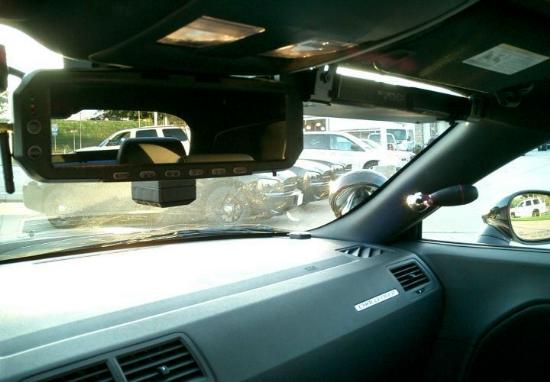 The Digital Ally DVM-500 incorporates an entire in-car video system into a replacement rearview mirror.
Buttons located around the mirror control the camera, microphone, speaker, and recording features.
A GPS marking feature pinpoints the cruiser's location at the time of the incident being recorded.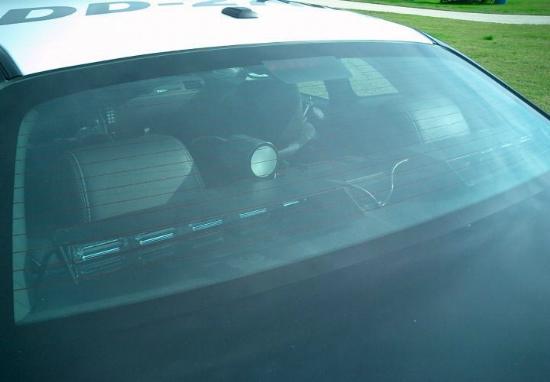 A radar antenna is mounted between the rear seats. Also shown is the interior light bar from Brooking Industries.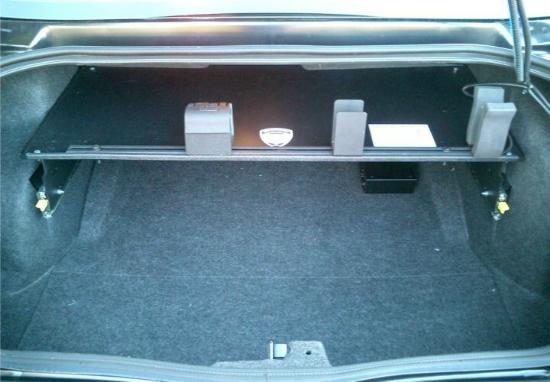 Go Industries provides a custom trunk tray with an electronic shotgun lock to secure a duty weapon.
It's a sliding tray for various police equipment. The black box is the "guts" for the siren and lighting control system.
The vehicle became available at the end of 2009 due to new corporate leadership at Chrysler. New senior manager Mitch Mitchell green-lighted the availability of the Challenger R/T, where earlier executives had denied Bert Stull's (government sales director at Group 1) request. Stull then began polling agencies about what they wanted.
"We had a wide variety of responses, as you can imagine," according to Stull. "Most were directed at speed combined with safety, and not much interest in overhead lights."
"While there is always someone who can put a light bar on the roof of any vehicle, we feel that we have addressed most of our customers' concerns including the availability of spotlights, and gun and trunk space issues that have been questioned in the past."
Law enforcement agencies can add this horse – it's the 2010 Challenger DDSSV-27M – to their vehicle stable by contacting Group 1 Automotive's Dallas Dodge Chrysler Jeep.
Resources:
Police Magazine – http://www.policemag.com
Group 1 Automotive – http://www.group1auto.com/