First – What Is SWAT
Some agencies prefer to use the term SRT (Special Response Team). For the sake of this article, I will use the term SWAT, but they both represent the same thing.
The SWAT (Special Weapons And Tactics) team is generally activated to respond to situations that are deemed high risk and/or require specialized training, expertise and equipment.   The SWAT Team is committed to the safe resolution of all critical incidents and approaches each situation in a professional and controlled manner, with an emphasis on a negotiated resolution.
The primary functions served by the team include:
High-Risk search and arrest warrants
Barricaded subjects
Hostage taking incidents
Suicidal individuals
Riot/civil disturbances
Officer rescue
Surveillance operations
Dignitary protection/ VIP visit
Incidents involving barricaded subjects, hostage takers, or persons threatening suicide represent especially trying and stressful moments for law enforcement personnel who respond to them. Officers first responding to the scene must quickly assess  the totality of the situation, secure the area, gauge the threat to hostages or bystanders, and request additional units as appropriate. Crisis negotiators must establish contact with subjects, identify their demands, and work to resolve tense and often  volatile standoffs without loss of life. Special Weapons and Tactics (SWAT) teams must prepare to neutralize subjects through swift tactical means.   Although it might appear that negotiators and tactical teams work at cross-purposes during a crisis, nothing could be further from the truth. Society requires that law enforcement exhausts all means available prior to launching a tactical resolution to an incident. If these means prove unsuccessful, then the transition from negotiation to tactical assault must be a smooth one.
SWAT is made up of highly skilled officers, each of whom can assume varied responsibilities with a high degree of expertise and proficiency. The unit is prepared to assume full control of specific tactical situations which, by nature, would be considered excessively dangerous and complex, or which would require the use of a specialized team effort rather than independent action by individual officers. Practically speaking, the unit is organized as a crisis intervention team with both negotiation and assault capabilities.  Negotiations initiated by the unit employ modern psychology and negotiation techniques. Stress, logical reasoning, time, utility control, barter and other concepts, tools and devices might be used to ease a crisis.  Assault tactics employed by the unit reflect police strategy of handling and dealing with situations involving confrontations with potentially dangerous suspects. The concept of "apprehension of the suspect" is accomplished through the primary discipline of approaching each situation as a "life saving mission".
SWAT Medic
SWAT units aren't just about weapons and tactics. Most SWAT teams also have a SWAT medic. SWAT medics are equipped and trained to provide emergency medical care in a tactical environment where delivery of emergency medical care to injured or sick civilians and police officers may be delayed.
Medical personnel are usually not equipped to operate under hostile conditions. SWAT medics give the Fire Rescue and Police departments the ability to rapidly provide life-saving service to sick or injured persons in areas otherwise not accessible to traditional paramedics.
Birth of SWAT
In the mid to late 1960s there were quite a few high profile shootings that caught the attention of national media. As a response to the occurrences, including the WATTS Riots, it was determined that a new tactic to deal with potentially lethal force was needed.
The Los Angeles Police Department (LAPD) created the first SWAT team in 1967. The first significant call out for the LAPD SWAT unit came on December 9, 1969 in a four-hour confrontation with the Black Panthers. While serving search warrants for illegal weapons at the Panther's headquarters (located at 41st and Central Streets) the Panthers began a shootout with the 40 SWAT officers. After thousands of rounds were fired (on both sides), only three officers and three Panthers were injured.
The Need For A Vehicle
The SWAT vehicle acts to transport team members and equipment to the scene of the incident, as well as act as a command post to maintain operational organization.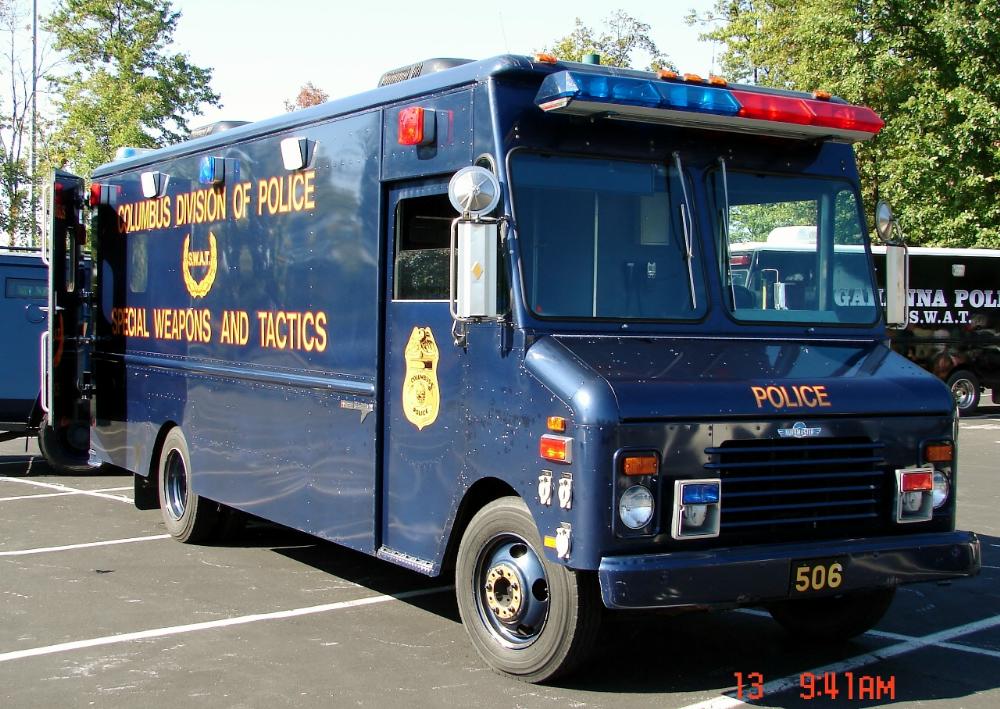 In the early days of SWAT, it wasn't uncommon to see them arrive in a step van such as the one posted above. Some departments may have bought them new, and some may have bought them used. Especially departments with a small budget.
Some agencies even obtained old ambulances from their fire department and modified them for SWAT use.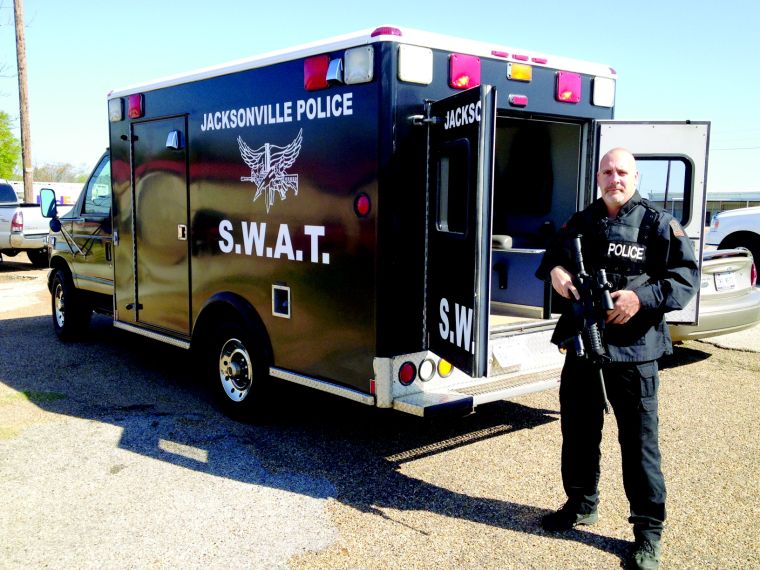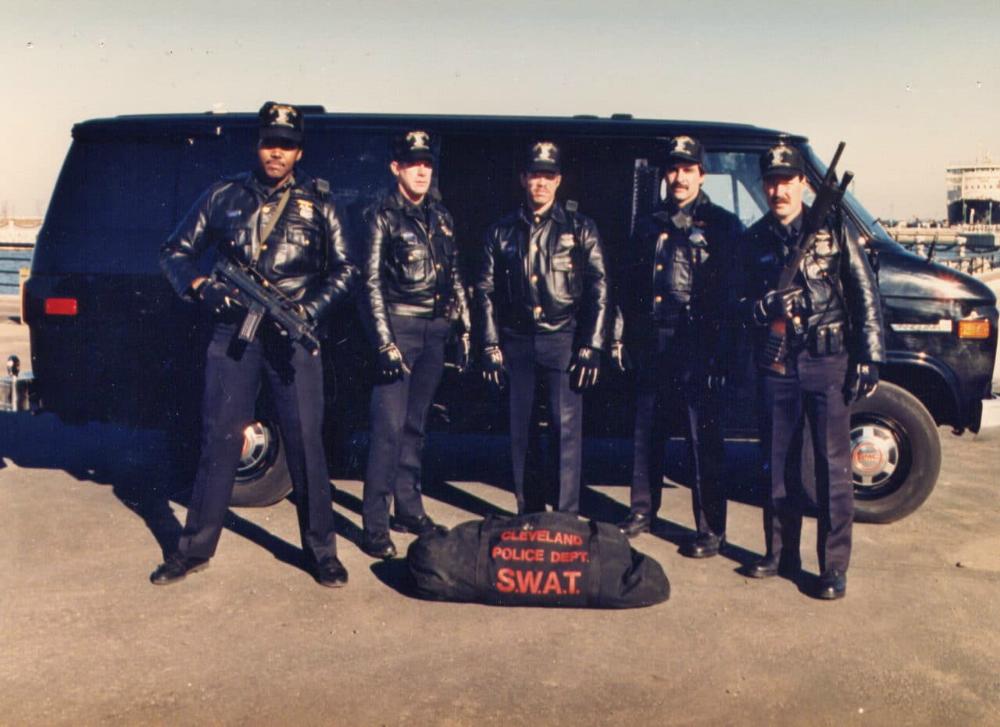 Of course the basic cargo van was a common option as well. Here you can see the Cleveland Police SWAT team in front of a Chevy cargo van from the early 1980's. The van offered a less conspicuous method of transporting the team. Maybe this is where the inspiration for 'The A-Team' came from.
As illegal drugs expanded across the country, SWAT teams found themselves being used more and more for high risk search warrants. The SWAT team would enter the premise to secure it for investigators, and find themselves being shot at by drug dealers.
The Need For An Armored Vehicle
As crime grew in the United States, so did the use of assault weapons. People weren't just robbing banks with handguns, they were going in with assault rifles and body armor.
Such was the case in 1997 when two men wearing body armor and armed with assault rifles robbed the Bank of America North Hollywood branch. Los Angeles Police (LAPD) responding to the scene were armed with 9mm handguns and a shotgun mounted in the police cruisers. The officers soon found themselves outgunned by suspects armed with ammunition that could penetrate a police officers bullet proof vest. The shootout lasted 44-minutes with the suspects firing 1,100 rounds. (12) police officers and (8) civilians were injured in the shootout.
During the shootout an armored car (truck) arrived in the area. Police officers commandeered the armored car and used it to extract a wounded police officer and (2) wounded citizens. The suspects shot at the armored car, but their bullets didn't penetrate it.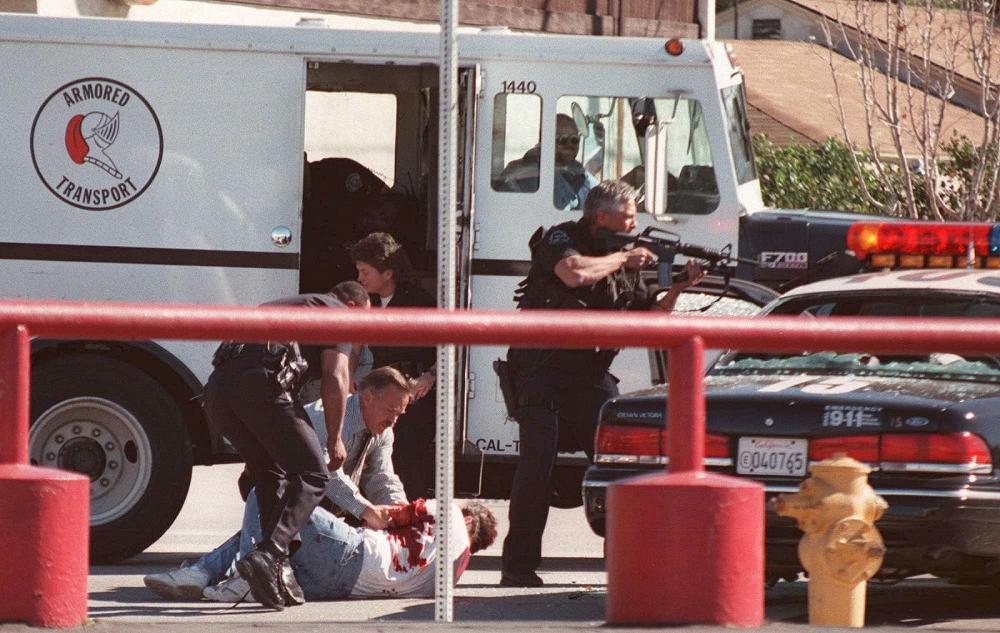 The shootout contributed to motivating the arming of police officers in Los Angeles and nationwide with semi-automatic AR-15 style rifles.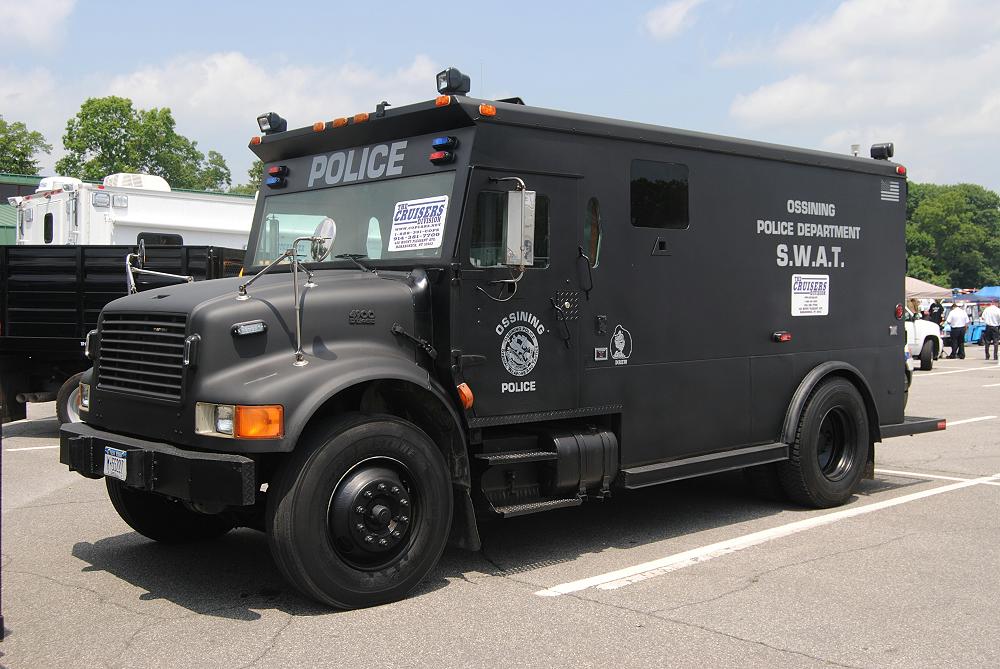 While the LAPD may have used an armored car to rescue victims in that shoot out, it wouldn't be the first time they had been used by police officers. Recognizing a need for an armored vehicle, police departments had already been purchasing used armored bank cars and converting them for SWAT use.
Over time SWAT teams would realize that they would not only need an armored vehicle to transport people safely in and out of violent areas, but also need a way to penetrate areas and breach buildings.
One of the most publicized cases where an armored SWAT vehicle was crucial in ending the situation was June 12, 2016 in Orlando, Florida. A gunman had killed 49 and wounded 58 others at the Pulse Nightclub, and many others were trapped in the building. Police were able to use an armored SWAT vehicle with a battering ram to open a wall and rescue survivors hiding in a bathroom.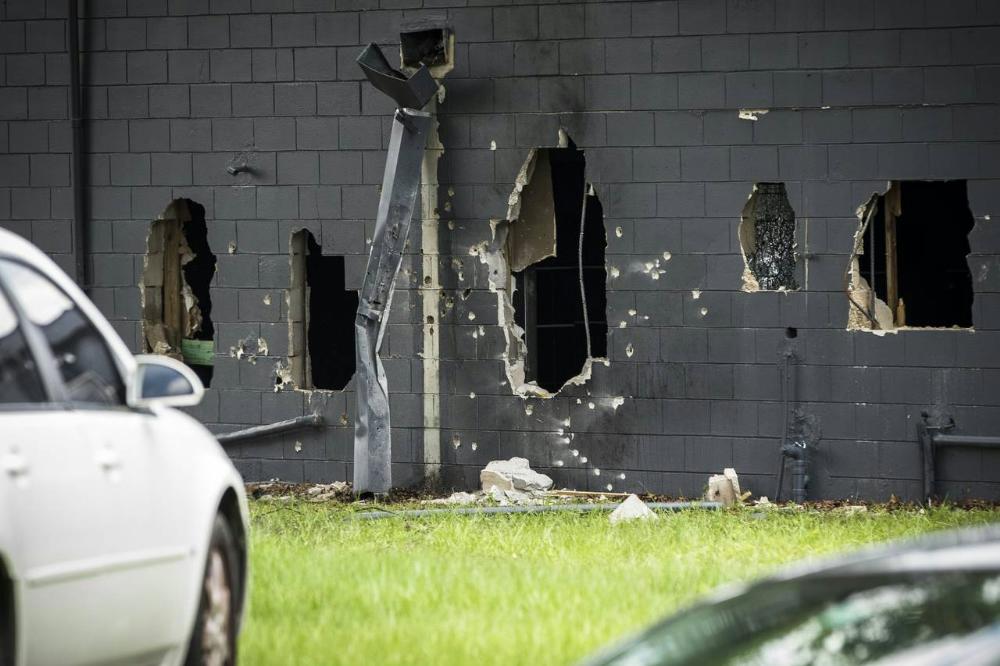 1033 Program – Military Surplus
The 1033 Program was created by the National Defense Authorization Act of Fiscal Year 1997 as part of the US Government's Defense Logistics Agency Disposition Services (DLA) to transfer excess military equipment to law enforcement agencies.
Over the years a variety of military surplus vehicles have been purchased by law enforcement agencies across the country. Here are the most common ones purchased: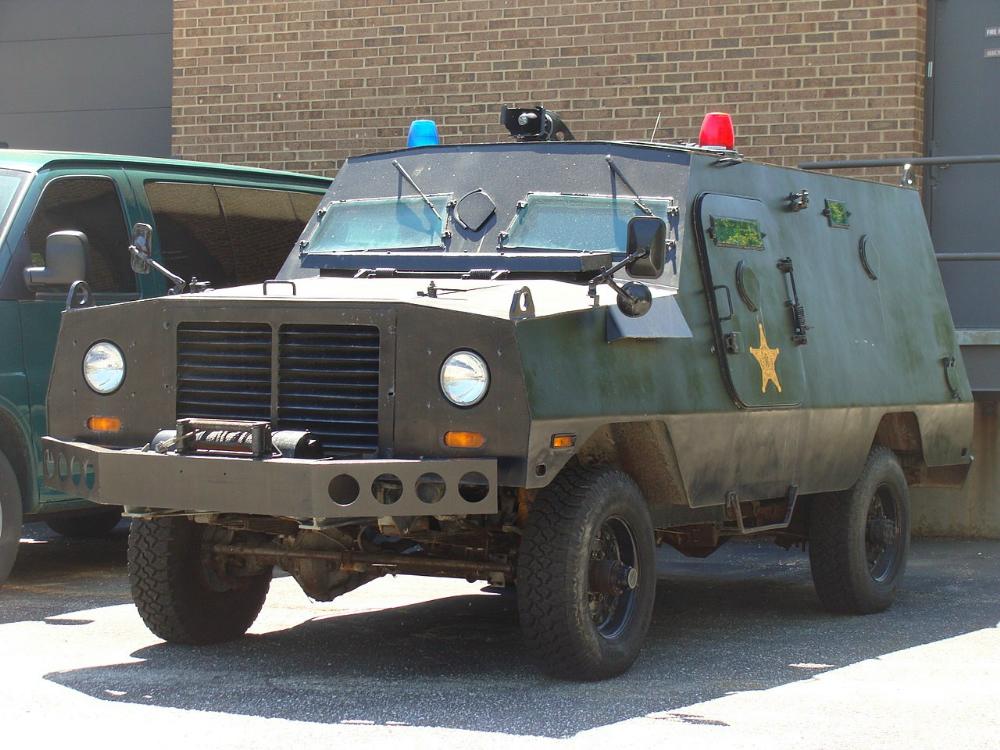 (Cadillac Gage Ranger / Peacekeeper)
The Cadillac Gage Ranger is a four-wheeled armored personnel carrier produced by Cadillac Gage, built on a Dodge truck chassis. The Ranger was first produced in 1979 to meet a USAF requirement for its security forces, which was known as Peacekeeper. The first Rangers made were delivered in April 1980 with 571 vehicles under a contract of $30,532 each. In 1981, another order of 560 Rangers were made for the USAF and the US Navy. In 1994, around 708 were made and in service with the US military. In the same year, 20 Rangers were sold to Indonesia. The Ranger stopped production at some point in the 1990's.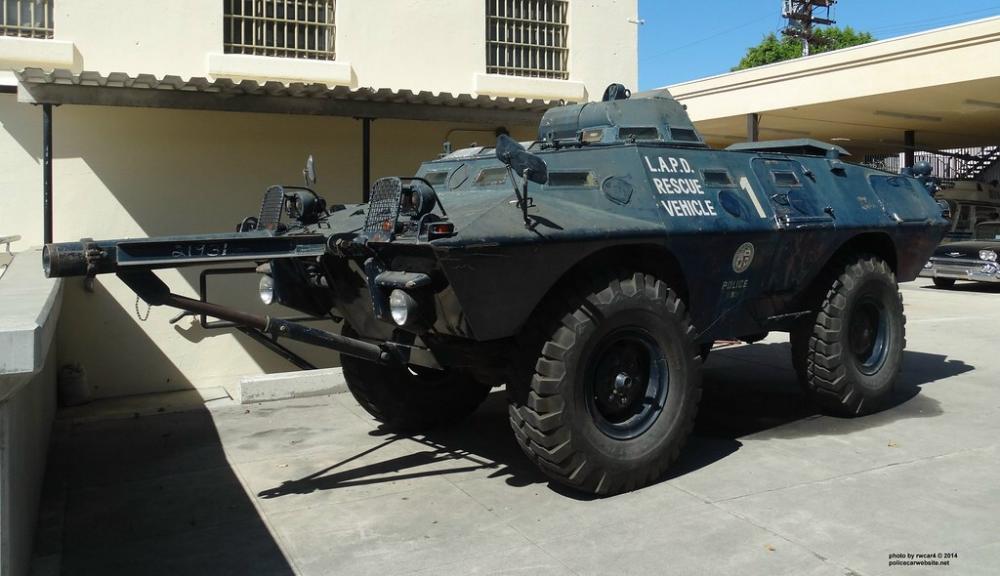 (Cadillac Gage Commando V-100)
The Cadillac Gage Commando, frequently denoted as the M706 in U.S. military service, is an American armored car designed to be amphibious. It was engineered by Cadillac Gage specifically for the United States Military Police Corps during the Vietnam War as an armed convoy escort vehicle. The Commando was one of the first vehicles to combine the traditionally separate roles of an armored personnel carrier and a conventional armored car.
The Commando was originally deployed to South Vietnam in September 1963 for use by the U.S. Army Military Police, United States Air Force, United States Marine Corps and allied forces including the Army of the Republic of Vietnam (ARVN).
For many years the Los Angeles Police Department (LAPD) had used (2) V-100s and used them for high risk warrant arrests. They pioneered the first SWAT teams and were the first to use the V-100 as a law enforcement vehicle. Typically a court issued warrant was required to use them, however the LAPD had deployed them outside of that requirement. On a moment's notice the LAPD Metropolitan Division could have a V-100 (nicknamed the "tank") in the field for shooting scenarios as well as officer assistance calls. Instead of outfitting these vehicles with guns the LAPD would attach a 10-foot battering ram. The battering rams flat end was decorated with a smiley face and captioned "Have a nice day." The LAPD has retired the V-100 vehicles.
Today some SWAT teams around the nation have similar V-100s. On the A&E TV show "Detroit SWAT" a V-100 with a battering ram is often seen being used by the Detroit SWAT team. Most SWAT operations now are more updated with better equipped APCs and armored vans. However, when needed, the V-100 continues to be a valuable tool for making a tactical entrance on a building, residence, etc.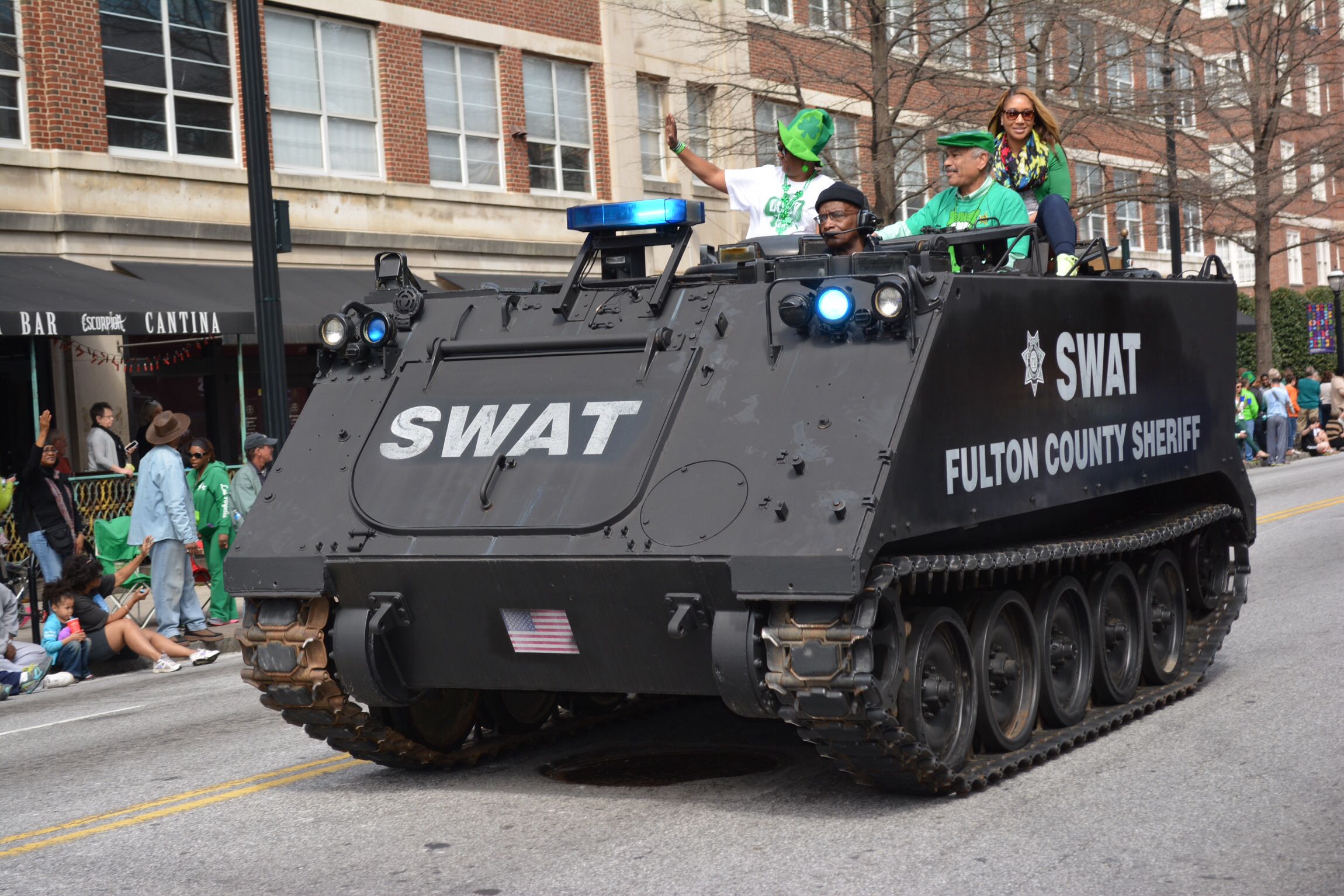 (M113 APC (Armored Personnel Carrier))
The M113 is a fully tracked armored personnel carrier (APC) that was developed and produced by the Food Machinery Corp (FMC). The M113 was sent to United States Army Europe to replace the mechanized infantry's M59 APCs from 1961. The M113 was first used in combat in April 1962 after the United States provided the South Vietnamese Army (ARVN) with heavy weaponry such as the M113, under the Military Assistance Command, Vietnam (MACV) program. Eventually, the M113 was the most widely used armored vehicle of the U.S. Army in the Vietnam War.
Tracked vehicles were no longer allowed to be used by law enforcement after a 2015 executive order by the Obama administration. Agencies removed their equipment and returned the tracked vehicles to the government.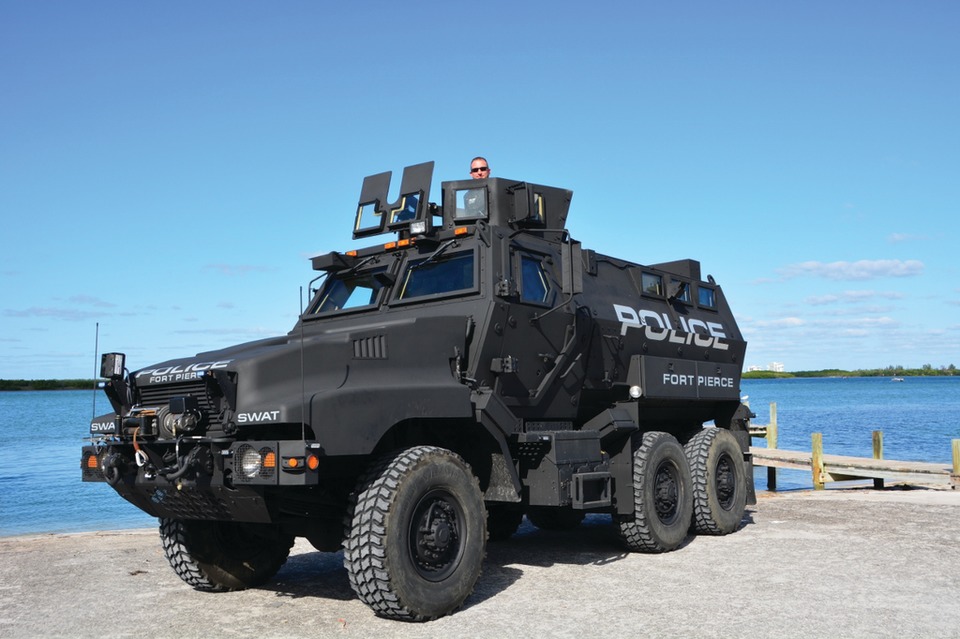 MRAP (Mine Resistant Ambush Protected) Vehicle
Mine-Resistant Ambush Protected (MRAP) is a term for United States military light tactical vehicles produced as part of the MRAP program that are designed specifically to withstand improvised explosive device (IED) attacks and ambushes. The United States Department of Defense MRAP program began in 2007 as a response to the increased threat of IEDs during the Iraq War. From 2007 until 2012, the MRAP program deployed more than 12,000 vehicles in the Iraq War and War in Afghanistan. Production of MRAP vehicles officially ended in 2012.
In 2014 the U.S. Government had 13,000 MRAP vehicles that it was looking to scrap. These vehicles are now being offered to law enforcement agencies under the 1033 program. Since the vehicles have been bought and paid for by the U.S. government, they are owned by the Department of Defense. These vehicles can be "transferred" to law enforcement agencies, and the agency only has to pay for having it shipped to them.
While the MRAP may be a huge vehicle, law enforcement agencies can only choose from the vehicles the government has a surplus of. Many agencies that have MRAP's got them to replace older unreliable vehicles that they have owned for decades.
Lenco BearCat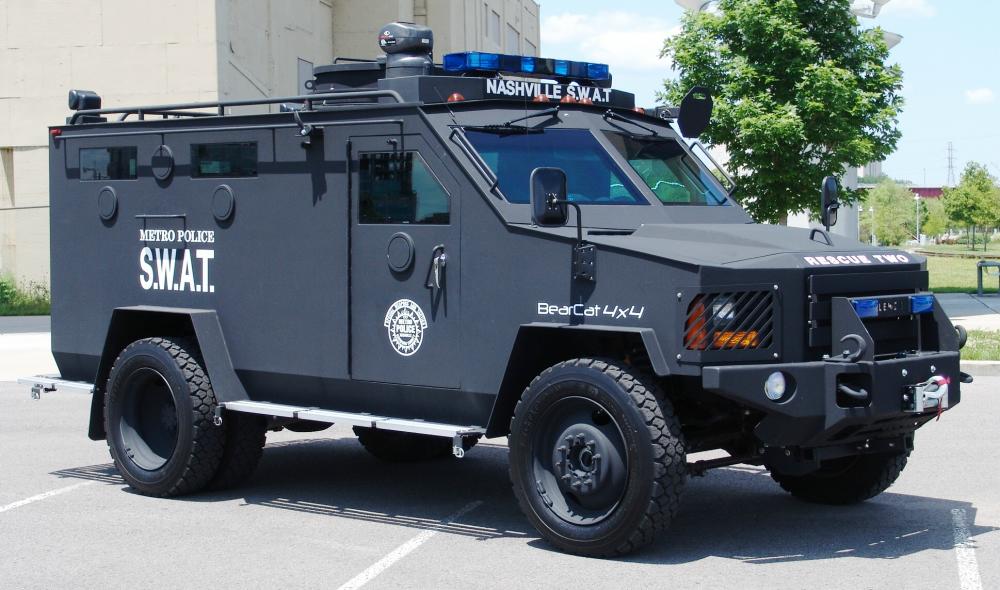 (Lenco BearCat)
Since 1981 the Massachusetts-based Lenco Industries, known as Lenco Armored Vehicles, has designed and manufactured armored vehicles for law enforcement, military, government and private security forces. Lenco has produced more than 5,000 armored vehicles for use in more than 40 countries worldwide.
The BearCat is one type of vehicle produced by the company that is in use by numerous U.S. military and law enforcement agencies and is also used by all state and territory Police Tactical Groups in Australia purchased by the Australian Government. The name BearCat stands for Ballistic Engineered Armored Response Counter Attack Truck as it is the smaller cousin to the Lenco B.E.A.R. The Bearcat is based on a Ford F-550 Super Duty commercial truck chassis with two available engines (the V10 Triton Gasoline and the 6.7L Turbo Diesel), and a six-speed automatic transmission. The .5-1.5 inch thick mil spec steel armored bodywork is completed with .50 BMG rated ballistic glass capable of multi-hits, blast-resistant floors, gunports, roof hatches/turret and agency specific equipment and/or modifications such as lights/sirens/battering ram/winches/thermal cameras and spot lights.
The first BearCat was designed and completed in August 2001 as a spin-off product of the larger Lenco B.E.A.R., with input from Los Angeles County Sheriff's Department Special Enforcement Bureau (SEB) as an updated and improved version of their military surplus Cadillac Gage Ranger "PeaceKeeper" armored vehicles.
The cost of a new BearCat is $200,000 and can exceed $300,000.
Lencoarmor.com
Do Agencies Really Need Armored Vehicles?
Yes.
Look back at all of the mass shootings that have happened in this country. When there is an active shooter and you have shooting victims, time is critical. Armored vehicles allow SWAT members and medics to enter these scenes, remove the victims, and provide a safe shelter in the process. They've also been used to breach buildings and rescue victims and hostages.
Remember, the police really are there to serve and protect. If you ever find yourself stranded in a natural disaster, you'll likely be relieved to see one on these big MRAP's coming to rescue you.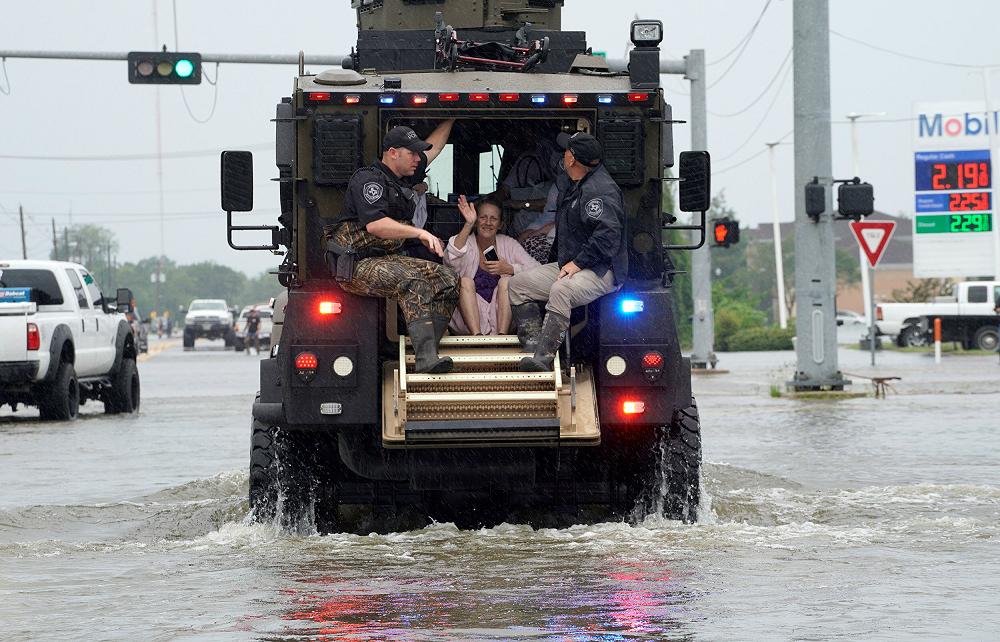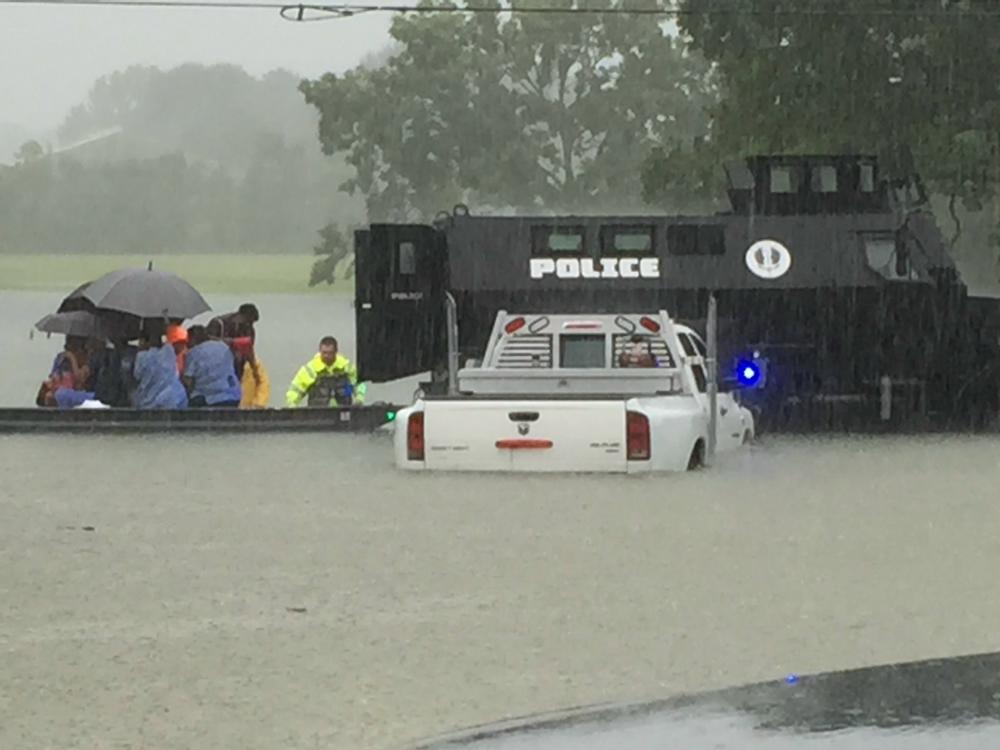 Non-Armored Vehicles
Not all SWAT vehicles are armored vehicles. SWAT teams still use other vehicles to act as a command center or to carry a variety of equipment and supplies. These vehicles are generally staged at a safe location away from the conflict.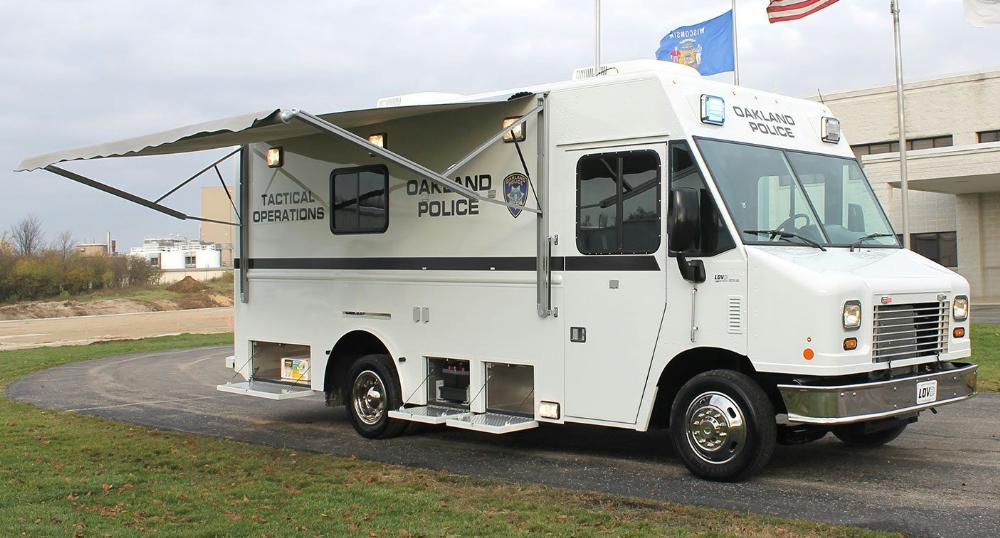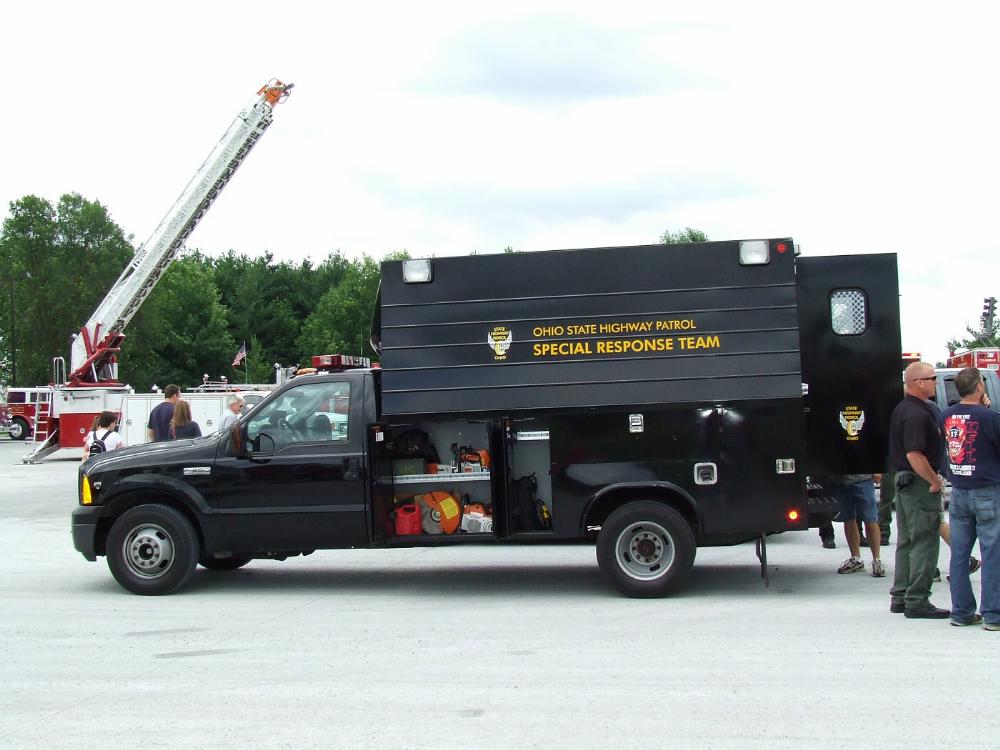 Photo Gallery
Click the photos to enlarge.