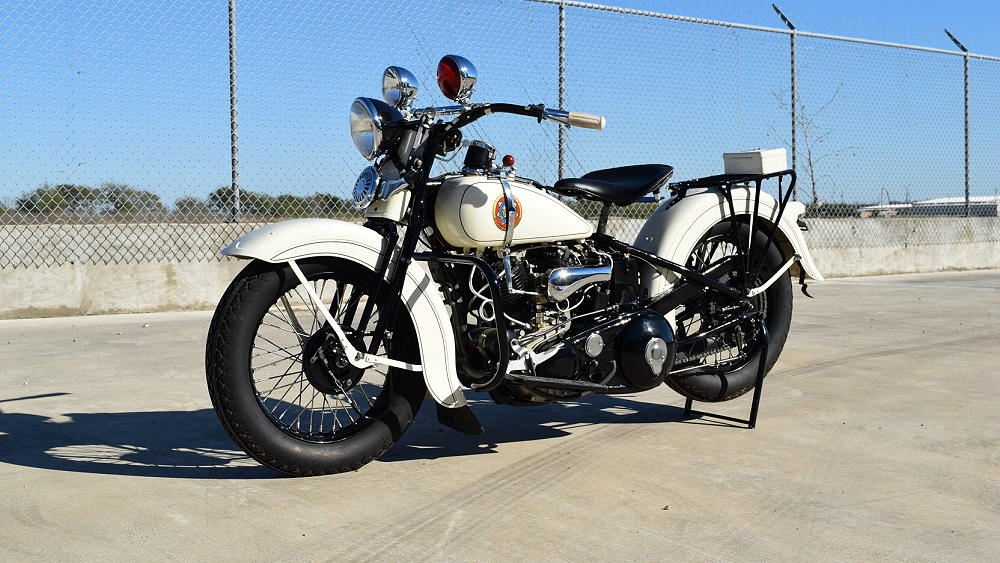 When motor vehicles in California were first seen as needing legislation, law enforcement agencies began to patrol using motorcycles, cars and trucks.  Motorcycle officers in 1920 Fresno, started a group to assist each other and promote road safety – the Joaquin Valley Traffic Officer's Association – led by Harry Wilson who they elected as president. They renamed themselves the California Association of Highway Patrolmen in 1921, and became the California Highway Patrol in 1927 under the auspices of the Department of Motor Vehicles.
On August 14, 1929, the California Highway Patrol was created through an act of the Legislature. The new law gave Statewide authority to the Highway Patrol to enforce traffic laws on county and State highways – a responsibility which remains in effect today, along with many additional functions undreamed of in 1929.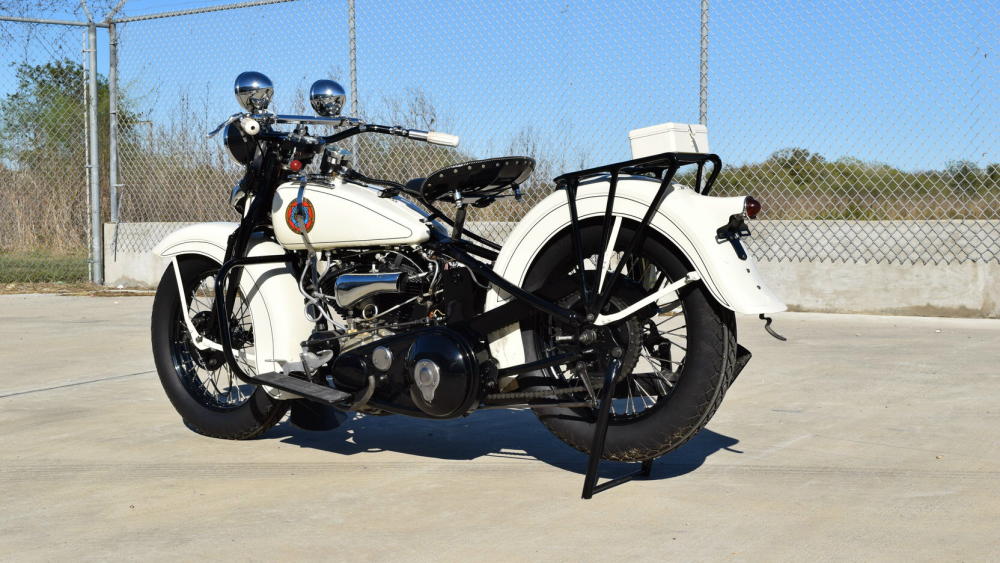 Harley Davidson has had a history of selling motorcycles to police agencies dating back to 1908. In 1935, the California Highway Patrol performed road tests with the new 80″ VLH model and were able to reach sustained speeds of just over 100 mph. Optional equipment like front fender mounted sirens, special lighting and even the first one way radios all made their debut in the 30's.
This California Highway Patrol 1936 Harley Davidson features a 34 HP flathead side valve V-Twin engine.
This motorcycle was used at a time when the CHP was still part of the Department of Transportation. If you're familiar with the California Highway Patrol logo, you'll realize that the logo on the gas tank is different.
The motorcycle has the front steady burn red light, but appears to be missing the Harley Davidson wheel siren. Harley Davidson police motorcycles had a mechanical siren mounted on the frame in front of the rear wheel. When the officer pushed down on a foot peddle, the siren pivoted against the front of the tire, which then turned the siren to make noise. Look at the second video below for a demonstration.
You'll also notice that the motorcycle does not have a police radio. The CHP didn't start using 2-way radios until 1941. I don't know what the CHP did during this period, but the Ohio State Highway Patrol had places that they could call to give messages to patrolmen out on patrol. The person receiving the phone call would hang a flag outside to alert the passing officer that they had a message.
So much has changed since then, but this is definitely a cool motorcycle and probably a lot of fun to ride.
Links:
California Highway Patrol
History of The California Highway Patrol
California Highway Patrol Milestones
Photos:
Click the photos to enlarge.
Videos: