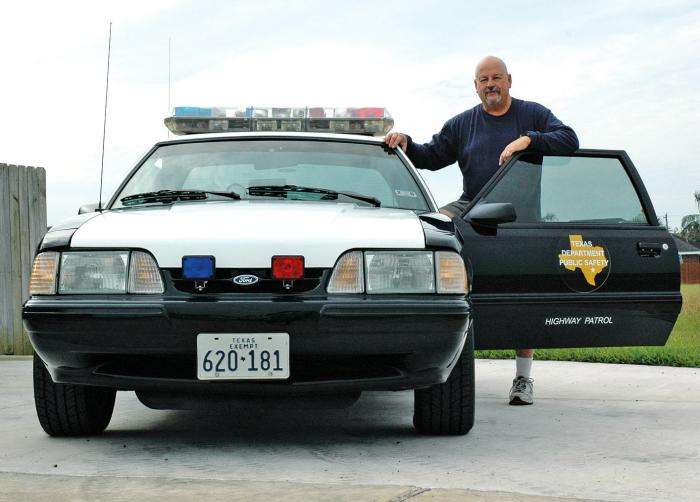 The Mustang SSP was a lightweight police car package based on the Mustang Fox-body and produced by Ford between 1982-1993. The car was meant to provide a speedier option for police departments in lieu of the full-size sedans on the market at the time. The SSP abbreviation means Special Service Package, a special Fox-body trim made exclusively for law enforcement use. One of the taglines used by Ford to help sell this car was, "This Ford chases Porsches for a living."
The SSPs served a number of uses and were often customized to suit each law enforcement agency's particular needs. Law enforcement agencies from municipal to government agencies bought nearly 15,000. Many still exist today, some still in some role of law enforcement – like display and DARE cars – or in the hands of collectors and racers.
With its stiffened frame and beefed up suspension, many Mustang SSPs were later modified for drag racing. The plentiful parts aftermarket for the 5.0-liter engine made the SSP platform a desirable frame to work with, but with the dwindling supply and rising prices of genuine Mustang SSPs, these factors have limited racers from converting SSPs for competition.
The Mustang SSPs were essentially more rugged versions of the 5.0 Mustang with added features (some standard, some optional) not available to the general public. These features included an engine oil cooler, silicone radiator hoses with aircraft-style clamps, auto transmission fluid cooler, 130-and 135-amp internally and externally regulated heavy-duty alternators, two-piece VASCAR speedometer cable, certified calibrated 0-140 (1982-early 1989) and 0-160 mph (late 1990-93) speedometer, non-operational courtesy lights (safety feature), relocated rear deck release, single key locking doors/trunk, reinforced floor pans, and full-size spare tire.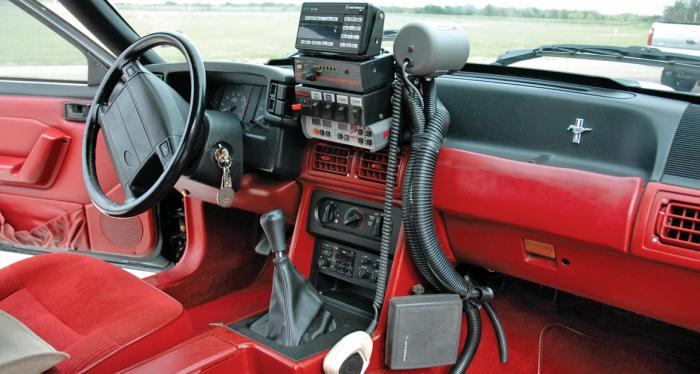 Restoring Mustang SSPs has become one of my growing car hobbies as I've become active with local car clubs, car shows, and websites devoted to the restoration of law enforcement SSP Mustangs. Most SSP enthusiasts strive for accuracy by searching for year-correct OEM parts, including police radios, shotgun holders, lights, sirens, and other related equipment. I was no exception.
I picked up my retired 1991 SSP in 2004 after it had been used as an undercover narcotics car in North Carolina. After buying it from a collector in Texas, I kept it in the same condition until 2015. That spring, I decided to restore the car to its glory days. Since I live in the Texas Rio Grande Valley, there was only thing to do – restore it into a Texas Department of Public Safety patrol unit.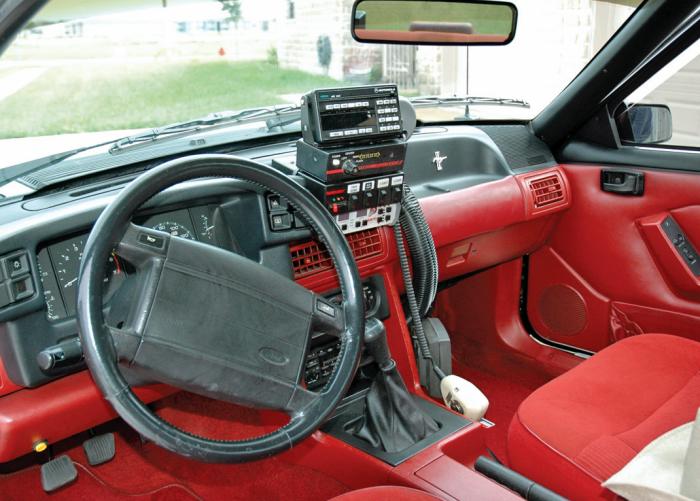 After receiving the necessary documentation for the restoration project, I set out to acquire year-correct equipment and get it to Texas DPS originality. With the help of many friends and a fair amount of time, I was able to track down the correct equipment that would have been used in the unit at that time – two-way radio, four-inch halogen red/blue front and rear lights, light bar, and even year-correct license plates.
It helped that Texas was the third largest purchaser of SSP Mustangs. This process took from April to October 2015, but I had a great journey with the SSP restoration.
Resource: Photos and information submitted by Jorge Trevino
Editors Note: Texas DPS did not use this model of the Code 3 lightbar on it's Mustangs, and their mustang had either grill lights or a lightbar, but not both. It's great however that Jorge is honoring this Mustangs service.