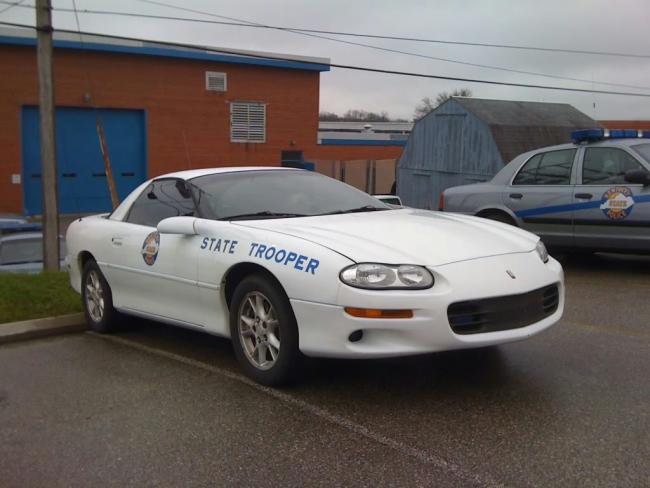 Posted: Wednesday, July 31, 2002
By: Stacey McCaslin
Start your engines, the Kentucky State Police have a new ride that's going to be a booger to outrun.
Troopers Brent White and Jason Kirk of the Kentucky State Police's Post 2 will be behind the wheel of a high-performance 2002 Chevrolet Camaro, each taking turns while on duty in southern Pennyrile counties.
White and Kirk are the only officers assigned to the vehicle at Post 2 headquarters in Madisonville and received this honor after extensive training.
"Sorry I'm late, I was chasing a Mustang doing 102 on my way here." That's the first thing White said as he entered the Times Leader newspaper office in Princeton, ready to give an interview on the performance of the newest in law enforcement vehicles.
Not all troopers have the opportunity to chase a Mustang doing 102 mph and actually catch the driver. It takes skill and a Camaro equipped with a high- output engine normally found in a Corvette.
This SEV, or Special Enforcement Vehicle, was cause for White and Kirk to undergo a three day deal of specialized training.
"We, and the car, were put through the mill," White noted. "We had three days on two different closed tracks in Richmond. This is totally different from driving a cruiser."
Statistics indicate that unsafe speed is a contributing factor in 25 percent of accidents in Kentucky, according to a news release from the state police.
"That's what these vehicles will be used for, for speed enforcement on Kentucky's interstates, parkways and other roadways," White said.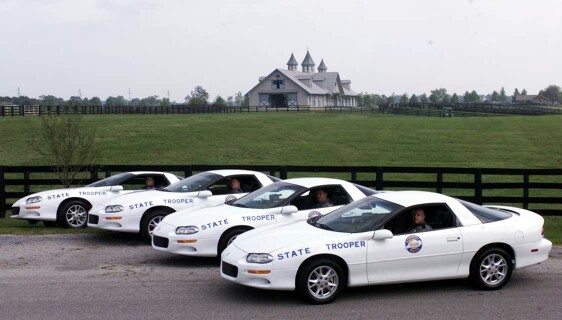 Out of the 16 state police posts located in Kentucky, only 10 have received the Camaros, which are replacing the Ford Mustangs issued to state police in 1985 and 1990, according to White.
"Post 2 was chosen to receive one of the 10 Camaros because of the amount of road miles we have and the number of collisions we have."
Post 2 covers Caldwell, Christian, Crittenden, Hopkins, Muhlenberg, Todd and Webster counties.
"We list the top two accident locations in each county," White said. "We can be found in those spots, but you're liable to find us anywhere.
The top two accident locations in Caldwell County are on the Western Kentucky Parkway between mile marker 8 and mile marker 19 and on Kentucky 91 between mile marker 4 and mile marker 17.
But as White said, the whole Post 2 area will be covered by the new SEV with troopers watching out for speeders.
However, those exceeding the speed limit will have a little trouble watching out for the troopers.
The Camaro is white and has little official marking, an emblem on the door and the words state trooper on the front fenders.
From the rear or through a rearview mirror, the SEV may look like a regular old everyday Camaro.
White said that he and Kirk, along with all other Post 2 troopers, will be looking for the use of seat belts, child restraints and looking for any other moving violations.
Lyon County residents can look out for their own Camaro as Mayfield State Police Post 1, which covers Lyon County, received its own Camaro.
As White said with the Mustang incident right before his interview, "It's not easy to outrun these new vehicles."
Do yourself a favor – surrender while you can.
Resource:
Not Stealthy Enough? How about no markings at all?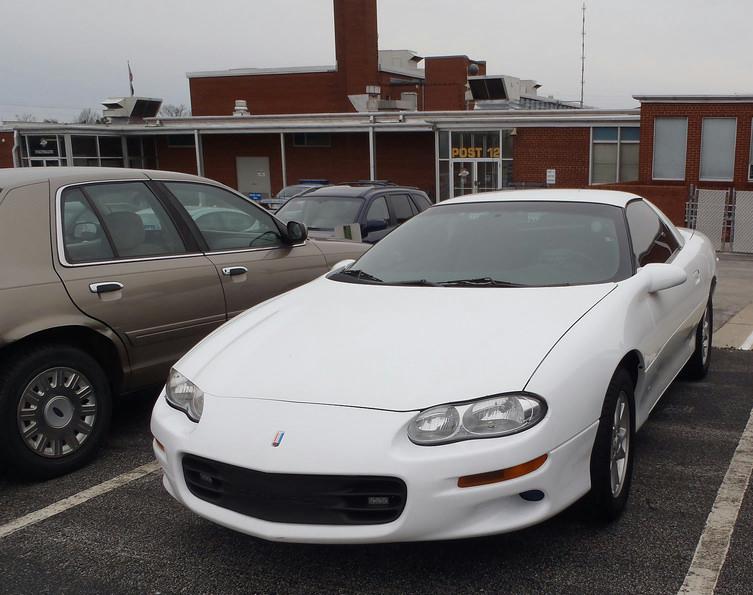 If you look closely, this unmarked Camaro has (2) LED lights down in the grill, and a RADAR antenna mounted up in the top drivers corner of the windshield.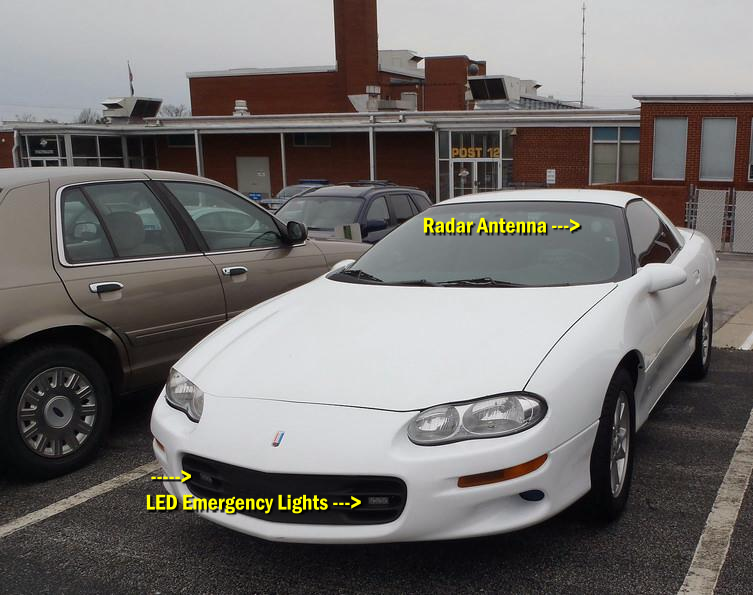 Have any photos of these cars to share? Please use the Submit button below.