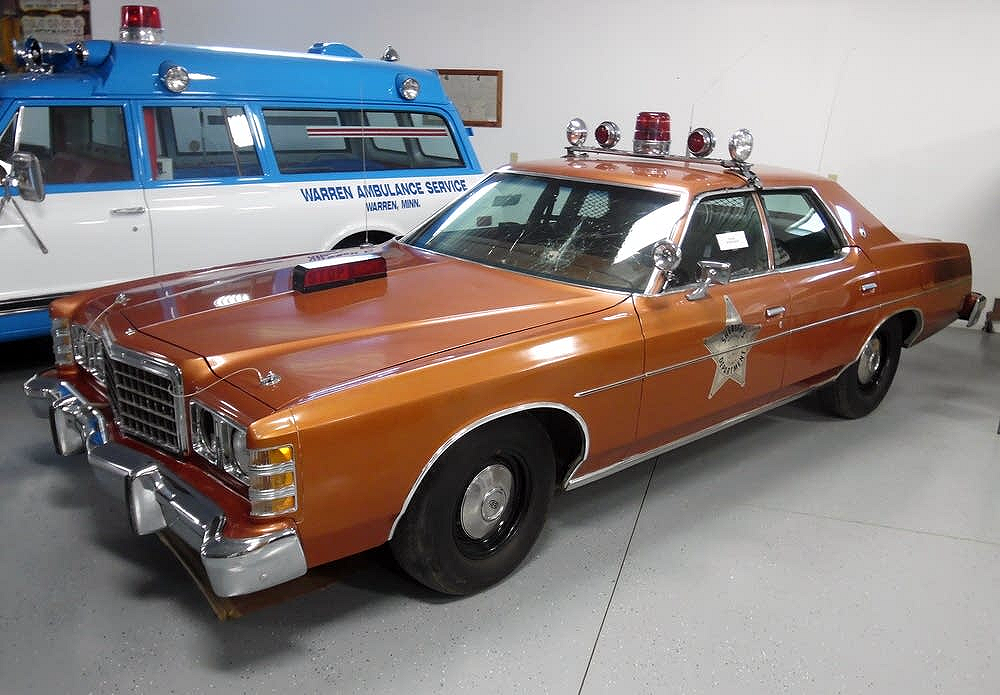 If you watch the news at all then you probably know that that in the last couple of years the United States Navy has released videos of UFO's. The United States Government has spent decades dismissing UFO (Unidentified Flying Object) sightings, so the fact that the Navy released UFO videos is a bit shocking. As the government acknowledges the existence of UFO's, the general public doesn't seem to have a reaction or any concern about them.
UFO sightings are nothing new. The Roswell, New Mexico crash dates back to July of 1947. Many people that have reported seeing UFO's have been treated with skepticism and even thought to be 'crazy'. Some people have likely never reported seeing a UFO, or were reluctant for fear of losing credibility.
UFO sightings reported by police officers seem to have a bit more of credibility. After all, these people's careers depend on their credibility. Even then, it's generally nothing more than their witness testimony with little or no physical evidence.
In the early hours of Monday, August 27, 1979, there would be physical evidence. Marshall County Minnesota Sheriff Deputy Val Johnson was on midnight patrol when he came across a strange light on State Highway 220 at mile marker 68 about 1.1 miles south of County Highway 5.
Deputy Johnson was westbound on County Road 5 and had arrived at the intersection of Minnesota State Road 220. At that moment, he looked at his watch, it was exactly 1:30 AM. He witnessed a bright light to the south that was obviously not on the road and looked too glaring to be a car headlight. "I noticed a very bright, brilliant light, 8 to 12 inches in diameter, 3 to 4 feet off the ground," Johnson said in a taped police interview. "The edges were very defined." He turned left to try to get closer to identify the light. Suddenly, the light moved toward him, travelling so fast that it was almost instantaneously upon his car. "I saw a ball of light. I drove toward it, and suddenly it was in the car with me. It's unexplainable" Johnson said.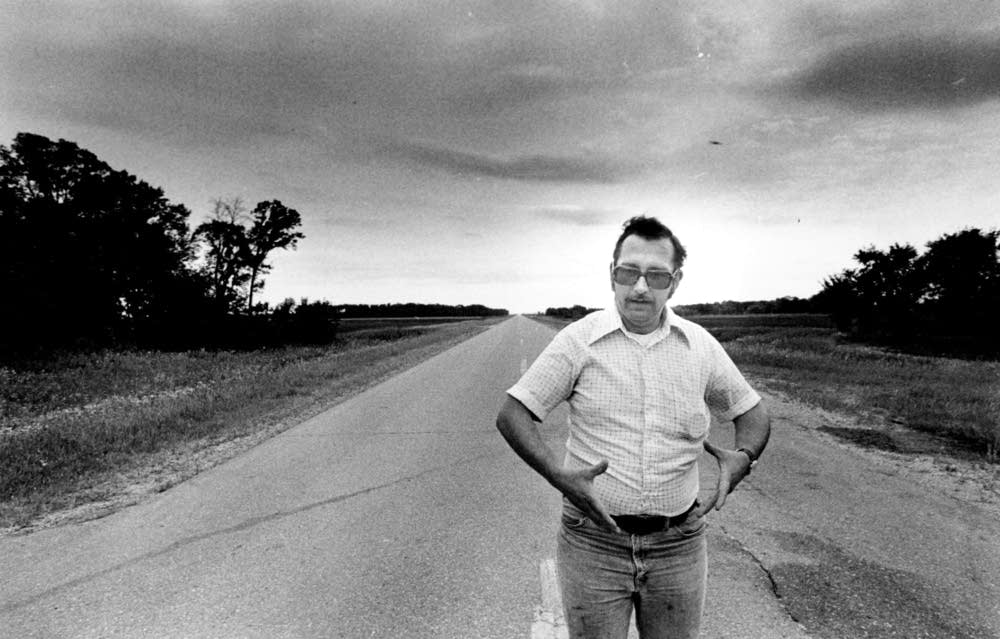 Val Johnson stands where he says he'd been engulfed by a light two weeks earlier, and indicates how big the light was as it approached.
When the object hit Johnson's car it continued 854 feet before skidding 99 feet and sliding off the left (east) side of the road in to a ditch. Deputy Johnson lost consciousness for about 30 minutes. When he regained consciousness he put out a 10-88 'officer needs help' call on his radio. Deputy Everett Doolittle was called and picked up Sheriff Dennis Brekke before responding to the scene. An ambulance from Stephen MN also responded. Johnson complained of severe soreness in his eyes and was taken to the Warren Hospital. There it was found that he had an eye injury, very similar to the damage welders receive when working without a mask (welders flash). Further examinations revealed minor damage to the inner eye. It corresponded to exposure to an ultra-bright light source at close range.
Upon examining his patrol car it was found that:
The drivers side headlight was broken out
There was a small dent on the drivers side of the hood
The windshield was broken
The antenna on the top of the car was bent back towards the rear of the car
The rear antenna was also bent back towards the rear of the car
In the course of the investigation, another strange fact emerged: Both the electric clock in his car and his windup Timex wristwatch had stopped for 14-minutes. He had synchronized them at the start of his shift, as he did every day.
Sheriff Dennis Brekke wasted no time calling in experts to investigate. Within days, Warren was visited by a metallurgical engineer from Honeywell, a glass expert from the Ford Motor Co., a consultant in hyperspectral imagery from a Brainerd laboratory — and Allen Hendry , a ufologist from the Center for UFO Studies in Chicago.
The experts could only speculate on the cause.
"It's hard to find one neat explanation," Hendry said at the time. The Ford glass expert called the pattern of windshield cracks "extremely unusual," adding that he'd never seen anything like it.
The engineer said the "best fit" for all the physical evidence pointed to "a highly charged electrical 'thing' with enough mass and momentum to create the effects."
Ultimately, Brekke closed the investigation without reaching any conclusions.
Pete Bauer was the dispatcher that night. He says that after Johnson radioed him, he immediately called an ambulance for him. While Johnson waited for the ambulance, Bauer continued to talk to him on the radio.
"He said 'I don't know what happened. Something hit me,'" Bauer recalled.
The longer they spoke about the incident, the more rattled Johnson sounded, Bauer said.
After Johnson went to the hospital to be checked by a physician, he came back to the sheriff's department with patches over both eyes, Bauer said.
Bauer believes Johnson's account of the event because Johnson was a trustworthy, solid guy who obviously had encountered something that visibly shook him up, Bauer said.
Official Report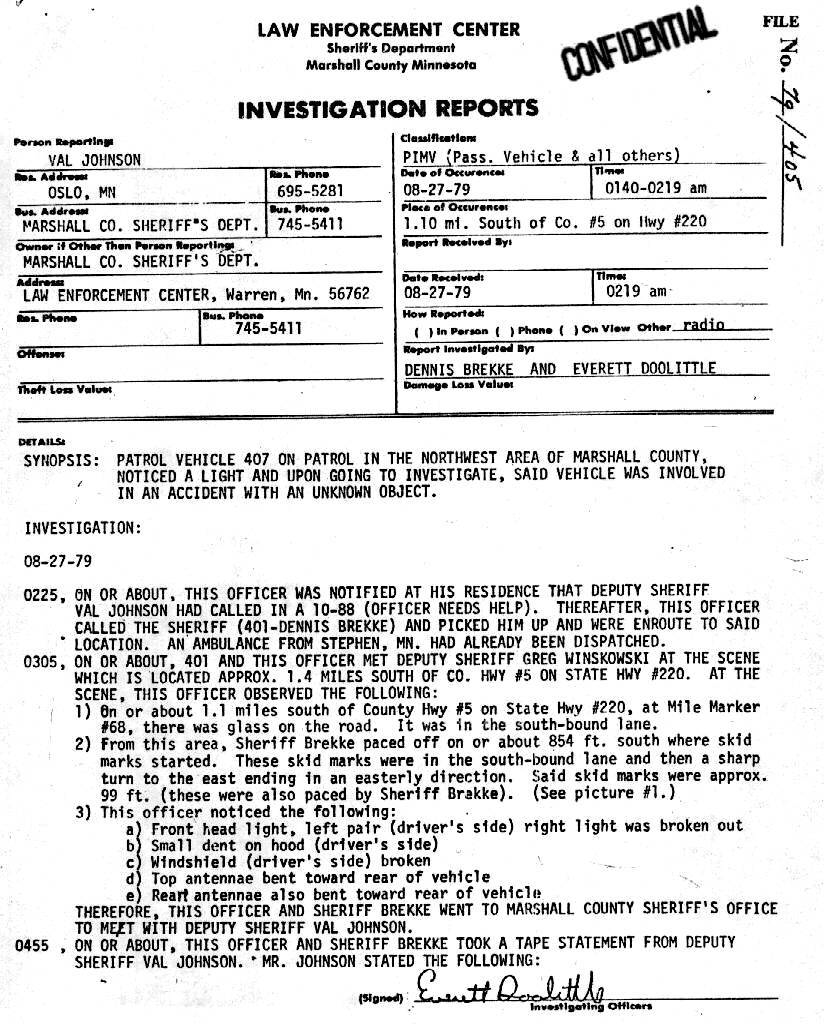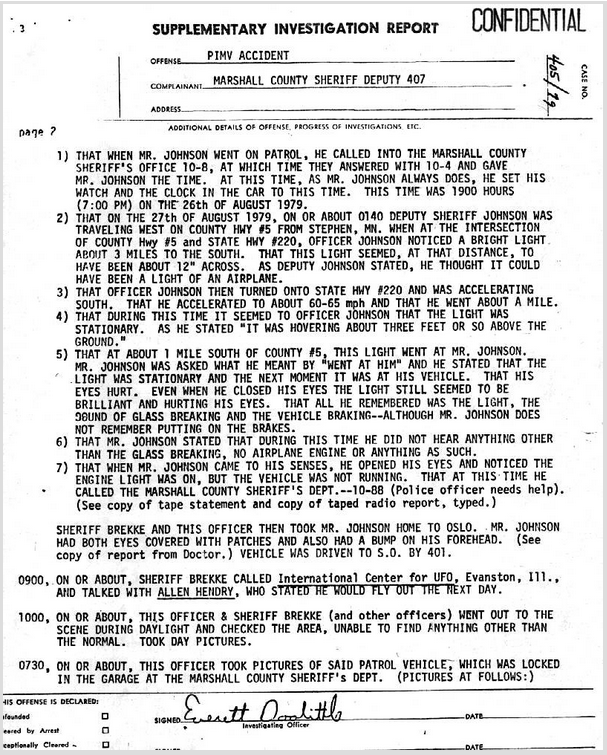 Possible Witnesses
Evarist and Kathy Ruzicka, a Grafton, ND couple say they saw a bright flash of light the night Johnson said he had a run-in with something unexplainable. Reached by phone at their home, which is not far from the Stephen, MN area where Johnson's car was found, the Ruzickas vividly recall the incident.
"It was an extremely bright flash. I just kind of yelled, 'Look at that!"' Evarist Ruzicka said, describing the moment he saw something weird in the eastern sky as they were driving home that night.
His wife was a bit sleepy during the ride, but she said her husband's shout woke her in time to see a blinding burst of light.
Evarist Ruzicka said he suspected an earthly explanation for what they saw – a government experiment, perhaps – but at first he wasn't keen on telling anyone about the episode.
"I really didn't want to get involved. At the same time, I hated to see what they were doing to the deputy," Ruzicka said, referring to grief Johnson took from some people.
Fate Of The Car
Marshall County officials wanted the patrol car, a rust-colored 1977 LTD with only 60,000 miles on it, repaired and returned to the fleet. However, Sheriff Brekke said he convinced them to leave it as it was for public consumption. "People like strange and unusual things they don't understand," Brekke said.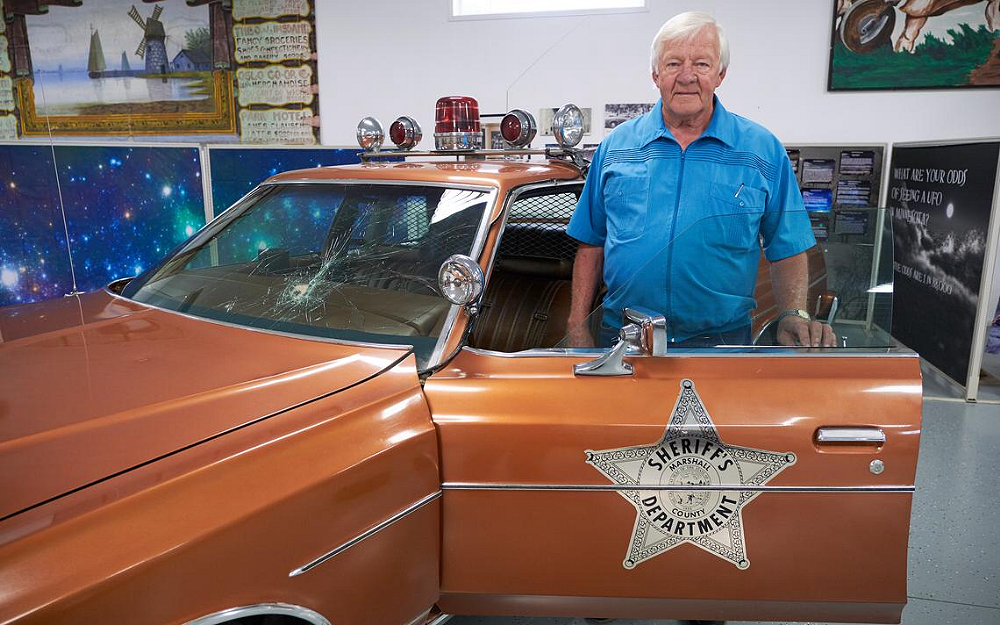 Former Warren (M.N.) Sheriff Dennis Brekke stands next to the Ford LTD driven by Deputy Val Johnson on the night of August 27, 1979
What Happened To Deputy Val Johnson?
Johnson stayed on as deputy for a while after the incident. Then he took a job as chief of police in the nearby town of Oslo, MN. Locals, he said, never questioned his ability to enforce the law.
In 1982, he was hired to set up the Roseau Police Department but lost the job less than a year later over a funding dispute.
"Once you're a chief of police, and then you get fired," he said, "you're un-hireable."
He was working as a security guard in a Twin Cities mall when a friend got him a job answering the customer service line at 3M.
"He asked me how I'd like to take 60 angry phone calls a day," he recalled, "I said, 'Dang, I can do that.'"
A few years later, he retired to 20 acres in Wisconsin. Even then, he said, people sometimes showed up on his front porch with theories about his experience in Marshall County.
"We'd sit in the back yard with lemonade and talk," he said. "They'd tell me what they thought happened to me and I'd nod at the appropriate times. Eventually they'd go away."
Johnson won't speculate on what happened to him in 1979. He doesn't think the light he saw was an extraterrestrial – but also won't rule out the possibility. For years, he said, it just hasn't crossed his mind.
Link
https://www.exploreminnesota.com/profile/marshall-county-historical-society-museum/2222
Video
More Photos
Click the photos to enlarge.