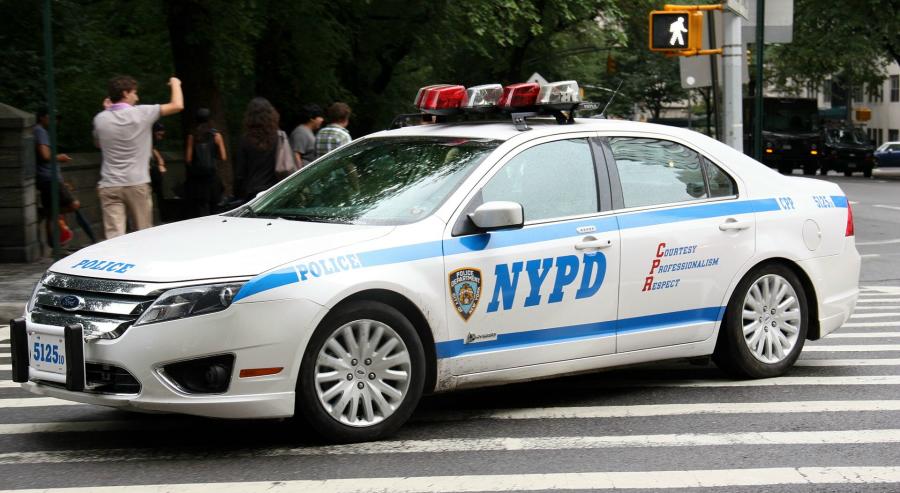 I'm sure you're use to seeing patrol cars on this site from the 1980's – 1990's, so I thought I would throw you a curve ball.
This is the NYPD (New York Police Department) 2010 Ford Fusion Hybrid. It is not a police package or special service package car. So why does NYPD use them?
NYPD put these cars in service in August 2010. According to Mayor Bloomberg, "These vehicles use less fuel and emit fewer pollutants into the air we breathe." The goal is to gradually replace 3,000 gas-guzzling Chevy Impalas that regularly prowl the streets.
The Ford Fusion gets an EPA-estimated 41 miles per gallon – more than double the gas mileage of the iconic Impala patrol car. The effort is part of a plan to reduce the city government's carbon footprint 30% by 2017. The ability of full hybrids to switch off their engines when stopped, and run short distances solely on electric power, makes them perfect for urban duty.
"It's a bonus when we can add outstanding fuel economy to the mix," said NYPD Commissioner Raymond Kelly.
The Ford Hybrid cruiser can do more than save fuel. Some can even scan license plates, link up to databases at police headquarters, use built-in radiation detectors and digitally record everything it sees from its windshield, according to Deputy Inspector Brandon del Pozo of the NYPD's Project Management Office.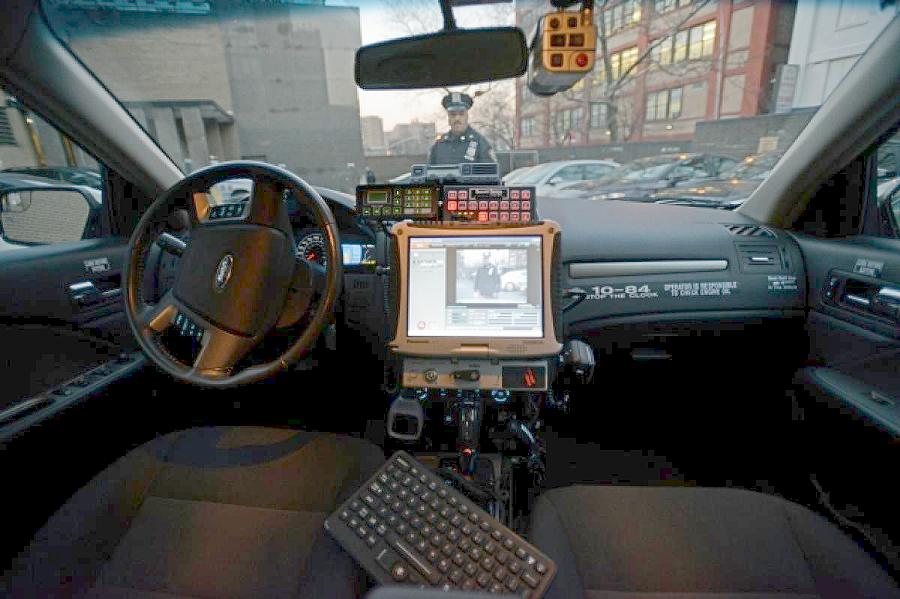 "It's inevitable that police cars will be bringing more and more technology to the street," del Pozo told the Daily News. "This car features the best technology currently available. It will be able to take information from the street and send it back to the commanders in headquarters so they can make correct, on-the-spot decisions."
One of the car's key features is its infrared scanner that reads numbers at license-plate level.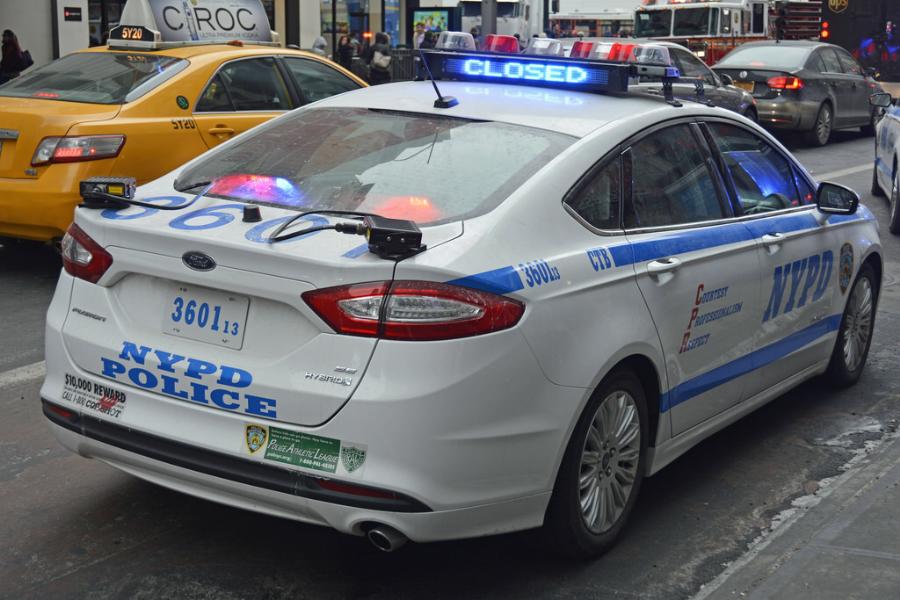 (License plate readers (scanners) mounted on the trunk lid of a NYPD Ford Fusion)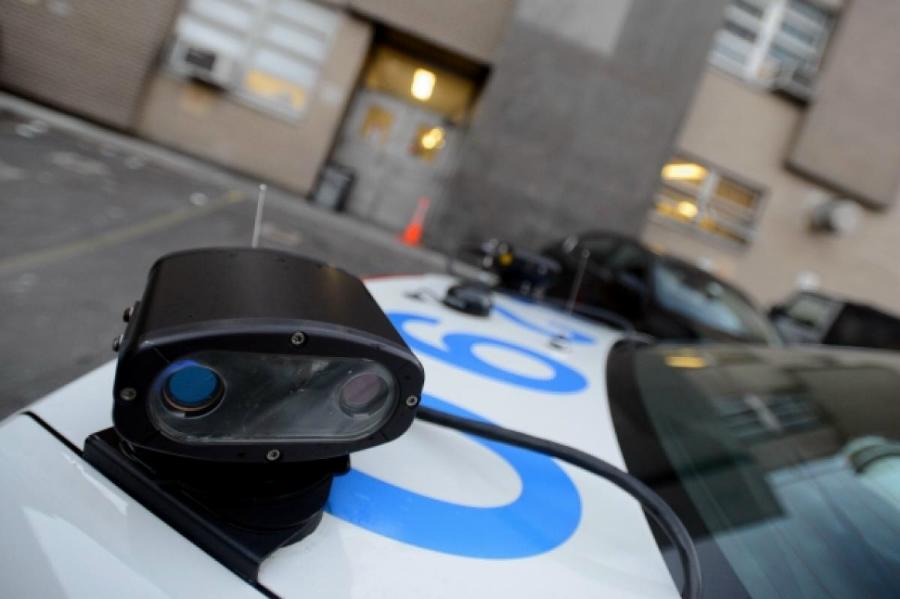 The scanner has a link to the NYPD's databases, so it can alert cops if it spies a license plate that has been reported stolen, has been used in a crime or has outstanding tickets.
"It can scan hundreds of plates in minutes," said Captain Max Tolentino, the commanding officer of the 84th Precinct in Brooklyn Heights. "It's a great tool when looking for a stolen car."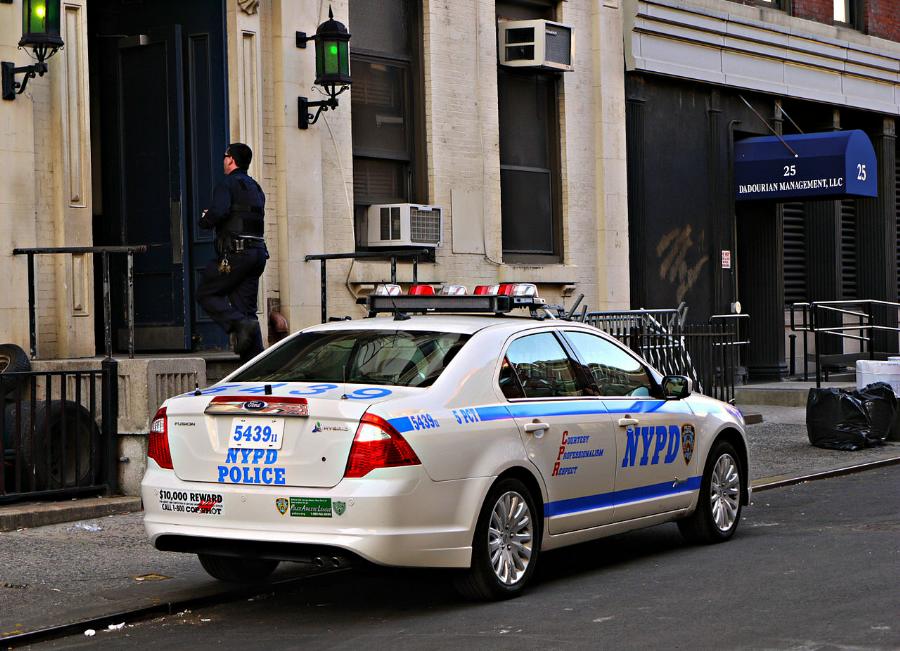 Police cars in general are getting smaller as the NYPD and the city are becoming more fuel-conscious
Video:
Ford's New Ford Fusion 'Responder':
Seven years after the fact, Ford is finally going to offer a police version of the Fusion in 2017. Ford calls it the 'Police Responder Hybrid Sedan'. It's stuck somewhere between their 'Interceptor' and 'Special Service Vehicle' package vehicles. Generally, the special service vehicles come with an upgraded alternator and is designed to meet the electrical demands of a police car, as well as a more basic interior for easier clean up. The interceptors generally have upgrades in the suspension, brakes, cooling and are designed to meet all of the electrical demands as well. They also have ballistic panels in the doors, are designed to sustain a 75-MPH rear end collision.
The Police Responder Hybrid Sedan is based on the Ford Fusion Hybrid, but a number of changes have been made to fit it out for serious police work. Among other things, the Police Responder will have better engine cooling, stronger brakes, a more rugged suspension system and skid plates underneath to protect mechanical components when the car drives over curbs. When the throttle is held down for five seconds, the car will go into pursuit mode, using both the electric motor and the gas engine for maximum performance.
The Police Responder's interior has also been modified for police use with front seat cushions shaped to accommodate equipment belts and gun holsters. The back seat area has been designed without seatback or door pockets where a suspect could hide contraband or weapons. The backrests of the front seat are also equipped with protective anti-stab panels.The car has easy-to-clean surfaces for the ready removal of unspeakable messes.
The Police Responder Hybrid Sedan is intended mostly for urban use, according to Ford. For chasing down speedsters on the highway, Ford's Taurus-based Police Interceptor, available with a turbocharged V6 engine, is still recommended. For one thing, the Police Responder lacks protection against high-speed rear impacts that can occur when police cars are stopped on the shoulder of a highway.
More NYPD Ford Fusion Photos:
Click on the photos to enlarge – click the arrows to load more.