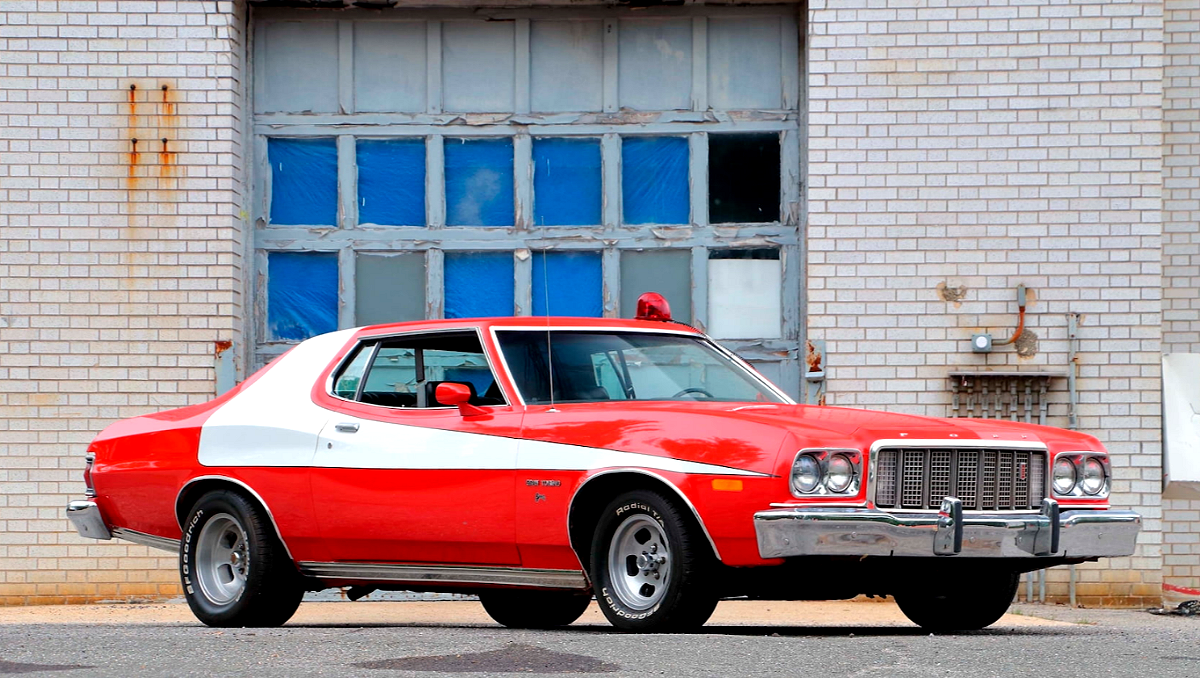 On March 5, 2004 Starsky & Hutch made its film debut in theaters. The film starred Ben Stiller as Starsky, Owen Wilson as Hutch and Snoop Dogg as Huggy Bear, as they attempt to stop a drug kingpin played by Vince Vaughn. The film grossed $170,268,750 worldwide against a $60 million production budget.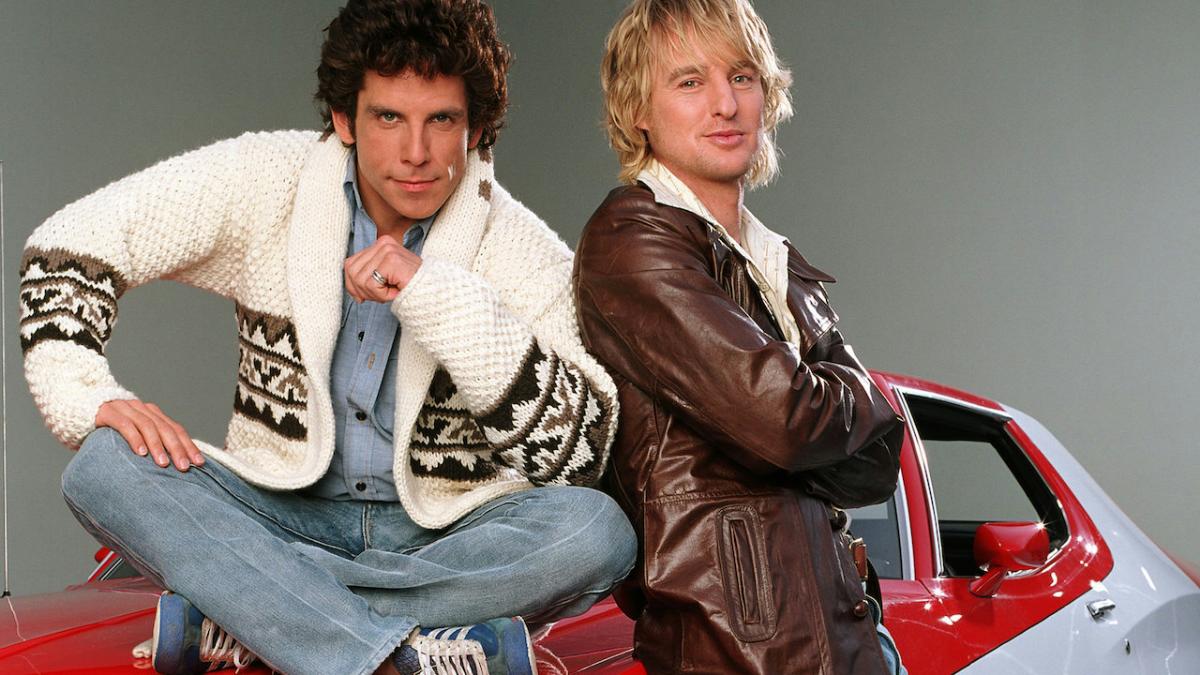 (Ben Stiller & Owen Wilson)
The movie was based off of the Starsky & Hutch television series created by William Blinn, produced by Spelling-Goldberg Productions, and broadcast from April 1975 to May 1979 on the ABC network. It was distributed by Columbia Pictures Television in the United States.
The series' stars were two Southern California police detectives: David Michael Starsky (Paul Michael Glaser), the dark-haired, Brooklyn transplant and U.S. Army veteran, with a street-wise manner and intense, sometimes childlike moodiness; and Kenneth Richard "Hutch" Hutchinson (David Soul), the divorced, blond, Duluth, Minnesota, native with a more reserved and intellectual approach. Under the radio call sign "Zebra Three", they were known for usually tearing around the streets of fictional Bay City, California. Much of the series was shot on location in the Los Angeles beach community of San Pedro.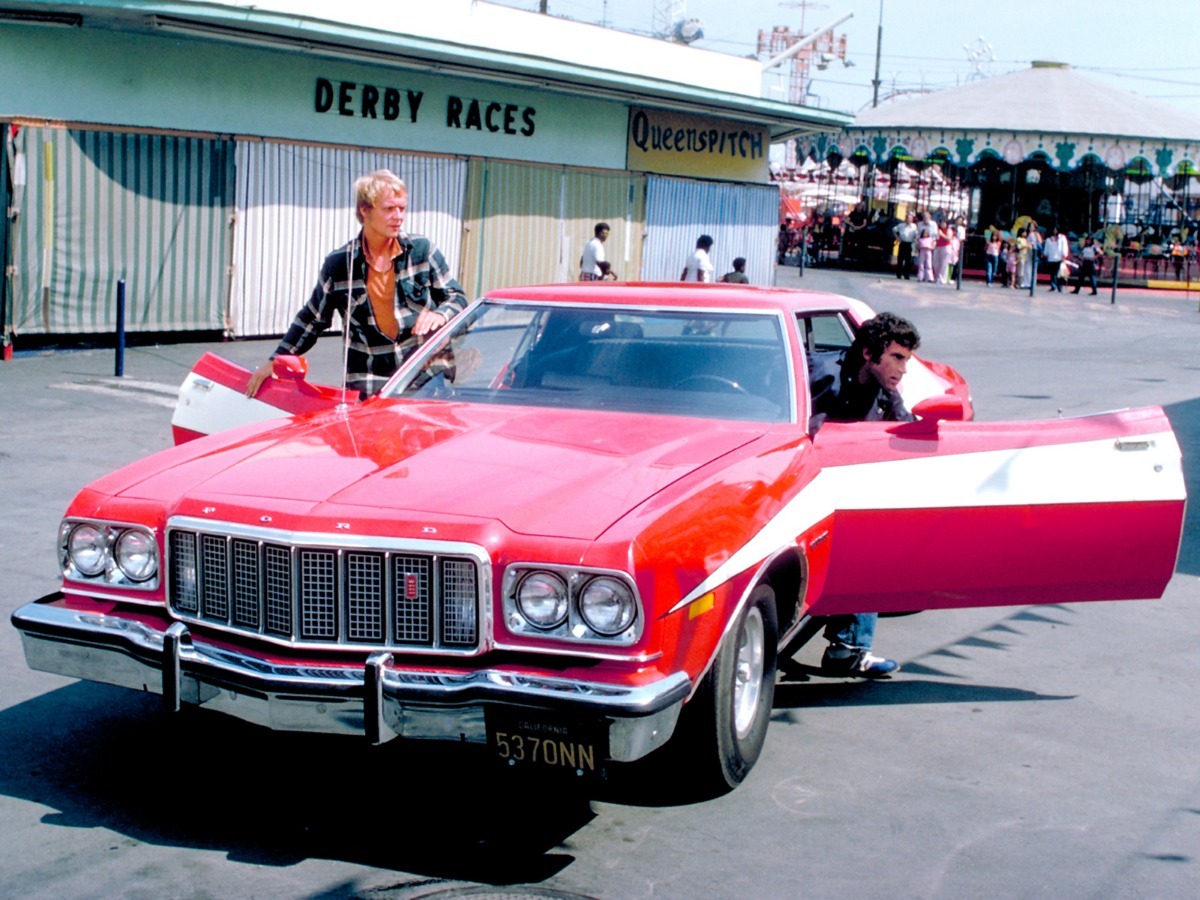 (David Soul & Michael Glaser)
Detective David Starsky, played by actor Paul Michael Glaser, wasn't even supposed to drive a Ford. As originally scripted, the dark-haired and street-savvy cop drove a Chevrolet Camaro convertible, but Ford's studio loaner program soon put an end to that idea. Told to pick a car from Ford's lineup that would stand out, George Grenier, the show's transportation coordinator, settled on a red Gran Torino, which he modified with a white "vector stripe" and five-slot mag wheels shod with oversize tires.
Fans of the show never questioned why detectives working undercover would drive such a garish vehicle, and viewers quickly became enamored with the car. On February 9, 1976, after receiving numerous inquiries, Ford announced a limited production run of 1,000 Starsky & Hutch 1976 Gran Torinos, each finished in 2B Bright Red with a white vector side stripe, dual racing mirrors and a deluxe bumper group. Though the 351-cu.in., 152 horsepower Windsor V-8 was standard, buyers could also opt for the 180hp 400 V-8 or the 202hp 460 V-8. Any option available on the final-year 1976 Gran Torino was also available on the Starsky & Hutch cars.
In total, 1,308 examples were built, including three pilot cars. Given that cars could be equipped with a wide variety of options, identifying a genuine Starsky & Hutch Ford Gran Torino requires verification of the DSO (ending in 0022 for U.S. cars and 8000 for Canadian cars). All Starsky & Hutch cars were Gran Torinos built in Chicago, and the VIN must start with 6G30. The factory Starsky & Hutch cars were a special code "PS 122" which was on the buck tag and the build sheet. These factory built cars did not have the black trim tripe along the large white stripe.
As for cars used on television, the 1975-1979 series used Gran Torinos built from 1974 – 1976, which were all but identical to the untrained eye. Hero cars, driven by Glaser for scenes not involving chases or stunts, were powered by 351 V-8s, while stunt cars came powered by 400 or 460 V-8s; later, to improve acceleration, some stunt cars featured shorter rear gearing and carried a dash warning not to exceed 50 MPH. Opinions differ as to how many cars were built for the series, or how many were destroyed during filming, but in 2014 a 1976 Gran Torino, said to be one of seven used in filming, was sold for $40,000 at a Leake Auction in Tulsa, Oklahoma.
For the 2004 feature film, two hero cars were created by Premier Studio Rentals, while the stunt cars were built by Cinema Vehicle Services. The first hero car was built from a 1974 Gran Torino, while the second was a 1976 Starsky & Hutch Gran Torino; as with the television series, both were powered by 351 V-8s.
The Starsky & Hutch Gran Torino is one of the most iconic television cars of all time, and has been 'cloned' by countless enthusiasts. There have been so many, that it's hard to tell one of the original 1,308 built by Ford from all the replicas out there.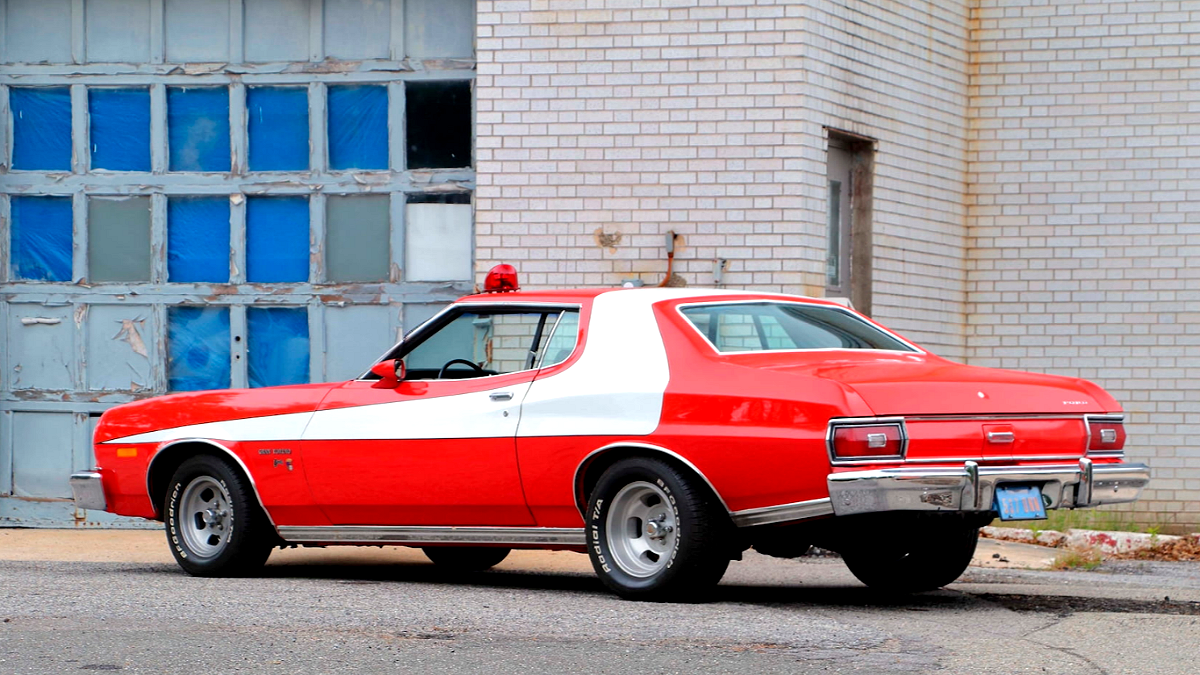 More Photos:
Click to enlarge.
Videos:
(Starsky & Hutch Movie Trailer 2004)
(Starsky & Hutch Ford Gran Torino)
(The 'Original' Starsky & Hutch Meets Starsky & Hutch In The Movie)