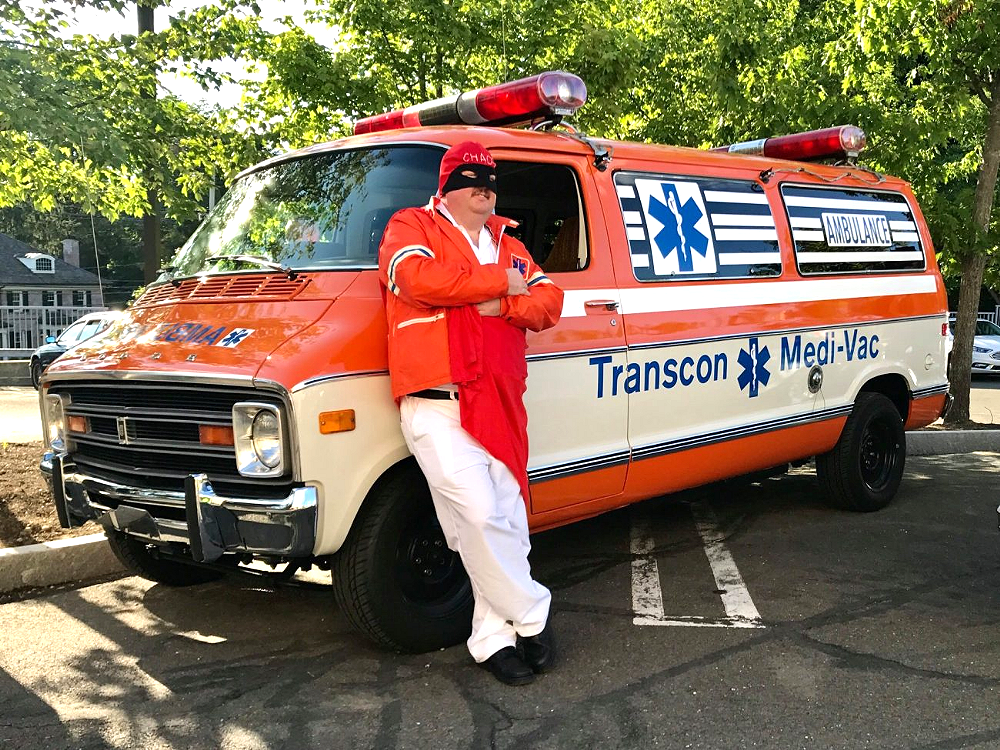 I remember going to the movie theater with my best friend in 1981 to see "The Cannonball Run". I was in my early teens, and the movie would forever impact me. The star vehicle of the movie was a 1978 Dodge Tradesman Van that the characters (Burt Reynolds and Dom DeLuise) converted in to an ambulance to compete in an illegal cross country road race. The characters believed that the cops would never stop an ambulance, and it would give them an advantage over the other racers. They even went so far as to find a real doctor and a woman (Farah Fawcett) to act as the patient.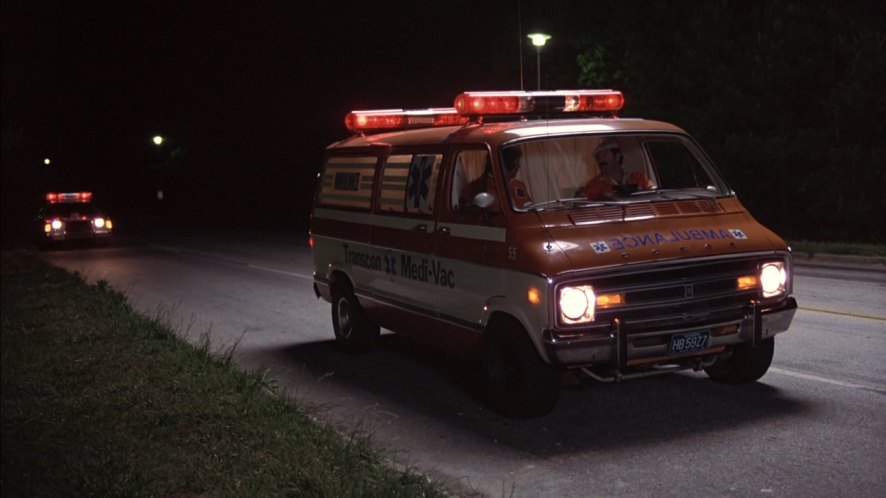 There's a scene in the movie where the van gets pulled over by the New Jersey State Police. The crew explains that they need to get the senators wife to a hospital in California. When the police ask why they didn't just fly the patient, the doctor explains that she can't fly because of cysts on the lungs.
It's a great movie with a lot of craziness that usually only happens in movies. But this movie is actually based on a real race, and real events.
The Birth of A Race
In May of 1971, automotive writer and auto racer Brock Yates (1933-2016), fellow Car and Driver editor Steve Smith, Brock Yates Jr, and friend Jim Williams set out from New York to California in a 1971 Dodge Custom Sportsman van called the "Moon Trash II". The run was intended both as a celebration of the United States Interstate Highway System and as a protest against strict traffic laws coming into effect at the time (States were lowering their speed limits, and a national 55 MPH speed limit went in to effect in 1974). Another motivation was the fun involved, which showed in the tongue-in-cheek reports in Car and Driver and other auto publications worldwide.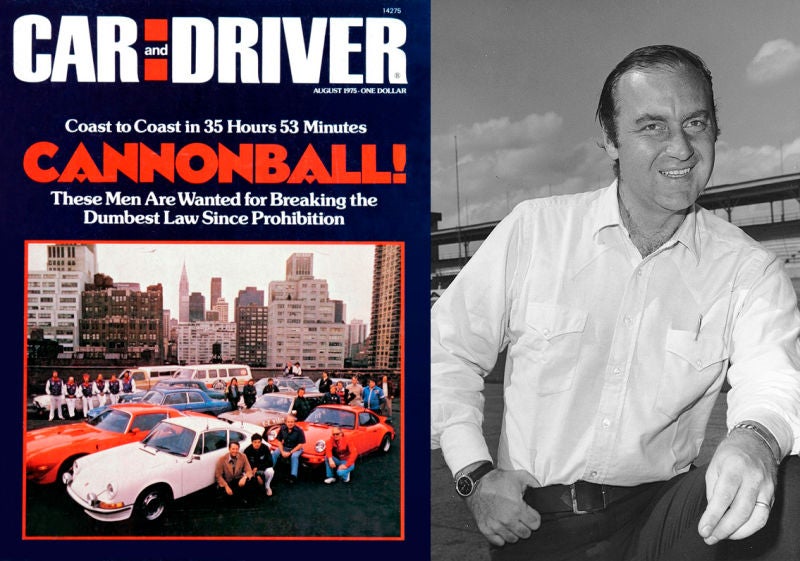 Brock Yates created the "Cannonball Baker Sea-To-Shining-Sea Memorial Trophy Dash" as an unofficial, unsanctioned cross country road race. It was named in honor of Erwin "Cannonball" Baker (1882-1960), who set several coast to coast records. The race was held in 1971, 1972, 1975, and 1979 and started at the Red Ball Garage in New York City. The last race in 1979 started at the "Lock, Stock, and Barrel" restaurant in Darien Connecticut. The racers would punch an official time clock, and then head for the Portofino Inn in Redondo Beach, California. Whoever got there in the shortest overall time won. Brock Yates and Formula One driver Dan Gurney won the first race in 1971 in a Sunoco blue Ferrari 365 GTB/4 Daytona. The duo traveled from New York to Los Angeles in a then-record time of 35 hours, 54 minutes.
As a teenager I didn't read Car and Driver magazine. I think I first realized that the Cannonball was a real race when I had seen a car featured in either Hot Rod or Car Craft magazine that had been built for the Cannonball. Later in 1990 as a cadet at the Ohio State Highway Patrol academy, I was searching through highway patrol policy for an assignment, and stumbled upon a policy dealing with the Cannonball. It didn't mention the Cannonball by name, just that troopers may come across people involved in a cross country road race, and to simply issue a citation and release them. It was more detailed than that, but I recall realizing from the wording that whoever wrote the policy was referring to the Cannonball.
The Race Becomes A Movie
Brock Yates had become friends with stunt man and director Hal Needham (1931-2013). Needham had been a stunt double and close friend of Burt Reynolds, and also wrote and directed "Smokey And The Bandit".
According to Hal Needham:
"Over a drink one night Brock told me how he'd started the cross-country Cannonball race… After Brock told me about all the crazy people who drove in the race, it got me thinking. "That sounds like a great, fun movie," I said. "What if next time you run the race, you and I drive it together?"
Yates and Needham hatched a plan to reprise the Cannonball for 1979. Calling upon his experience with Moon Trash II, Yates suggested the pair co-drive a van disguised as an ambulance. Tricked out with flashing lights and a 440 high wedge V8, Needham made sure the van boasted not one, not two, but three gas tanks totaling some 90 gallons, each tank having its own filler for simultaneous refueling. With an eye to plausibility should their shambulance attract the attention of the law, Yates' wife Pam was roped in to play 'patient'; the pair even lined up a doctor, Lyle Royer, an actual certified medical professional Needham found drinking in a bar on Sunset Boulevard. Other competitors in the Run were supplied with notepads and tape recorders to catalogue their experiences, with the intention of providing fodder for Yates' script.
Yates and Needham made it most of the way across America but, in an incident familiar to anyone who has seen the film, their high wedge powered ambulance suffered transmission failure 50 miles from the finishing line. While they may not have completed the race, Yates and Needham had more than enough material to finish their screenplay.
When it came time to film the movie, the ambulance had been fixed and was used for filming. Hal Needham actually appears in the film as the medic in the back of the ambulance with Burt Reynolds and Dom DeLuise after they crash a boat. Brock Yates also appears in the movie speaking to all of the drivers before the race starts. I like his line "There is not one state in the fifty that has the death penalty for speeding, although I'm not so sure about Ohio".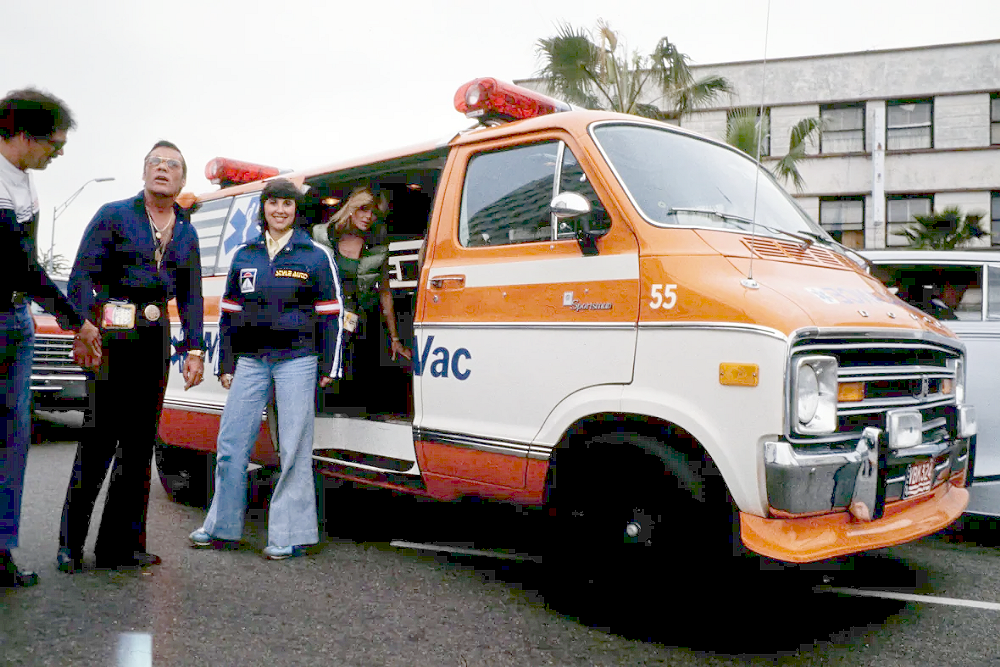 (Long Beach, California, April 8, 1979: (L to R) Loyal Truesdale, Hal Needham, "patient" Pam Yates, actress Tara Buckman.)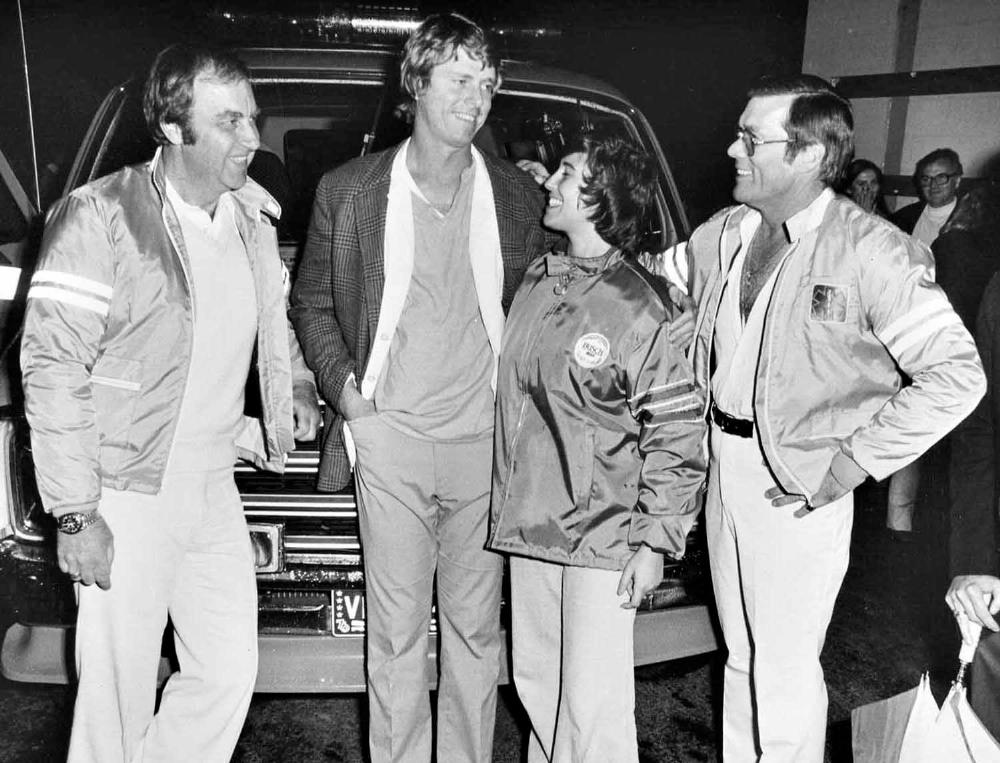 (Brock Yates, Lyle Royer, Pam Yates, and Hal Needham)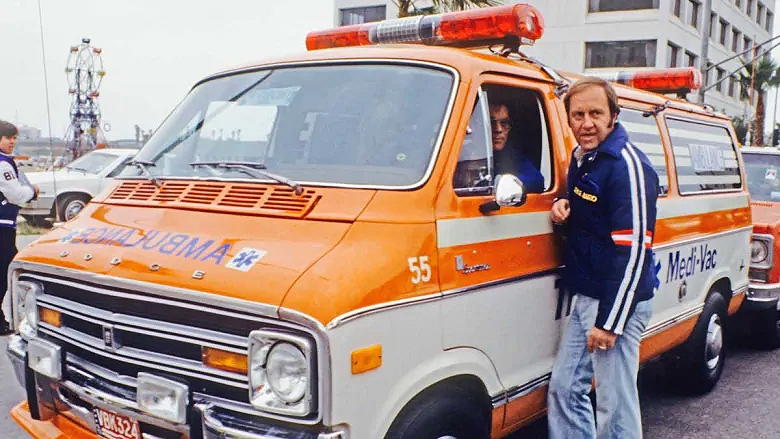 (Cannonball creator Brock Yates talking to Cannonball Run movie director Hal Needham (in the ambulance))
What Happened To The Ambulance?
Hal Needham used the van as a support vehicle for the Budweiser rocket car. Hal ended up donating the ambulance to the NASCAR Woman's Wives Auxiliary who in return auctioned it off to a flower shop in North Carolina. To this day, nobody knows what happened to the van.
The Ambulance Is Recreated
Enter Travis Bell of Celebrity Machines. Travis is a huge Cannonball Run fan and spent years searching for the original Transcon Medi-Vac Ambulance. After giving up on the search, he was able to speak to Brock Yates and get detailed information so he could recreate the ambulance. He was even able to get Brock Yates, Pam Yates (Lady Pamela) and Hal Needham to sign the dash.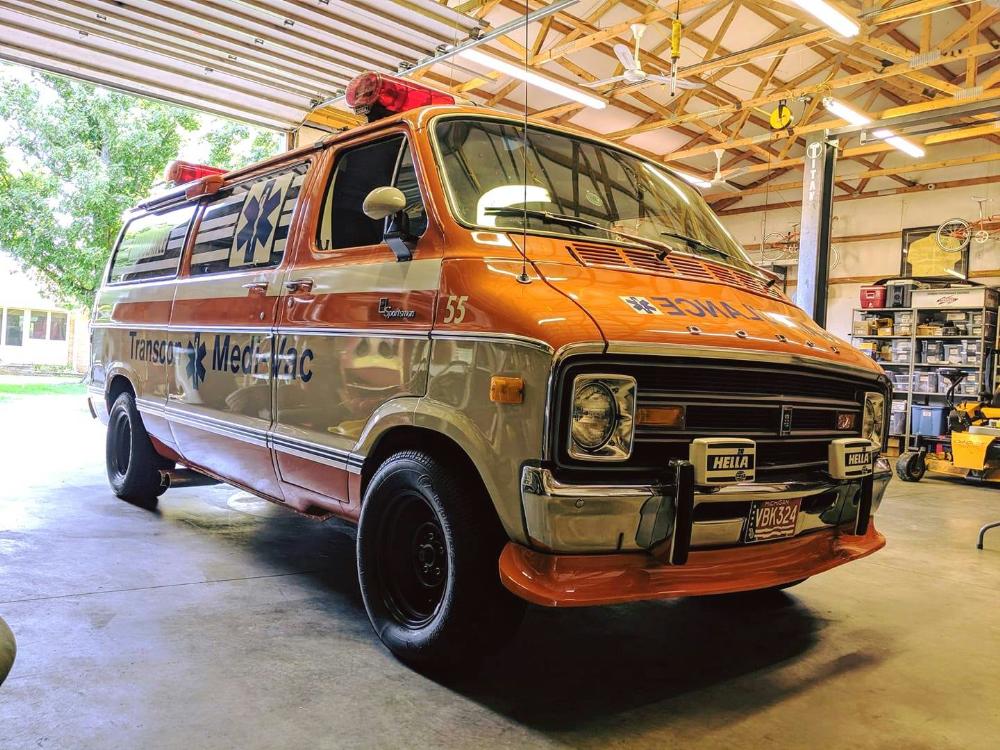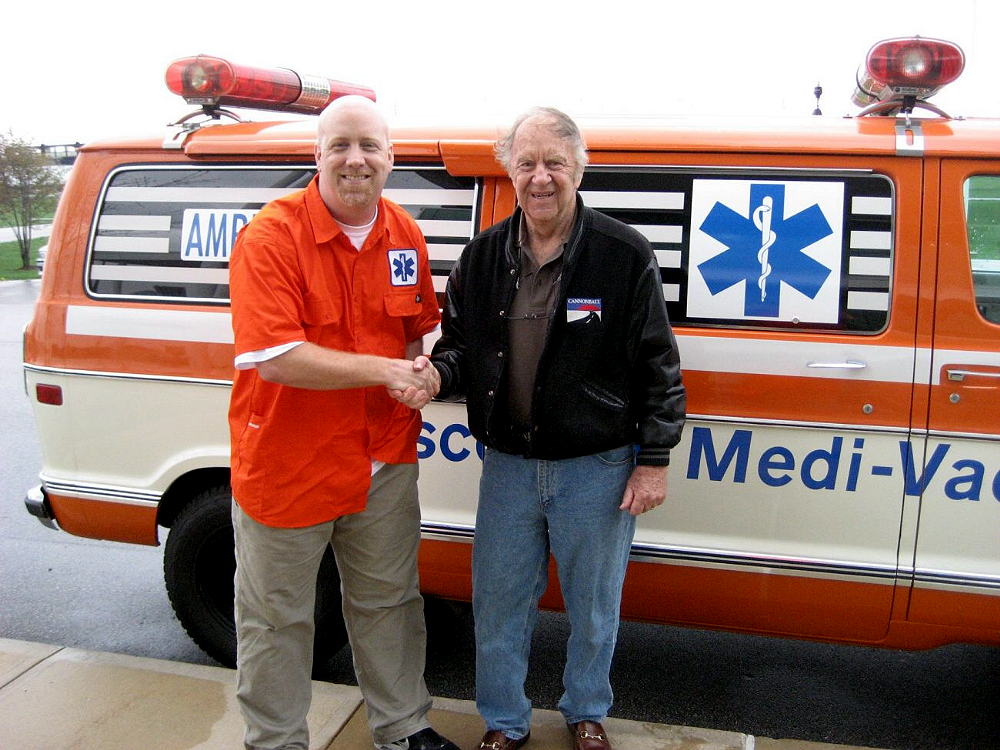 (Travis Bell (left) with Brock Yates)
Transcon Medi-Vac Ambulance 2008 Specs
Body:
1978 Dodge Tradesman Van
Engine:
700 HP Big Block 502 Stroker
Holley – 850 Carb
Weiand – Intake
MSD – Igntion System
Flowmaster – Exhaust
Transmission:
Gear Vendors – 6 Speed automatic overdrive
Bouchillon Performance – Brackets and Kickdown Cable
Mopar Performance – Valve covers and Air cleaner
B&M – Pan and Transmission Cooler
Chassis:
Stockton Wheel Inc. / Specialty Wheels Ltd. – Wheels
The Tire Rack – Speed Rated Tires
Bilstein – Shocks
Hellwig – Suspension Accessories
Hensel Gear – Rear End
Accessories:
Classic Auto Air – Cool
Powermaster – Alternator
Radar Busters – Additional Electronics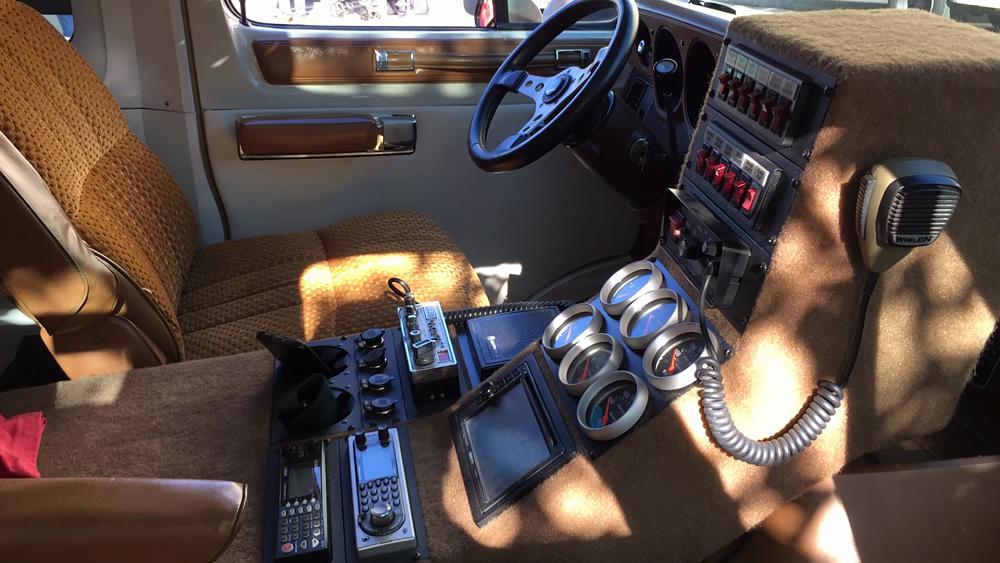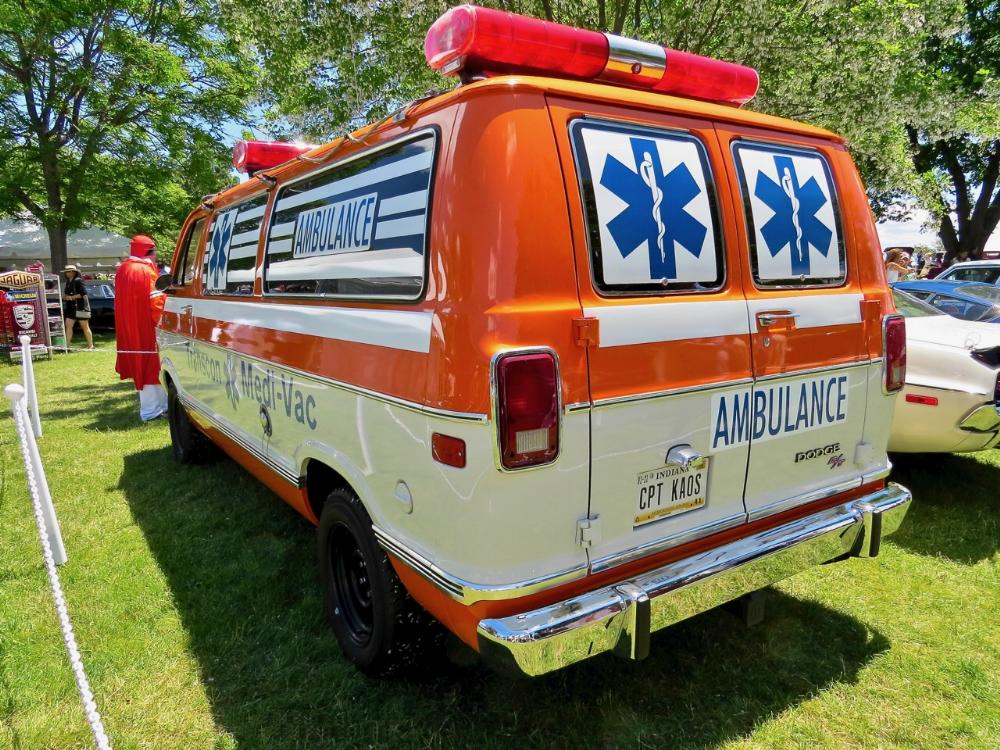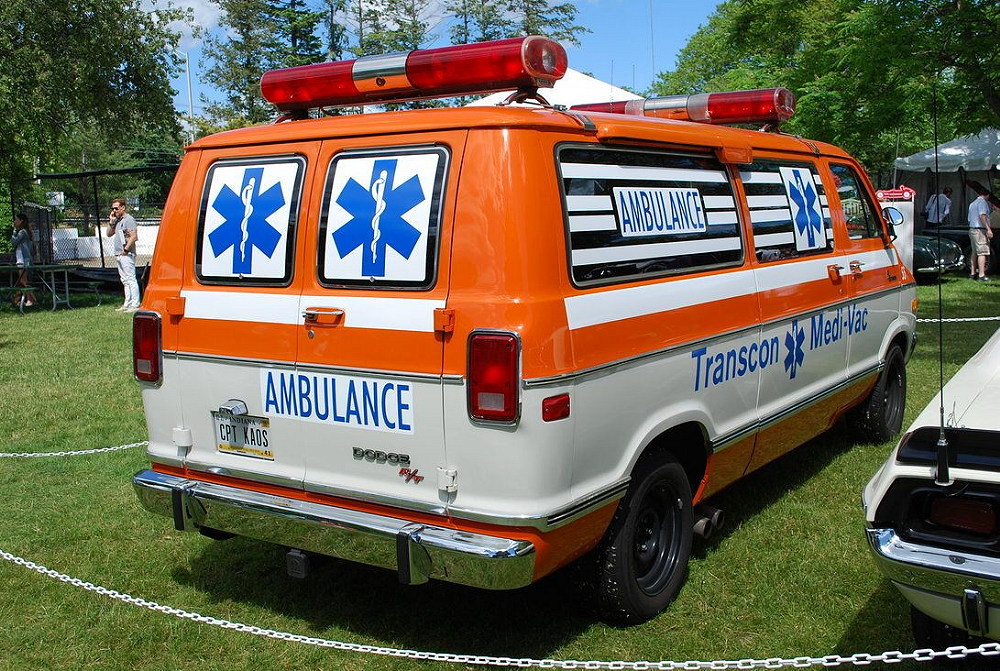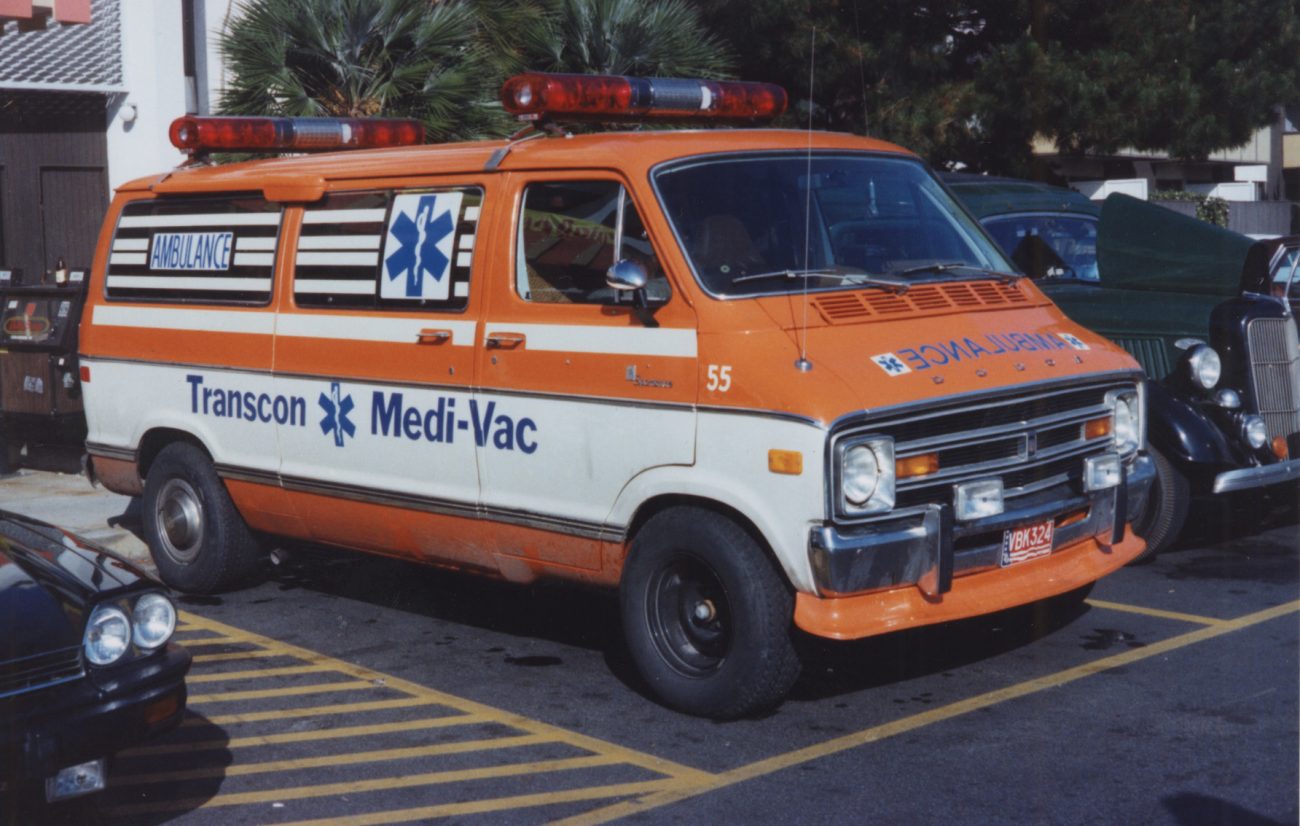 (The original Transcon Medi-Vac Cannonball Run Ambulance)
Videos:
(Cannonball Run – Full Movie)
Links:
Can You Race An Ambulance Across The USA?