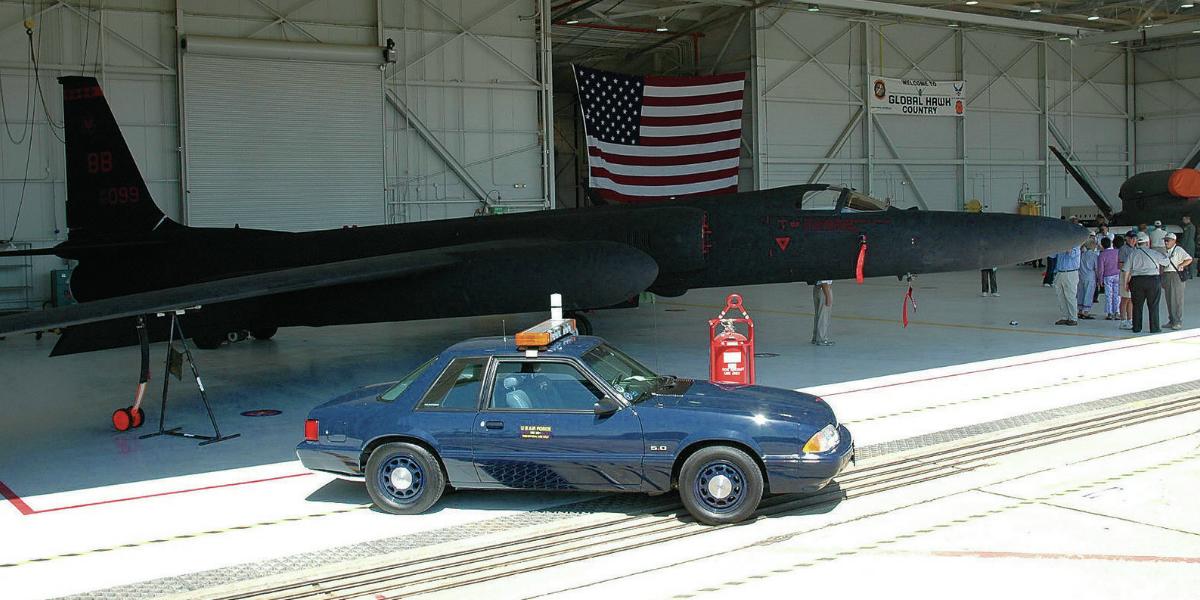 Riding a wingspan roughly as wide as a 10-story building is high, the U-2 pilot, insulated in a full pressurized flight suit and astronaut-like helmet, grips the stick and makes a final check on his alignment with the runway. The Lockheed spyplane is in the final seconds of a long, high-altitude recon mission overflying volatile hotspots to see what the bad guys have been up to lately.
Despite the hostile areas it just visited, the most dangerous part of the mission is landing. The U-2 was made to fly, but it's a handful to land. Its long wings amplify every breeze, but they must be kept level. Just a few degrees off horizontal will drag the wingtip, risking a crash. Those long wings give it so much lift that landing becomes an unnatural act. The technique is to get close to the ground, then stall it and just drop onto the runway.
Very tricky.
So tricky that a second pilot, also familiar with the U-2's quirks, accelerates down the runway with the U-2 in a high-performance car or "mobile," spotting the pilot and coaching him down via radio.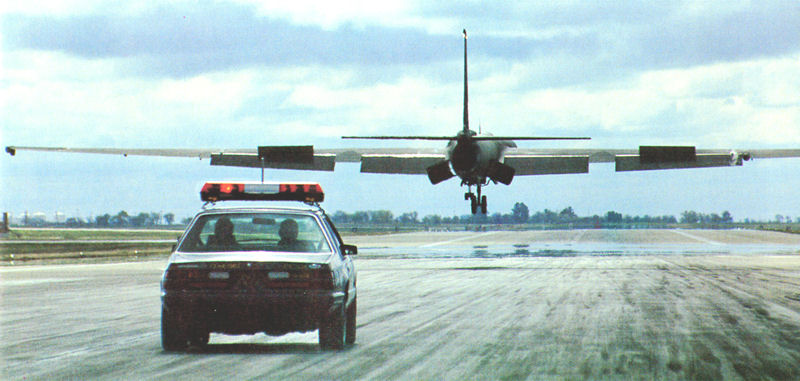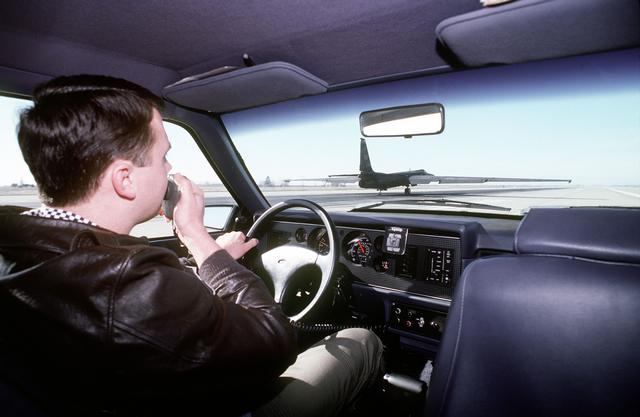 In service since 1957, some will remember the U-2, a.k.a. the "Dragon Lady," as the plane in which Gary Powers was shot down over the Soviet Union in 1960, and which detected the Soviet missiles in Cuba in October 1962.
It's not just any car that can hang with jets. Initially the Air Force used Ford station wagons with large V-8s, then switched to El Caminos from the '70s through 1986. But when GM announced the El Camino's discontinuation in 1987, the USAF began looking for a replacement that would be up to the challenge.
The search began in 1986 at Beale Air Force Base near Marysville, California, where the local California Highway Patrol provided one of their light and agile Mustangs for testing. Priorities for the USAF were immediate throttle response and rapid acceleration, which the Mustang delivered in spades. The USAF immediately called the 5.0 Fox-body Mustang into active duty.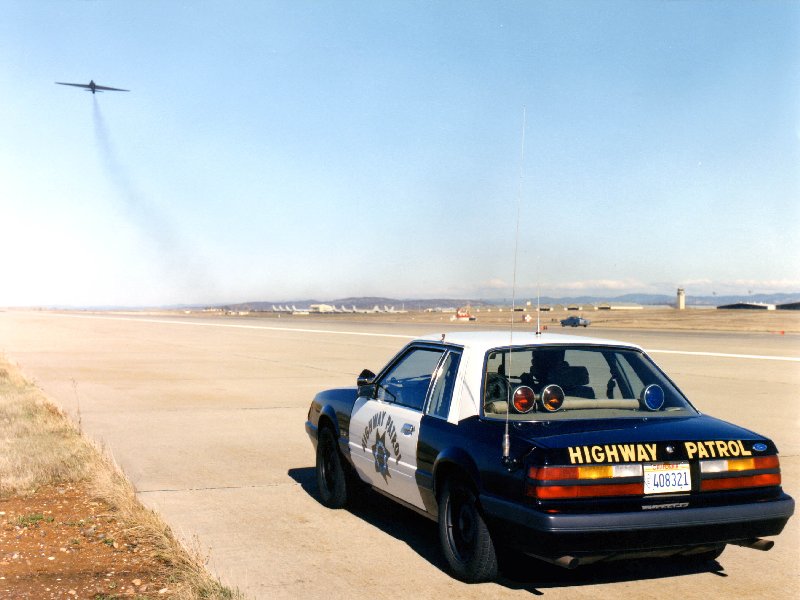 The U.S. Air Force testing a CHP Mustang at Beale AFB, Summer 1986
Just 19 Special Service Package (SSP) Mustang LX 5.0L coupes were built for USAF use between 1986 and 1991.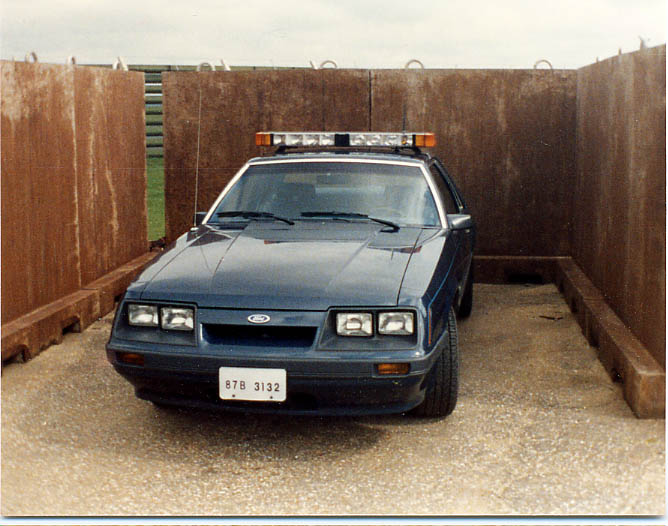 1986 'Mobile' at Alconbury UK
One of the eight ordered in 1988 is our feature car, owned by Keith Suzuki of Concord, California. Prior to its delivery to Beale AFB, this automatic transmission–equipped LX was resprayed in nonmetallic USAF Strato Blue over the factory-applied Dark Shadow Blue Metallic. The black alloy wheels were shot in the Strato Blue as well. From there a two-way aircraft radio, an aircraft-type wedge antenna, a Whelen Edge amber lightbar, and USAF "Official Use Only" door decals were added.
The Mustang was then tagged "United States Air Force Mobile Unit One," and its identification number was stenciled under the hood: 88B 9971, AFE RAF A, which decodes to its USAF license number, Air Force Europe, Royal Air Force-Alconbury. It was then placed in a transport plane with an identical '88 SSP tagged "Mobile Unit 70" and flown to RAF Alconbury in England where it would serve for a number of years with the 17th Reconnaissance Wing and the 95th Reconnaissance Squadron.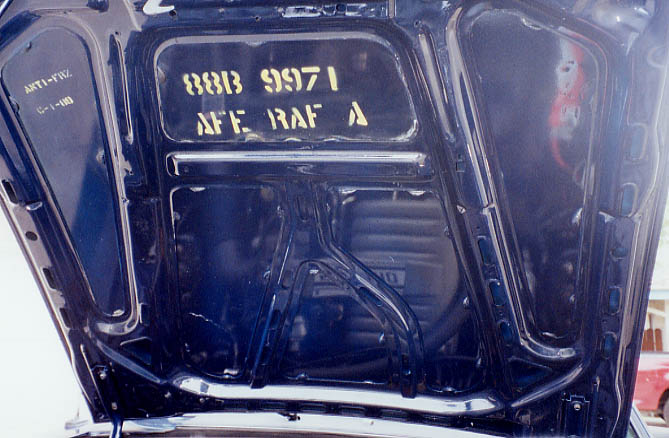 RAF Alconbury was the largest U-2 base outside the United States. There were originally three Mustangs stationed there—an '86 and the two '88s, but by the time the Persian Gulf War got underway, the '86 had been totaled and only the '88s remained. While stationed in England, the last pilot to crash a U-2 at Alconbury survived and rode from the crash site in this Mustang. In the excitement, he left his hat in the car where it was later discovered between the seats during the restoration. His name and the three U-2 bases he served at are written inside the hat.
In March 1995, Unit One was sent to the English RAF-Fairfield Station before being transferred to serve at Istres Air Force Base in France in January 1996 and later to the Aviano and Sigonella Air Force Bases in Italy. Mobile One was taken out of service in October 1999, stripped of its lightbar and radio equipment and sold through the DRMO in Aviano, Italy. American serviceman Michael Abela was stationed in England and purchased it. He drove it across Europe to Calais, France, and hitched a ferry ride to England. The Mustang was then shipped back to the States, and approximately a year later it was purchased by Charles Ricks.
Charles had Mobile One shipped from New York to his home in Hanford, California, and prepared for the subsequent restoration. Hours of research were done before the restoration in 2002 to make sure everything was accurately reproduced. He even tracked down an original lightbar. With 53,000 ticks on the odometer, Charles stripped the Mustang down to a shell. Engine bay, underside of the decklid, and doorjambs were all correctly resprayed in the factory Dark Shadow Blue, while the exterior and wheels were reshot in Air Force Strato Blue. No mirror-like finish here as the paint was left with some orange-peel texture and overspray to reflect how the Air Force would have originally painted the vehicle. Also, precautions were taken to preserve the original USAF stenciling under the hood.
Concord, California, resident Keith Suzuki entered the picture in October 2003. As a citizen volunteer for the Concord Police Department's Neighborhood Patrol Division, Keith had always yearned for a Police Package Mustang. He stumbled upon the USAF Mustang while searching the www.sspmustang.org website's For Sale section, and since Charles' Hanford residence was just three hours away he decided to have a look. Keith was sold on it immediately after seeing that the extremely rare car was almost completely restored, had great documentation, and could be driven legally in California sporting its amber lightbar.
Keith took the car home and prepared to have it ready for the upcoming show season. He immediately installed the lightbar that Charles had acquired, and added the light switches, USAF door decals, aircraft antennas, and radio microphone. Keith continues to search for the correct aircraft band radio, but with no photographs of interior shots of the U-2 chasers, he doesn't exactly know what he should be looking for. He also set out to correct some detail items in the engine compartment.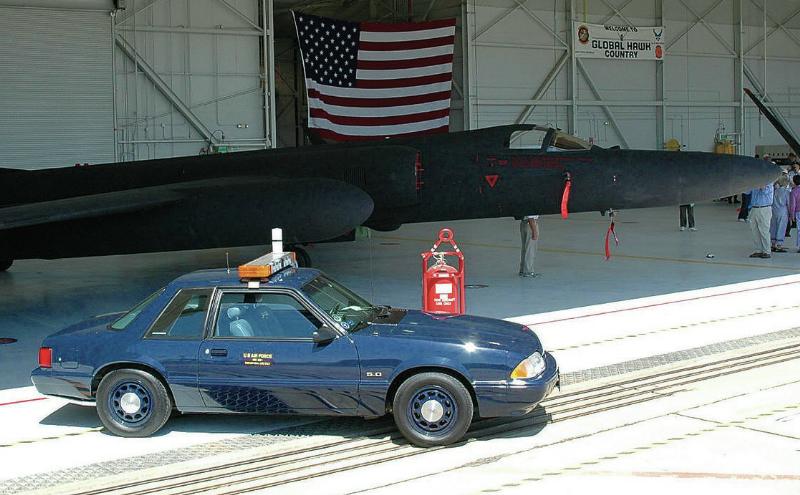 SSP Mustangs came with few frills and were meant to be all business—vinyl seats instead of cloth, crank windows, block-off plate instead of power door-lock switch, and a radio without the tape deck. It does have air conditioning, though. SSP Mustangs have:
relocated trunk-release button
oil-to-water sandwich-style engine-oil cooler
automatic transmission fluid cooler
130-amp heavy-duty alternator
certified calibration 140-mph speedometer
reinforced floorpans under front seats
deleted underhood sound-absorber pad
single-key locking system
aircraft-style hose clamps
heater-hose restrictor sleeve
full-size spare tire
Keith has done very well in show competition. Besides awards in local shows, he won a Gold Award in the Concours Driven class at the '07 Mustang Club of America show in Concord. Last October he won a First-Place trophy in the Special Service Pursuit Package category at the Ripon Police emergency vehicle show. There's always a crowd at shows asking what exactly what it is.
Keith is extremely happy with his U-2 car. "It's stealthy," he says. "It's not as noticeable as a CHP." Other drivers on the highway at times refuse to pass him thinking he's in some sort of in-service patrol unit.
Approximately 15,000 SSP Mustang LX 5.0Ls were built from 1982 to 1993, the majority patrolling our highways and catching "bad guys." Then there are those select few that played a small but important role in our national security.
More Photos:
Click the images to enlarge.