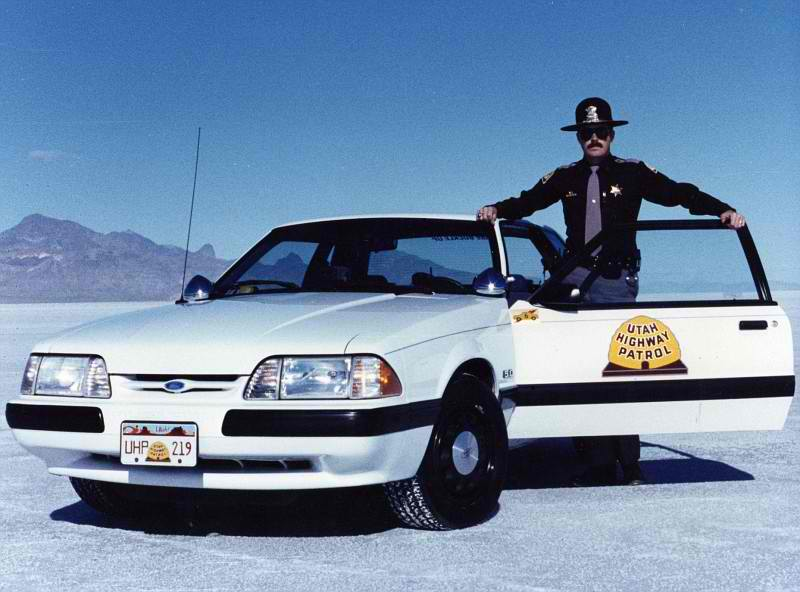 In July 1985, the Utah Highway Patrol added 25 Ford Mustangs to the fleet. The 302 cubic-inch V8, four-barrel, high performance engine produced 210 horsepower. Coupled with a five speed manual transmission, the Mustang could go from zero to 60 mph in 5.8 seconds and had a top speed of 135 mph. While administration was impressed by the performance characteristics of this vehicle, economics was a large reason for testing the Mustang. The 1985 Mustangs were purchased for $9,500 each, about $1,700 less than the larger, four-door sedans the Patrol had been buying. The Mustang also proved to be more fuel efficient than the larger sedans.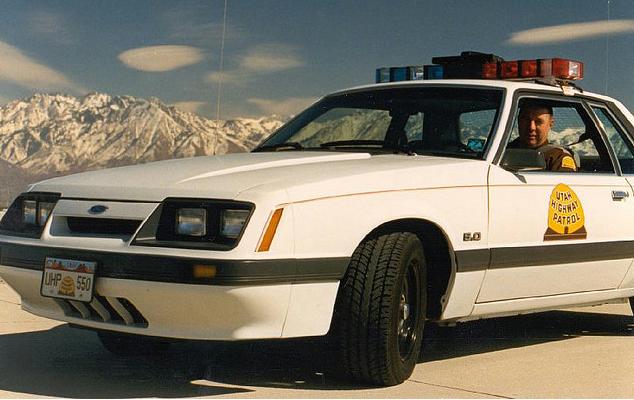 (Lt. Norm Steen in a 1985 Mustang)
The Patrol soon realized another advantage of the Mustang. The general public knew it was fast. Many high speed pursuits were avoided or quickly terminated simply because violators believed they could not outrun the Mustang. During one high speed pursuit, the violator continued to flee when two large sedans appeared.
Finally, when a Mustang joined the chase, the violator immediately stopped. When asked why he decided to stop, the violator said, "I knew I could outrun those other patrol cars, but I can't outrun a Mustang."
Prior to receiving a Mustang, troopers were required to complete a two day emergency vehicle operation course. Troopers had to learn to shift gears, talk on the radio, operate police equipment such as radar, and drive, all at the same time. The Mustang was difficult to drive during inclement weather. Officers learned to shift to a higher gear and feather the accelerator to keep from spinning the back tires.
One disadvantage of the Mustang was its small size. Due to officer's safety and the large quantity of issued equipment, troopers could no longer transport passengers in the back seat. Trunk space was also limited. Many modifications in equipment were made to accommodate this reduced space. Large first aid kits issued during the 1970s were replaced with smaller units. Large traffic cones were replaced with smaller cones. Pry bars carried since the 1940s were eliminated, as was a scoop shovel which was first issued in the 1930s. Compact police radios were purchased. The Patrol experimented with a folding shotgun stock for the Remington 870. After two years of use, on a limited number of weapons, the folding stock was discontinued. Weapons which had been converted were again fitted with the standard wood stock.
For the next decade, the Utah Highway Patrol purchased Mustangs. By the late 1980s, the entire field fleet consisted of Mustangs. Several large troopers modified the front seat to accommodate their physique. The Patrol continued to purchase Mustangs until a new body style in 1994 increased the purchase price dramatically. The Mustang was slowly phased out of service in the 1990s.
More Photos: