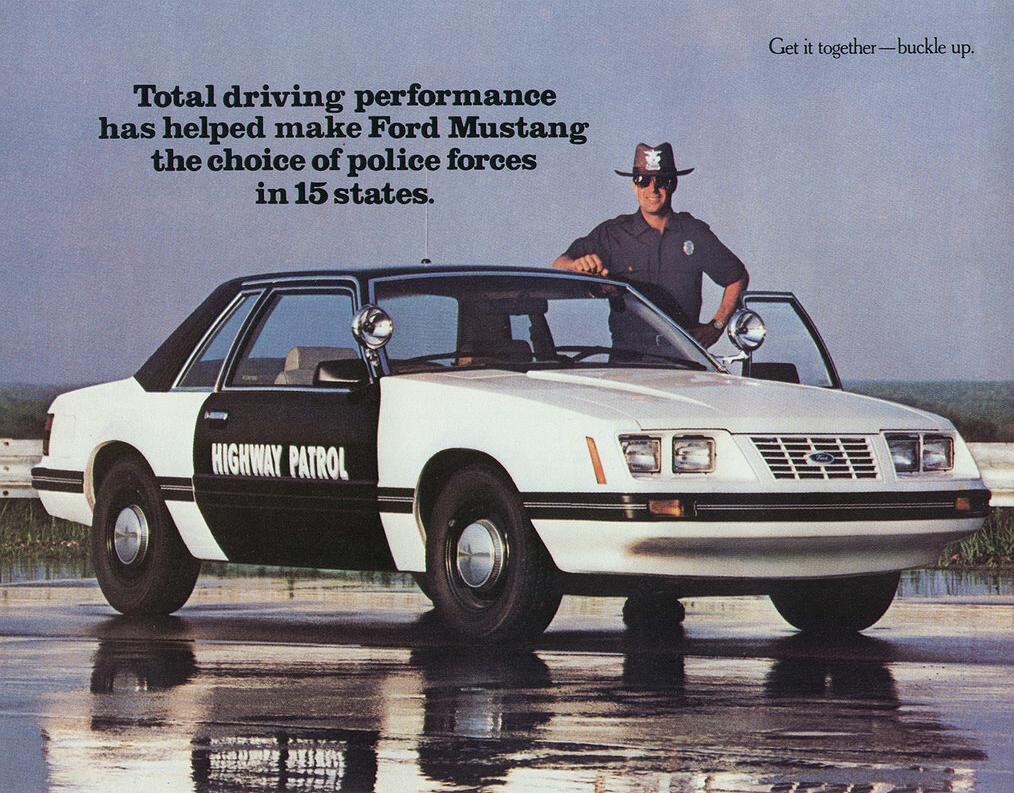 Ford 'officially' offered the Special Service Package Mustang to law enforcement agencies from 1983-1993. However, the introduction of the Special Service Package Mustang actually began in 1982.
1982 – California Highway Patrol: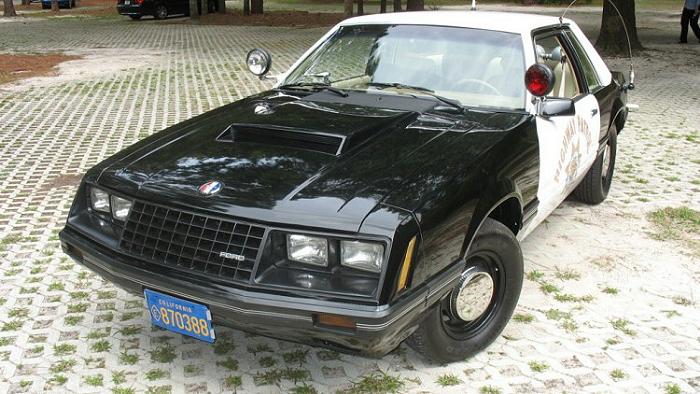 The California Highway Patrol (CHP) was looking for a vehicle that could meet it's performance needs. These demands were so serious, that it later became part of Ford's marketing: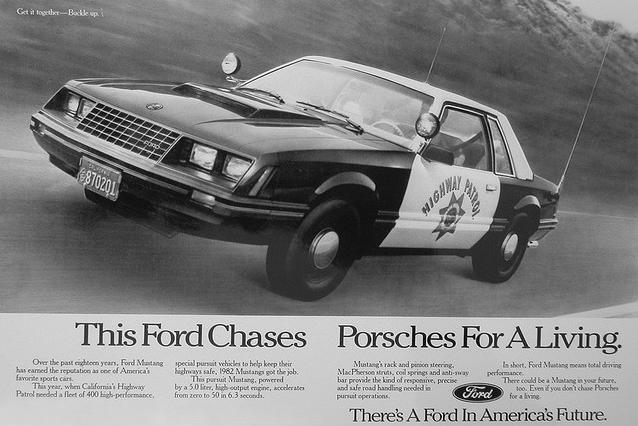 The CHP had tested the 1979 Chevy Z-28 Camaro, but was not satisfied. Emil Loeffler was Ford's fleet manager in Detroit Michigan, and was responsible for optioning a Mustang to fit the CHP's needs. In December of 1981, the first 1982 Mustang was built and given to the CHP for testing and evaluation as a high speed traffic enforcement vehicle as CHP Unit # 851963. At the time, the Mustang was the only vehicle tested by the CHP that would accelerate to 100 MPH in a given time frame, stop in prescribed distance and have a top speed over 125 MPH. The testing was performed by the California Highway Patrol (CHP) at the CHP Training Academy in Sacramento in January/February 1982. Pleased with the performance, the California Highway Patrol purchased 400 of the Severe Service Package (SSP) equipped Mustangs.
Note: Starting in 1983, the name would be switched to 'Special Service Package' (SSP).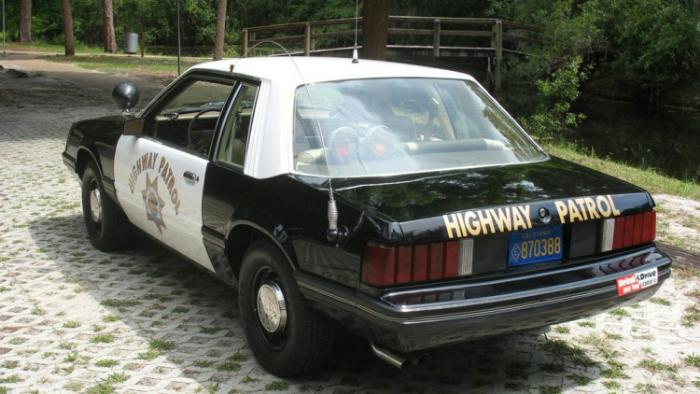 Of the 400 SSP Mustangs purchased, approximately (4) of them were hatchbacks.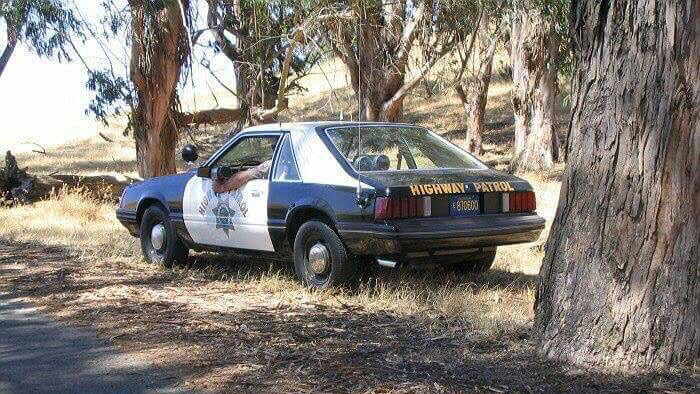 Of the (4), only (1) is known to exist and has been restored. This is undoubtedly the rarest Special Service Package Mustang in existence.
The California Highway Patrol decided that it needed a 1982 Mustang for its Emergency Vehicle Operator Course (EVOC) at the CHP Academy in Sacramento. The EVOC program is used to teach new CHP officers how to operate their patrol vehicles. Rather than take one of the 400 new SSP Mustangs and put it into EVOC service, it was decided to put the 1982 SSP Prototype Mustang into EVOC service. The car was then sold to the CHP by Ford for the $1.00, and and was fitted with a full roll cage at the expense of Ford Motor Company by Bill Stroppe of Indy Car and Off Road Racing fame. The car remained in EVOC service until retirement and subsequent sale in late 1985.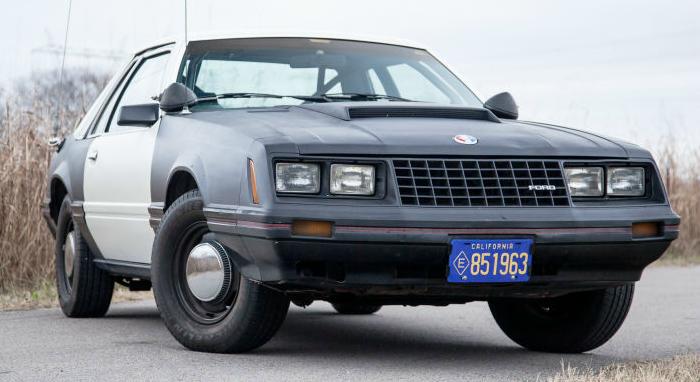 1982 California Highway Patrol EVOC SSP Mustang with Bill Stroppe installed roll cage.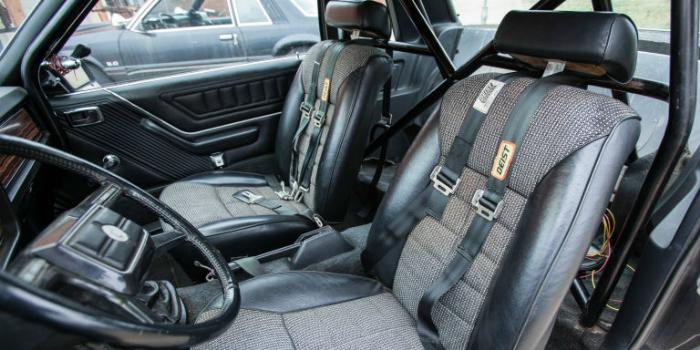 The 1982 CHP test car, that became the EVOC car, is still in existence today and is driveable. In 2014, it was listed for sale on ebay in the Tennessee area.
1982 – Ford Begins To Market The Special Service Package Mustang:
A second 1982 Ford Mustang was ordered and modified by Mr. Emil Loeffler and his team for testing and development of the Mustang Special Service Package (SSP) option. This car is sometimes referred to as the 'SSP Engineering Mule', and was built in April of 1982. The car was loaned to Ford Fleet Customer's (law enforcement agencies) for testing and evaluation.
One of those agencies was the Texas Department of Public Safety (DPS) Highway Patrol. When Texas received the car it was all black. In order to match the agency's paint scheme, the Texas DPS painted the hood, roof, and trunk lid with white latex that would be easy to remove later.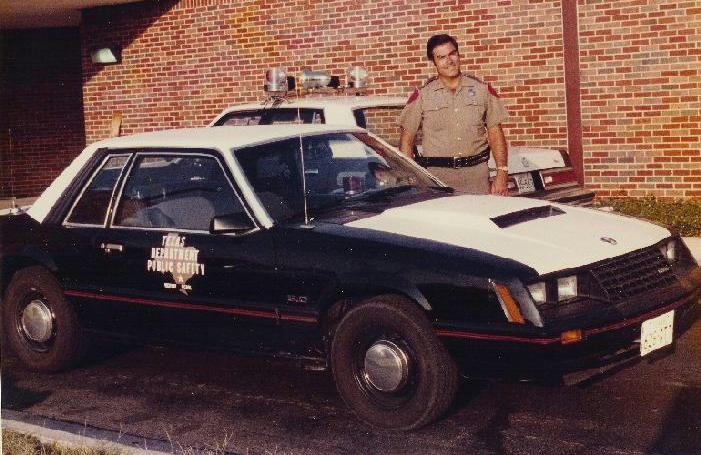 Texas DPS Trooper D. Pruett standing with 1982 test vehicle
After testing and customer evaluations, the Mustang was sent to Ford Engineering in Dearborn Michigan where the car was used for testing and development of future SSP Mustangs. The car remained at Ford Dearborn Engineering until late 1985. In 1985, Mr. Loeffler received a call from Ford Engineering asking him what he wanted to do with the car, as it was no longer needed for engineering and testing. The car was returned to Mr. Loeffler at Detroit Fleet Sales, at which time he personally purchased the car from Ford Motor Company for the sum of $1.00.
The car was eventually sold to another private owner and In 2014, it was listed for sale on ebay in the Tennessee area.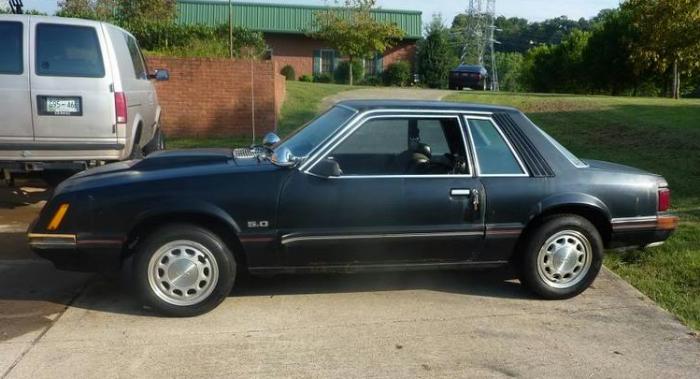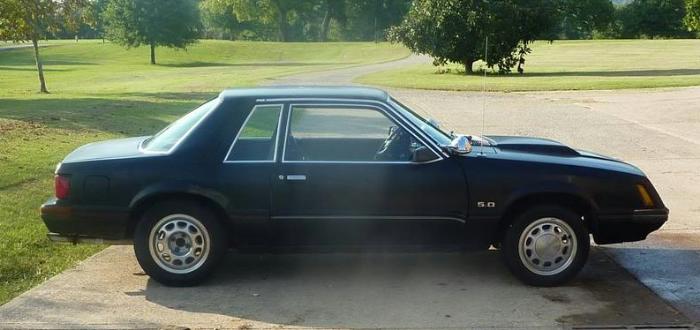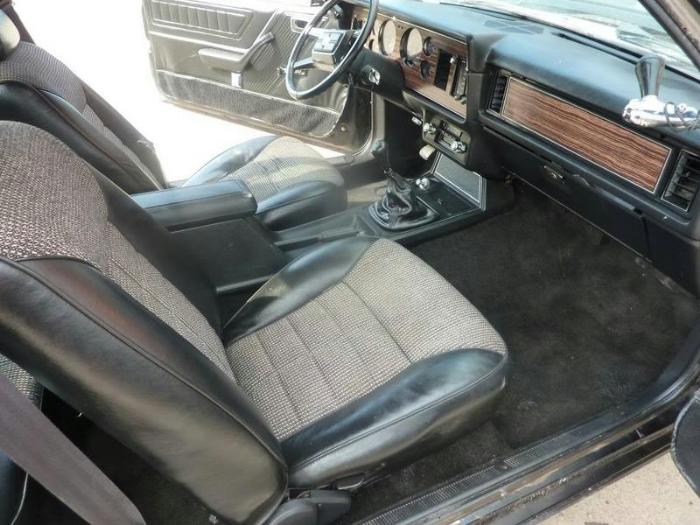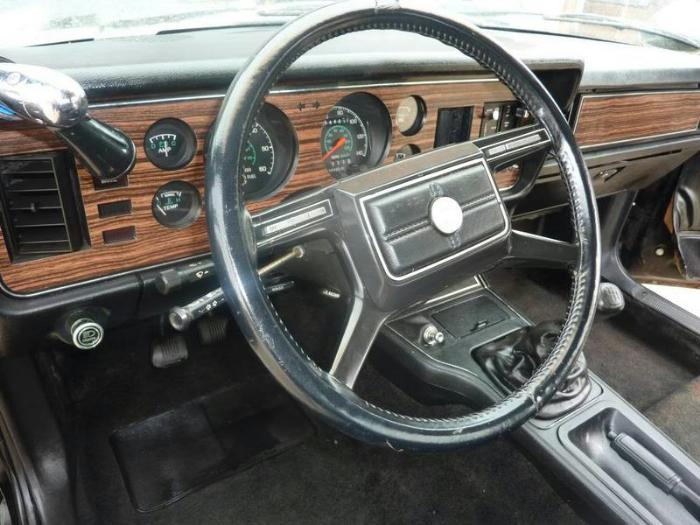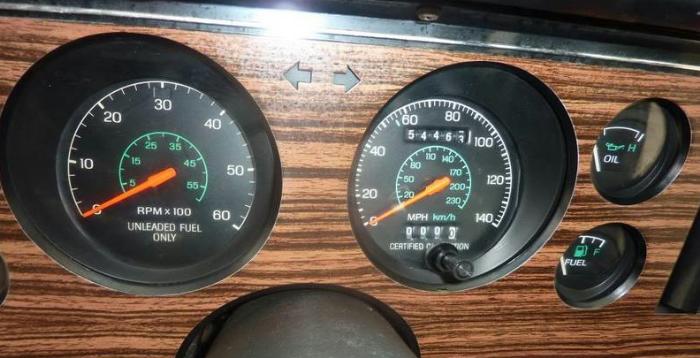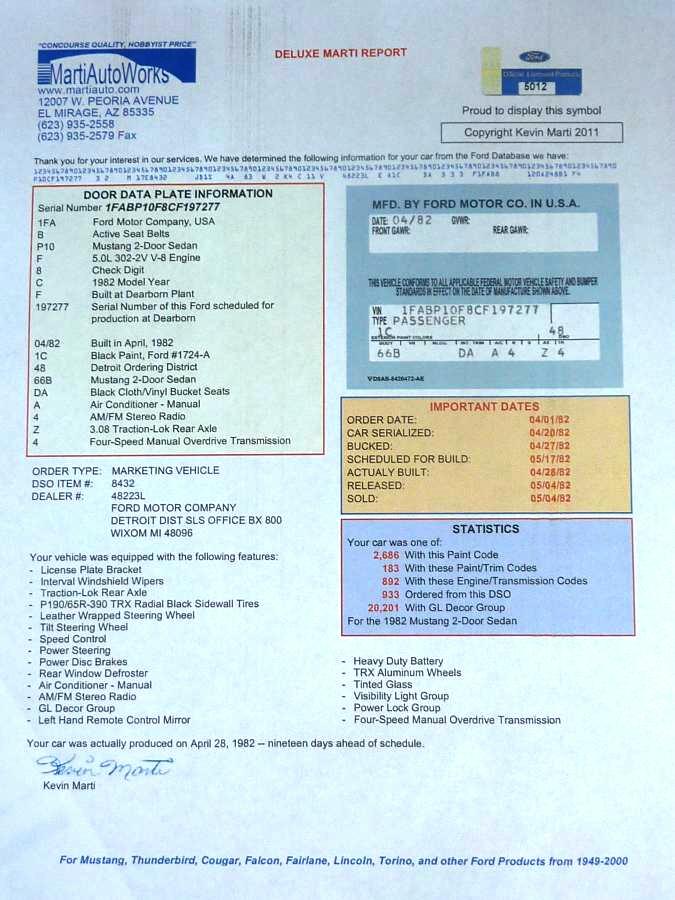 1982 SSP Mustang Test Vehicle – Marti Report (click to enlarge)
Conclusion:
Both of these Mustangs were ordered and modified by Emil Loeffler and his Ford Fleet Sales Group in Detroit Michigan, to develop and sell the Special Service Package option on the Mustang. Both 1982 Mustangs were personally ordered identical to each other by Mr. Loeffler under his Ford Fleet Tag Number. Both cars were originally Black with Black Interior, equipped with the 302 HO Engine, 4 Speed SROD Transmission, Power Steering, Power Disc Brakes, Factory Air Conditioning, TRX Suspension, Power door Locks, Cruise Control and more. These are the only two 1982 Police Mustangs so equipped.
Because of Mr. Loeffler's involvement in the program, he is considered by some as the father of the Special Service Package Mustang.
Emil Loeffler – Retired Ford Fleet Manager – Father of the Special Service Package Mustang
Looking at documentation for the California Highway Patrol 2-door, and hatchback (3-door) Mustangs, all show to be listed by Ford as 'Special Service Package' (SSP) vehicles, documenting that the SSP package did in fact exist in 1982. It simply wasn't made available to other agencies until 1983.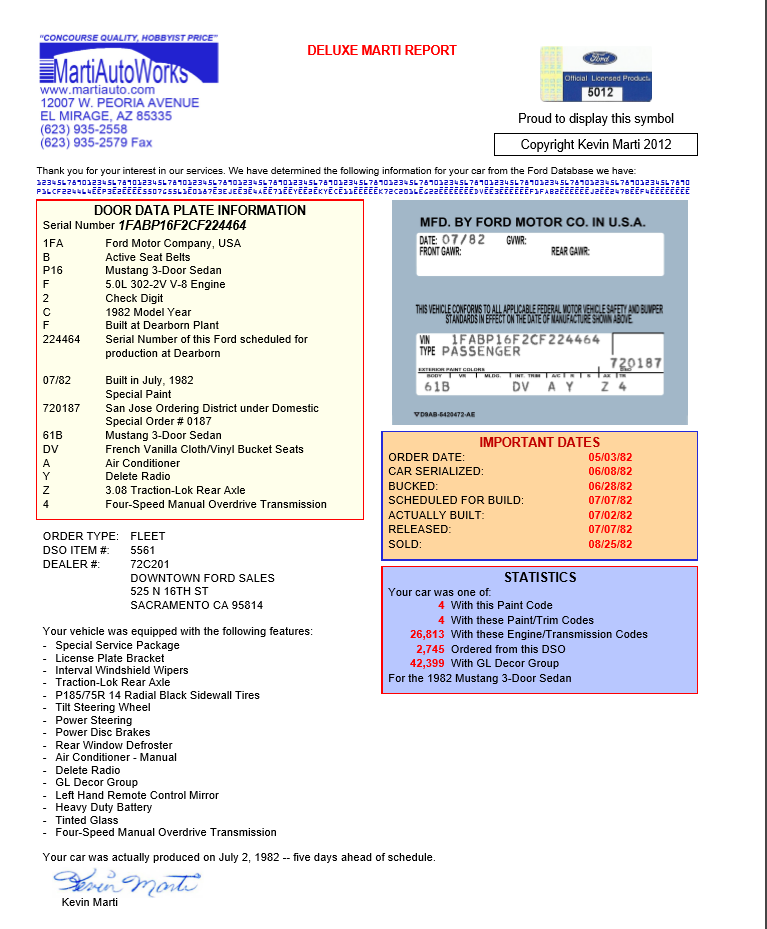 California Highway Patrol 1982 Ford Mustang Hatchback SSP Marti Report (click to enlarge)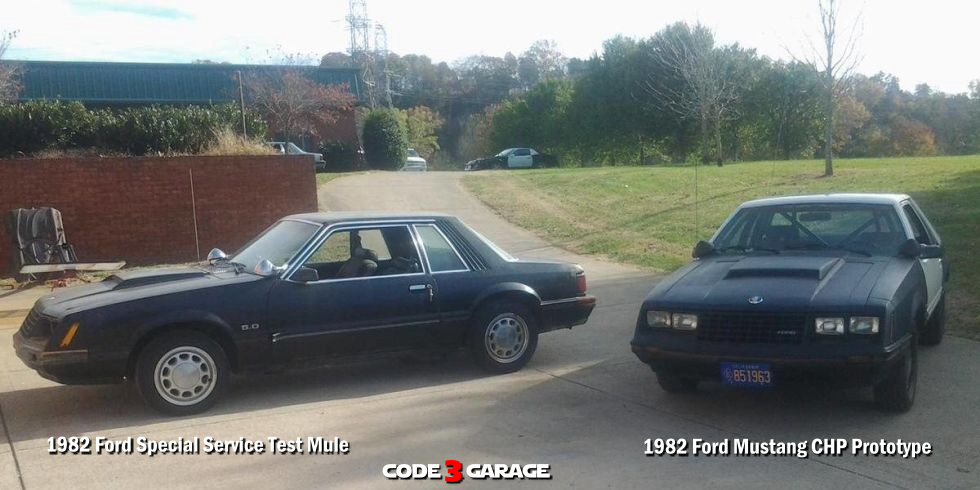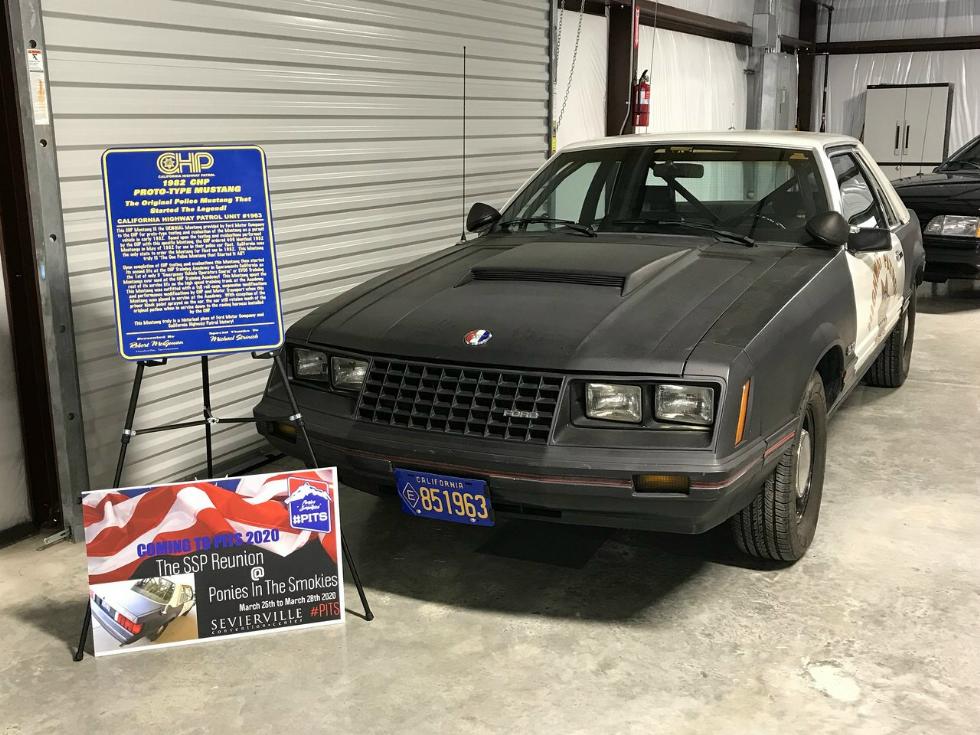 You can visit the 1982 Ford Mustang CHP prototype at the Mustang Museum of America.
Video: