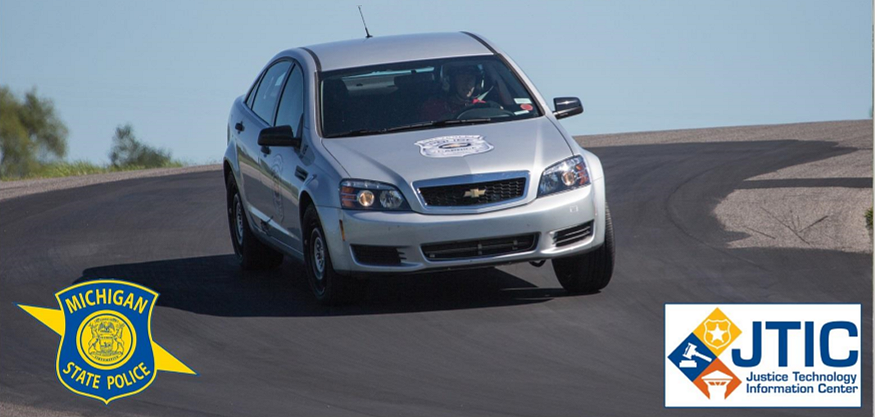 The Michigan State Police (MSP) began testing patrol cars in the 1950s. At that time, quotations were requested from manufacturers and only the vehicle with the lowest quotation was tested to see if it met our purchasing requirements. Years later, the quotations received from manufacturers were only four dollars apart. At that point, the MSP decided to test all vehicles in order to select the best vehicle. The equipment used to measure speed and distance has evolved from tape measure to global positioning systems providing more accurate measurements, making the MSP vehicle testing an internationally recognized resource for law enforcement agencies.
The MSP used the Chrysler Proving Grounds to measure acceleration and top speed. Here is a list of yearly test results showing 0-100 MPH and top speed results.
The numbers in BLUE are the top speeds for 4-door police vehicles that year.
The numbers in GREEN are the fastest 0-100 MPH 4-door police vehicles that year.
The numbers in bold BLACK are Camaro's and Mustang's.
If you would like to see all of the test results for these vehicles, check out the Michigan State Police Vehicle Evaluations Page.
| | | |
| --- | --- | --- |
| Vehicle | 0-100 (Seconds) | Top Speed (MPH) |
| 2020 Chevrolet Tahoe 5.3L RWD | 19.29 | 134 |
| 2020 Chevrolet Tahoe 5.3L 4WD | 19.98 | 120 |
| 2020 Dodge Charger 3.6L RWD | 19.42 | 141 |
| 2021 Dodge Charger 3.6L AWD | 18.39 | 140 |
| 2021 Dodge Charger 5.7L RWD | 14.04 | 149 |
| 2020 Dodge Charger 5.7L AWD | 14.53 | 149 |
| 2020 Dodge Durango 3.6L AWD | 22.68 | 117 |
| 2020 Dodge Durango 5.7L AWD | 20.36 | 118 |
| 2020 Ford Police Interceptor Utility Hybrid AWD | 17.62 | 136 |
| 2020 Ford Police Interceptor Utility 3.0L EcoBoost AWD | 13.99 | 148 |
| 2020 Ford Police Interceptor Utility 3.3L AWD | 19.74 | 136 |
| 2020 Ford F150 Police Responder 3.5L EcoBoost | 16.66 | 105 |
| 2020 Ford Police Responder Hybrid Sedan | 27.91 | 117 |
| – | | |
| 2019 Chevrolet Tahoe 5.3L RWD | 18.91 | 134 |
| 2019 Chevrolet Tahoe 5.3L 4WD | 20.16 | 121 |
| 2019 Dodge Charger 3.6L RWD | 20.01 | 141 |
| 2019 Dodge Charger 5.7L RWD | 14.66 | 149 |
| 2019 Dodge Charger 5.7L AWD | 14.71 | 149 |
| 2019 5.7L AWD Dodge Durango Pursuit 3.6L | 22.86 | 117 |
| 2019 Dodge Durango Pursuit 5.7L | 18.34 | 118 |
| 2019 Ford Police Interceptor Utility Hybrid AWD | 17.69 | 137 |
| 2019 Ford Police Interceptor Utility 3.0L EcoBoost AWD | 13.59 | 150 |
| 2019 Ford Police Interceptor Utility 3.3L AWD | 19.33 | 137 |
| 2019 Ford F150 Police Responder 3.5L EcoBoost | 16.48 | 106 |
| 2019 Ford Police Responder Hybrid Sedan | 26.00 | 119 |
| – | | |
| 2018 Chevrolet Tahoe 5.3L RWD | 19.29 | 134 |
| 2018 Chevrolet Tahoe 5.3L 4WD | 19.77 | 121 |
| 2018 Dodge Charger 3.6L 2.62 RWD | 20.19 | 141 |
| 2018 Dodge Charger 5.7L 3.08 AWD | 14.37 | 150 |
| 2018 Dodge Charger 5.7L 2.62 RWD | 15.26 | 150 |
| 2018 Ford PI Sedan 3.5L EcoBoost AWD | 13.50 | 149 |
| 2018 Ford PI Sedan 3.5L FWD | 18.67 | 132 |
| 2018 Ford PI Sedan 3.7L AWD | 18.23 | 133 |
| 2018 Ford Special Service Police | 20.58 | 120 |
| 2018 Ford Police Responder Hybrid Sedan | 24.36 | 119 |
| 2018 Ford PI Utility 3.5L EcoBoost AWD | 15.59 | 132 |
| 2018 Ford PI Utility 3.7L AWD | 19.89 | 133 |
| 2018 Ford F-150 Police Responder | 16.69 | 100 |
| – | | |
| 2017 Chevrolet Caprice 3.6L RWD | 19.29 | 147 |
| 2017 Chevrolet Caprice 6.0L RWD | 14.40 | 155 |
| 2017 Chevrolet Tahoe 5.3L RWD | 19.76 | 132 |
| 2017 Chevrolet Tahoe 5.3L 4WD | 20.39 | 121 |
| 2017 Dodge Charger 3.6L 2.62 RWD | 20.23 | 141 |
| 2017 Dodge Charger 5.7L 2.62 RWD | 15.22 | 149 |
| 2017 Dodge Charger 5.7L 3.08 AWD | 15.26 | 149 |
| 2017 Ford SSP Sedan 2.0L Ecoboost FWD | 22.17 | 120 |
| 2017 Ford PI Sedan 3.5L FWD | 19.70 | 131 |
| 2017 Ford PI Sedan 3.7L AWD | 18.56 | 131 |
| 2017 Ford PI Sedan 3.5L Ecoboost AWD | 13.62 | 148 |
| 2017 Ford PI Utility 3.7L AWD | 20.63 | 131 |
| 2017 Ford PI Utility 3.5L Ecoboost AWD | 16.00 | 131 |
| – | | |
| 2016 Chevrolet Caprice 3.6L RWD | 20.29 | 146 |
| 2016 Chevrolet Caprice 6.0L RWD | 14.84 | 155 |
| 2016 Chevrolet Impala 3.6L FWD | 19.45 | 150 |
| 2016 Chevrolet Tahoe 5.3L RWD | 19.78 | 137 |
| 2016 Chevrolet Tahoe 5.3L 4WD | 20.70 | 121 |
| 2016 Dodge Charger 3.6L 2.62 RWD | 20.65 | 141 |
| 2016 Dodge Charger 3.6L 3.08 RWD | 21.10 | 142 |
| 2016 Dodge Charger 5.7L 2.62 RWD | 15.55 | 150 |
| 2016 Dodge Charger 5.7L 3.08 AWD | 15.48 | 150 |
| 2016 Ford PI Sedan 3.5L FWD | 19.79 | 132 |
| 2016 Ford PI Sedan 3.7L AWD | 19.16 | 132 |
| 2016 Ford PI Sedan 3.5L Ecoboost AWD | 14.58 | 150 |
| 2016 Ford PI Sedan 2.0L Ecoboost FWD | 21.86 | 121 |
| 2016 Ford PI Utility 3.7L AWD | 21.65 | 132 |
| 2016 Ford PI Utility 3.5L Ecoboost AWD | 16.67 | 132 |
| – | | |
| 2015 Chevrolet Caprice 3.6L | 19.41 | 147 |
| 2015 Chevrolet Caprice 6.0L | 14.69 | 156 (Retested 10/7/14) |
| 2015 Chevrolet Impala 3.6L | 19.71 | 150 |
| 2015 Chevrolet Tahoe 5.3L | 18.99 | 139 |
| 2015 Chevrolet Tahoe 5.3L 4WD | 20.47 | 121 |
| 2015 Dodge Charger 3.6L 2.62 | 20.47 | 141 |
| 2015 Dodge Charger 3.6L 3.08 | 20.77 | 141 |
| 2015 Dodge Charger 5.7L 2.62 | 15.48 | 148 |
| 2015 Dodge Charger 5.7L 3.08 AWD | 15.63 | 149 |
| 2015 Ford PI Sedan 3.5L FWD | 19.82 | 132 |
| 2015 Ford PI Sedan 3.7L AWD | 19.70 | 132 |
| 2015 Ford PI Sedan 3.5L Ecoboost AWD | 14.19 | 149 |
| 2015 Ford PI Utility 3.7L AWD | 20.27 | 132 |
| 2015 Ford PI Utility 3.5L Ecoboost AWD | 16.13 | 132 |
| – | | |
| 2014 Chevrolet Caprice 3.6L | 18.31 | 148 |
| 2014 Chevrolet Caprice 6.0L | 14.35 | 155 |
| 2014 Chevrolet Impala 3.6L | 19.40 | 149 |
| 2014 Chevrolet Tahoe 5.3L | 21.95 | 139 |
| 2014 2014.5 Dodge Charger 2.65 3.6L | 21.29 | 139 |
| 2014 Dodge Charger 2.65 5.7L | 14.56 | 152 |
| 2014 Dodge Charger 3.07 3.6L | 19.95 | 141 |
| 2014.5 Dodge Charger 2.65 5.7L | 14.57 | 150 |
| 2014.5 Dodge Charger AWD 3.06 5.7L | 14.70 | 148 |
| 2014 Ford PI Sedan FWD 3.5L | 20.38 | 131 |
| 2014 Ford PI Sedan AWD 3.7L | 18.64 | 132 |
| 2014 Ford PI Sedan Ecoboost AWD 3.5L | 13.72 | 149 |
| 2014 Ford PI Utility AWD 3.7L | 21.00 | 131 |
| 2014.5 Ford PI Sedan Ecoboost AWD 3.5 | 13.50 | 123 |
| 2014.5 Ford PI Utility Ecoboost AWD 3.5L | 15.51 | 131 |
| – | | |
| 2013 Chevrolet Caprice 9C1 3.6L | 19.21 | 146 |
| 2013 Chevrolet Caprice 9C1 6.0L | 14.28 | 154 |
| 2013 Chevrolet Impala 9C1 3.6L | 18.28 | 149 |
| 2013 Chevrolet Tahoe PPV 2WD 5.3L | 21.07 | 137 |
| 2013 Dodge Charger 2.65 3.6L | 19.50 | 141 |
| 2013 Dodge Charger 3.07 3.6L | 20.05 | 141 |
| 2013 Dodge Charger 2.65 5.7L | 14.39 | 152 |
| 2013 Dodge Charger 3.06 5.7L | 14.61 | 149 |
| 2013 Ford Police Interceptor FWD 3.5L | 19.04 | 131 |
| 2013 Ford Police Interceptor AWD 3.5L | 19.64 | 131 |
| 2013 Ford Police Interceptor AWD EcoBoost 3.5L | 13.71 | 150 |
| 2013 Ford Police Interceptor AWD 3.7L (run 2) | 18.62 | 132 |
| 2013 Ford Police Interceptor Utility AWD 3.7L | 21.13 | 132 |
| – | | |
| 2012 Chevrolet Caprice 9C1 6.0L | 14.13 | 154 |
| 2012 Chevrolet Caprice 9C1 6.0L E85 | 13.99 | 153 |
| 2012 Chevrolet Caprice 9C1 3.6L | 18.43 | 148 |
| 2012 Chevrolet Caprice 9C1 3.6L E85 | 18.30 | 147 |
| 2012 Chevrolet Impala 9C1 3.6L | 18.72 | 149 |
| 2012 Chevrolet Impala 9C1 3.6L E85 | 17.60 | 150 |
| 2012 Chevrolet Tahoe PPV2WD 5.3L | 21.08 | 139 |
| 2012 Chevrolet Tahoe PPV2WD 5.3L E85 | 21.37 | 139 |
| 2012 Dodge Charger 3.6L 2.65 | 20.18 | 141 |
| 2012 Dodge Charger 3.6L 2.65 E85 | 19.48 | 142 |
| 2012 Dodge Charger 3.6L 3.07 | 19.18 | 141 |
| 2012 Dodge Charger 5.7L 2.65 | 14.01 | 152 |
| 2012 Dodge Charger 5.7L 3.06 | 13.65 | 151 |
| 2012 Ford Police Interceptor FWD 3.5L | 19.68 | 130 |
| 2012 Ford Police Interceptor AWD 3.5L | 20.48 | 131 |
| 2012 Ford Police Interceptor AWD 3.5L E85 | 19.08 | 130 |
| 2012 Ford Police Interceptor EcoBoost AWD 3.5L | 14.50 | 148 |
| 2012 Ford Police Interceptor Utility FWD 3.7L | 20.07 | 131 |
| 2012 Ford Police Interceptor Utility AWD 3.7L | 19.94 | 131 |
| – | | |
| 2011 Chevrolet Caprice 9C1 6.0L | 14.77 | 148 |
| 2011 Chevrolet Caprice 9C1 6.0L E85 | 14.58 | 148 |
| 2011 Chevrolet Impala 9C1 3.9L | 23.74 | 138 |
| 2011 Chevrolet Impala 9C1 3.9L E85 | 22.94 | 139 |
| 2011 Chevrolet Tahoe PPV | 22.42 | 139 |
| 2011 Chevrolet Tahoe PPV E85 | 21.68 | 139 |
| 2011 Dodge Charger 5.7L | 14.99 | 146 |
| 2011 Dodge Charger 3.6L | 23.85 | 130 |
| 2011 Ford Police Interceptor 4.6 L 3.27 | 24.40 | 129 |
| 2011 Ford Police Interceptor 4.6 L 3.55 | 24.37 | 119 |
| – | | |
| 2010 Chevrolet Impala 9C1 3.9 L | 22.99 | 139 |
| 2010 Chevrolet Impala 9C1 3.9L E85 | 23.26 | 139 |
| 2010 Chevrolet Tahoe PPV | 21.80 | 133 |
| 2010 Chevrolet Tahoe PPV E85 | 21.29 | 132 |
| 2010 Dodge Charger 3.5 L | 22.74 | 137 |
| 2010 Dodge Charger 5.7 L | 14.21 | 146 |
| 2010 Ford Police Interceptor 4.6 L 3.27 | 23.73 | 129 |
| 2010 Ford Police Interceptor 4.6 L 3.55 | 22.44 | 120 |
| – | | |
| 2009 Chevrolet Impala 9C1 3.9 L | 22.22 | 139 |
| 2009 Chevrolet Impala 9C1 3.9L E85 | 22.53 | 140 |
| 2009 Chevrolet Tahoe PPV | 22.56 | 132 |
| 2009 Chevrolet Tahoe PPV E85 | 22.86 | 133 |
| 2009 Dodge Charger 3.5 L | 23.52 | 136 |
| 2009 Dodge Charger 5.7 L | 14.29 | 146 |
| 2009 Ford Police Interceptor 4.6 L 3.27 | 24.07 | 128 |
| 2009 Ford Police Interceptor 4.6 L 3.55 | 23.70 | 120 |
| – | | |
| 2008 Chevrolet Impala 9C1 3.9 L | 21.68 | 142 |
| 2008 Chevrolet Impala 9C1 3.9L E85 | 21.61 | 141 |
| 2008 Chevrolet Tahoe PPV | 22.79 | 127 |
| 2008 Chevrolet Tahoe PPV E85 | 22.29 | 127 |
| 2008 Dodge Charger 3.5 L | 23.15 | 132 |
| 2008 Dodge Magnum 3.5 L | 23.96 | 132 |
| 2008 Dodge Charger 5.7 L | 15.19 | 148 |
| 2008 Dodge Magnum 5.7 L | 15.82 | 131 |
| 2008 Ford Police Interceptor 4.6 L 3.27 | 22.72 | 129 |
| 2008 Ford Police Interceptor 4.6 L 3.55 | 22.20 | 120 |
| 2008 Ford Police Interceptor 4.6L 3.27 E85 | 22.29 | 129 |
| – | | |
| 2007 Chevrolet Impala 9C1 3.9 L | 24.11 | 139 |
| 2007 Chevrolet Tahoe PPV | 24.52 | 136 |
| 2007 Chevrolet Tahoe PPV E85 | 23.45 | 137 |
| 2007 Dodge Charger 3.5 L | 24.13 | 132 |
| 2007 Dodge Charger 5.7 L | 16.32 | 148 |
| 2007 Dodge Magnum 3.5 L | 24.95 | 131 |
| 2007 Dodge Magnum 5.7 L | 16.53 | 131 |
| 2007 Ford Police Interceptor 4.6 L 3.27 | 24.01 | 130 |
| 2007 Ford Police Interceptor 4.6 L 3.55 | 24.01 | 119 |
| – | | |
| 2006 Chevrolet Impala 9C1 3.9 L | 23.58 | 142 |
| 2006 Chevrolet Tahoe PPV | 25.68 | 124 |
| 2006 Chevrolet Tahoe PPV E85 | 25.72 | 124 |
| 2006 Dodge Charger 3.5 L | 24.55 | 135 |
| 2006 Dodge Charger 5.7 L | 16.24 | 150 |
| 2006 Dodge Magnum 3.5 L | 25.71 | 132 |
| 2006 Dodge Magnum 5.7 L | 16.49 | 134 |
| 2006 Ford Police Interceptor 4.6 L 3.27 | 24.12 | 130 |
| 2006 Ford Police Interceptor 4.6 L 3.55 | 23.38 | 120 |
| – | | |
| 2005 Chevrolet Impala | 25.29 | 123 |
| 2005 Chevrolet Tahoe PPV 2WD | 23.86 | 124 |
| 2005 Chevrolet Tahoe PPV 4WD E85 | 23.69 | 125 |
| 2005 Dodge Magnum | 24.96 | 117 |
| 2005 Ford Police Interceptor 3.27 | 23.30 | 128 |
| 2005 Ford Police Interceptor 3.55 | 22.91 | 119 |
| 2005 Ford Expedition 2WD | N/A | 99 |
| 2005 Ford Explorer 2WD | 27.58 | 107 |
| – | | |
| 2004 Chevrolet Impala | 26.42 | 123 |
| 2004 Chevrolet Tahoe 2WD | N/A | 99 |
| 2004 Chevrolet Tahoe 4WD | N/A | 99 |
| 2004 Dodge Intrepid | 23.56 | 135 |
| 2004 Ford Police Interceptor 3.27 | 23.30 | 128 |
| 2004 Ford Police Interceptor 3.55 | 22.52 | 118 |
| 2004 Ford Expedition 2WD | N/A | 100 |
| 2004 Ford Explorer 2WD | 28.25 | 107 |
| – | | |
| 2003 Chevrolet Impala | 26.73 | 126 |
| 2003 Chevrolet Tahoe 2WD | N/A | 98 |
| 2003 Chevrolet Tahoe 4WD | N/A | 98 |
| 2003 Dodge Intrepid | 24.80 | 136 |
| 2003 Ford Police Interceptor | 25.58 | 128 |
| 2003 Ford Expedition 2WD | 40.91 | 100 |
| 2003 Ford Expedition 4WD | 35.83 | 100 |
| 2003 Ford Explorer 2WD | 37.87 | 101 |
| – | | |
| 2002 Chevrolet Camaro Automatic | 13.48 | 159 |
| 2002 Chevrolet Impala | 26.27 | 124 |
| 2002 Chevrolet Tahoe 2WD | N/A | 98 |
| 2002 Chevrolet Tahoe 4WD | N/A | 98 |
| 2002 Dodge Intrepid | 24.27 | 135 |
| 2002 Dodge Durango SLT 2WD | 30.19 | 114 |
| 2002 Dodge Durango SLT 4WD | 34.93 | 112 |
| 2002 Ford Police Interceptor | 23.34 | 129 |
| 2002 Ford Police Interceptor (2003) | 23.83 | 127 |
| 2002 Ford Long Wheelbase Crown Victoria | 29.60 | 104 |
| 2002 Ford Expedition 4WD | 36.27 | 105 |
| 2002 Ford Explorer 4WD | 34.31 | 105 |
| – | | |
| 2001 Chevrolet Camaro Automatic | 13.93 | 159 |
| 2001 Chevrolet Camaro 6-Speed Manual | 13.35 | 159 |
| 2001 Chevrolet Impala | 25.40 | 124 |
| 2001 Chevrolet Tahoe 2WD | N/A | 98 |
| 2001 Chevrolet Tahoe 4WD | N/A | 98 |
| 2001 Jeep Cherokee 2WD | 30.93 | 111 |
| 2001 Jeep Cherokee 4WD | 34.53 | 111 |
| 2001 Ford Police Interceptor | 24.61 | 129 |
| 2001 Ford Police Interceptor CNG | 37.02 | 123 |
| 2001 Ford Expedition 4WD | 34.32 | 106 |
| 2001 Ford Explorer 4WD | 36.22 | 106 |
| – | | |
| 2000 Chevrolet Camaro Automatic | 13.92 | 160 |
| 2000 Chevrolet Camaro 6-Speed Manual | 13.57 | 159 |
| 2000 Chevrolet Impala 3.8L | 24.92 | 124 |
| 2000 Jeep Cherokee 2WD | 31.08 | 111 |
| 2000 Jeep Cherokee 4WD | 35.32 | 108 |
| 2000 Ford Police Interceptor | 26.09 | 129 |
| 2000 Ford Expedition 4WD | 37.36 | 106 |
| 2000 Ford Explorer 4WD | 49.02 | 104 |
| – | | |
| 1999 Chevrolet Camaro Automatic | 15.18 | 159 |
| 1999 Chevrolet Camaro 6-Speed Manual | 14.46 | 159 |
| 1999 Chevrolet Lumina 3.8L | 26.71 | 124 |
| 1999 Chevrolet Tahoe 2WD | 32.00 | 121 |
| 1999 Jeep Cherokee 2WD | 32.77 | 111 |
| 1999 Jeep Cherokee 4WD | 36.66 | 111 |
| 1999 Ford Police Interceptor 4.6L | 25.33 | 129 |
| 1999 Ford Police Interceptor 4.6L CNG | 38.21 | 106 |
| – | | |
| 1998 Chevrolet Camaro Automatic | 14.64 | 150 |
| 1998 Chevrolet Camaro 6-Speed Manual | 14.00 | 150 |
| 1998 Chevrolet Lumina 3.8L | 28.31 | 123 |
| 1998 Chevrolet Tahoe 5.7L 2WD | 29.50 | 123 |
| 1998 Jeep Cherokee 2WD | 33.30 | 111 |
| 1998 Jeep Cherokee 4WD | 36.23 | 112 |
| 1998 Ford Crown Victoria 4.6L | 25.91 | 130 |
| 1998 Ford Crown Victoria 4.6L CNG | 36.47 | 104 |
| 1998 Ford Expedition 2WD | 31.79 | 106 |
| 1998 Ford Explorer 2WD | 37.86 | 106 |
| – | | |
| 1997 Chevrolet Camaro Automatic | 16.21 | 156 |
| 1997 Chevrolet Camaro 6-Speed Manual | 16.33 | 157 |
| 1997 Chevrolet Lumina 3.1L | 36.11 | 113 |
| 1997 Chevrolet Tahoe 2WD | 28.90 | 121 |
| 1997 Jeep Cherokee 2WD | 31.37 | 111 |
| 1997 Jeep Cherokee 4WD | 35.53 | 111 |
| 1997 Ford Crown Victoria 4.6L | 28.99 | 129 |
| 1997 Ford Crown Victoria 4.6L CNG | 37.70 | 107 |
| 1997 Ford Explorer 4WD 5.0L | 43.13 | 113 |
| 1997 Ford Explorer 4WD 4.0L | 30.15 | 106 |
| – | | |
| 1996 Chevrolet Camaro Automatic | 16.65 | 159 |
| 1996 Chevrolet Camaro 6-Speed Manual | 15.99 | 157 |
| 1996 Chevrolet Caprice 5.7L | 21.47 | 139 |
| 1996 Chevrolet Caprice 4.3L | 32.00 | 120 |
| 1996 Chevrolet Lumina 3.1L | 32.19 | 122 |
| 1996 Jeep Cherokee 4WD | 35.84 | 112 |
| 1996 Ford Crown Victoria 4.6L | 25.18 | 135 |
| 1996 Ford Crown Victoria 4.6L CNG | 37.59 | 107 |
| 1996 Ford Explorer 4.0L 4WD | 49.23 | 106 |
| – | | |
| 1995 Chevrolet Camaro 5.7L Automatic | 16.48 | 155 |
| 1995 Chevrolet Camaro 5.7L 6-Speed Manual | 16.46 | 152 |
| 1995 Chevrolet Caprice 5.7L | 22.43 | 135 |
| 1995 Chevrolet Caprice 4.3L | 33.12 | 120 |
| 1995 Chevrolet Caprice Station Wagon 5.7L | 25.36 | 129 |
| 1995 Chevrolet Lumina 3.1L | 34.04 | 118 |
| 1995 Jeep Cherokee 4WD 4.0L | 36.97 | 111 |
| 1995 Ford Crown Victoria 4.6L | 26.71 | 132 |
| 1995 Ford Taurus 3.8L | 33.58 | 128 |
| – | | |
| 1992 Ford Crown Victoria 4.6L | N/A | 124 |
| – | | |
| 1990 Chevrolet Caprice 350 TBI | 29.71 | 122 |
| 1990 Chevrolet Caprice 305 TBI | 42.60 | 113 |
| 1990 Chevrolet Caprice 262 | 53.09 | 110 |
| 1990 Ford Crown Victoria 351W | 34.02 | 121 |
| 1990 Ford Taurus 232 | 34.00 | 114 |
| – | | |
| 1989 Chevrolet Caprice 350 TBI | 29.35 | 122 |
| 1989 Chevrolet Caprice 305 TBI | 42.88 | 114 |
| 1989 Chevrolet Caprice 262 | 58.16 | 109 |
| 1989 Dodge Diplomat 318 4BBL | 38.95 | 119 |
| 1989 Dodge Diplomat 318 2BBL | 55.58 | 113 |
| 1989 Plymouth Grand Fury 318 4BBL | 38.02 | 120 |
| 1989 Plymouth Grand Fury 318 2BBL | 58.13 | 111 |
| 1989 Ford Crown Victoria 351W | 36.55 | 119 |
| 1989 Ford Mustang 5.0L SSP | N/A | 137 |
| – | | |
| 1988 Ford Mustang 5.0L SSP | N/A | 135 |
| – | | |
| 1987 Ford Mustang 5.0L SSP | N/A | 139 |
| – | | |
| 1981 Buick LeSabre 252 | N/A | 97 |
| 1981 Chevrolet Impala 350 | 39.98 | 113 |
| 1981 Chevrolet Malibu 350 | 40.27 | 111 |
| 1981 Chrysler LeBaron 318 | 45.24 | 114 |
| 1981 Chrysler LeBaron 225 | N/A | 92 |
| 1981 Dodge St.Regis 318 | 45.72 | 114 |
| 1981 Dodge Diplomat 318 | 42.71 | 116 |
| 1981 Plymouth Gran Fury 318 | 42.22 | 115 |
| 1981 Ford LTD 351 | 42.16 | 116 |
| 1981 Ford Fairmont 255 | 1:05.79 | 106 |
| 1981 Ford Fairmont 200 | N/A | 92 |
| – | | |
| 1978 Buick LeSabre 350 | 46.40 | 110 |
| 1978 Chevrolet Impala 350 | 33.70 | 115 |
| 1978 Plymouth Catalina 400 | 34.60 | 110 |
| 1978 Dodge Monaco 400 | 34.40 | 117 |
| 1978 Plymouth Fury 440 | 24.80 | 132 |
| 1978 Ford LTD II 400 | 41.00 | 115 |
| – | | |
| 1969 Dodge Polara Pursuit 440 Magnum | 18.10 | 149 |