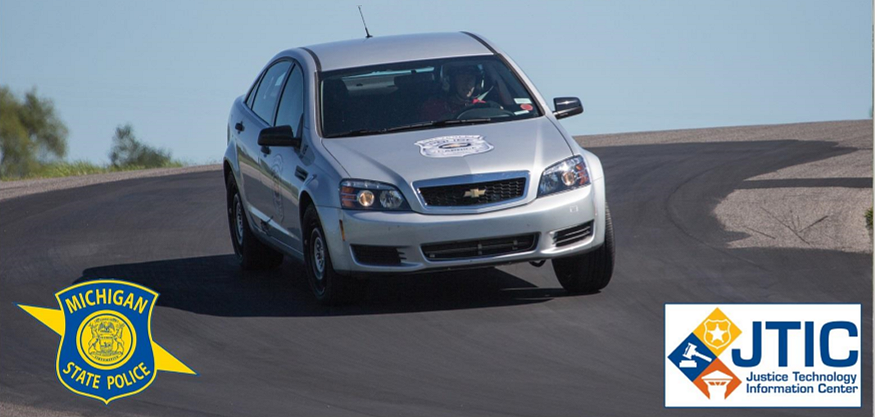 The Michigan State Police (MSP) began testing patrol cars in the 1950s. At that time, quotations were requested from manufacturers and only the vehicle with the lowest quotation was tested to see if it met our purchasing requirements. Years later, the quotations received from manufacturers were only four dollars apart. At that point, the MSP decided to test all vehicles in order to select the best vehicle. The equipment used to measure speed and distance has evolved from tape measure to global positioning systems providing more accurate measurements, making the MSP vehicle testing an internationally recognized resource for law enforcement agencies.
If you want to know the vehicles measurements, acceleration, top speed, braking, and MPG ratings, these are the reports to read.
If you just want to know what their top speeds are, check out Police Vehicle Acceleration & Top Speed Ratings.
Yearly Reports:
Michigan State Police 2020 Police Vehicle Evaluations
Michigan State Police 2019 Police Vehicle Evaluations
Michigan State Police 2018 Police Vehicle Evaluations
Michigan State Police 2017 Police Vehicle Evaluations
Michigan State Police 2016 Police Vehicle Evaluations
Michigan State Police 2015 Police Vehicle Evaluations
Michigan State Police 2014 Police Vehicle Evaluations
Michigan State Police 2013 Police Vehicle Evaluations
Michigan State Police 2012 Police Vehicle Evaluations
Michigan State Police 2011 Police Vehicle Evaluations
Michigan State Police 2010 Police Vehicle Evaluations
Michigan State Police 2009 Police Vehicle Evaluations
Michigan State Police 2008 Police Vehicle Evaluations
Michigan State Police 2007 Police Vehicle Evaluations
Michigan State Police 2006 Police Vehicle Evaluations
Michigan State Police 2005 Police Vehicle Evaluations
Michigan State Police 2004 Police Vehicle Evaluations
Michigan State Police 2003 Police Vehicle Evaluations
Michigan State Police 2002 Police Vehicle Evaluations
Michigan State Police 2001 Police Vehicle Evaluations
Michigan State Police 2000 Police Vehicle Evaluations
Michigan State Police 1999 Police Vehicle Evaluations
Michigan State Police 1998 Police Vehicle Evaluations
Michigan State Police 1997 Police Vehicle Evaluations
Michigan State Police 1996 Police Vehicle Evaluations
Michigan State Police 1995 Police Vehicle Evaluations
Michigan State Police 1990 Police Vehicle Evaluations
Michigan State Police 1989 Police Vehicle Evaluations
Michigan State Police 1987 Police Vehicle Evaluations
Michigan State Police 1983 Police Vehicle Evaluations
Michigan State Police 1982 Police Vehicle Evaluations
Michigan State Police 1981 Police Vehicle Evaluations
Michigan State Police 1978 Police Vehicle Evaluations
1987-1989 Ford Mustang SSP Performance Evaluations