The FBI Buick Grand National – Fact Or Urban Legend?:
I remember hearing a story (back at the end of the 1980's) about how the FBI had Buick Grand Nationals (GN). I had actually read about it in a magazine. The FBI GN has gone on to become an urban legend with no real proof to substantiate if the car ever actually existed.
According to stories told about the FBI Grand National, GM Racing Program Manager Ray Smith was part of Buick Special Products Engineering which was responsible for total development of all Buick Specialty Vehicles, including: Grand National Regal, the 1981 and 1983 Indy pace cars, the Buick Wildcat in 1986, and (80) special Turbo Regals for the FBI.
Around 1986/1987, they were contacted by the FBI who were tired of losing the bad guys in car chases. Buick reportedly took the speed chip out of the Grand National to allow it to run in excess of 140 MPH.
What makes the story interesting is that someone reportedly purchased one of these new FBI GN's from a dealership in Missouri. Buddy Mitchell was at Phil Beck Motors Inc in Troy Missouri and purchased a new 1987 Buick Grand National. This GN was a bitter different than most though and had a 145 MPH speedometer and a white pinstripe. The vehicle supposedly had a number (GN/132) on the decklid (trunk) in white vinyl suggesting that it was some sort of fleet vehicle. Buddy began making phone calls to see what he could find out about the car and was told that the FBI "may have" ordered some GN's from buick and didn't pick them all up. Those not purchased by the FBI found their way to dealers that then sold the cars.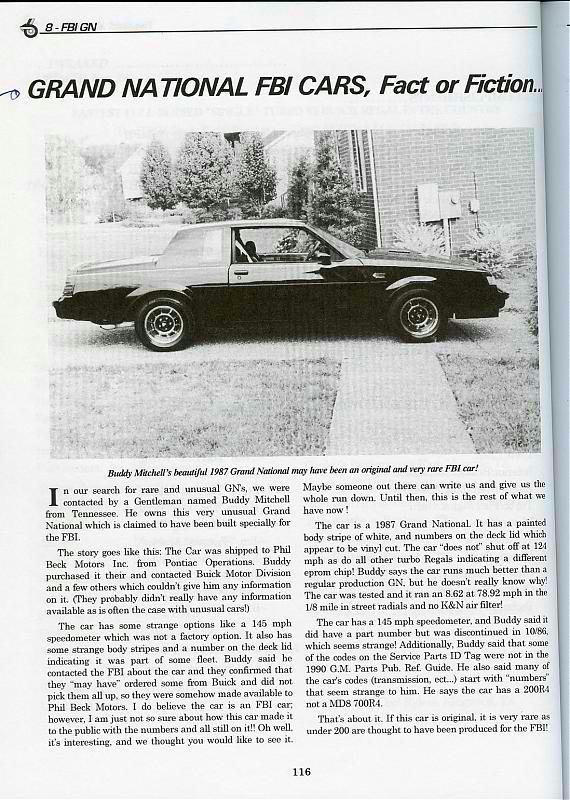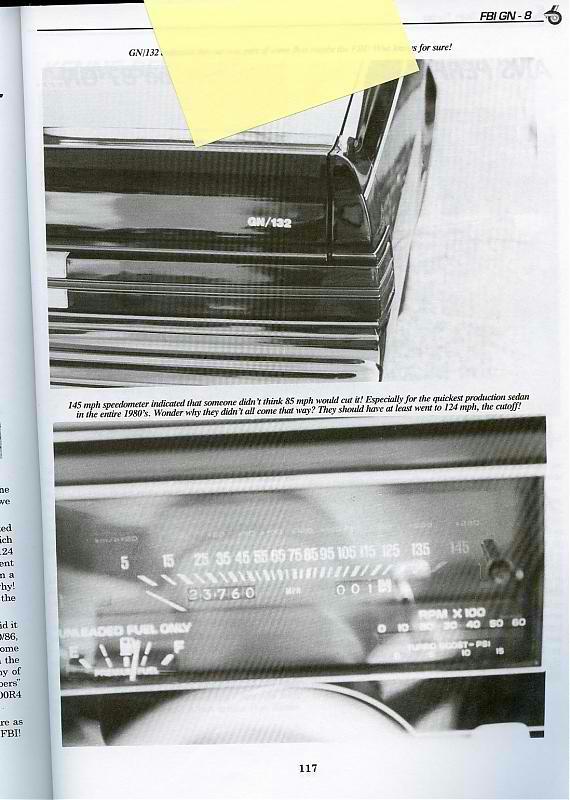 Supposedly a Buick dealer outside of Washington DC received (22) Grand Nationals that were leased to the FBI for a year. These GN's had a Buick Stage 1 chip that removed the electronic governor and allowed the cars to reach higher speeds. The dealerships employees took the cars to a lot in the D.C. metro area and dropped them off to eventually be picked up by the FBI
According to the book by Dennis Kirban titled "Kirban's Guide to 1986 and 1987 Buick Turbo Regals" it states on page 271 that it is hard to prove that some were built for government agencies since they were titled by major car rental companies back then so they couldn't be traced back to a government agency. On page 272 it states Roy Cavan who was a FBI agent recalls his division in Cleveland, Ohio taking delivery of two 1986 Regal T-types in June 1986. The one he was assigned was deep metallic blue with matching blue interior. What made it unusual was it had a column shifter, bench seats and crank windows. There was a shotgun rack mounted in the ceiling just behind the front seats. Mr, Cavan's understanding is that during 1986-1987 the FBI took delivery of approximately 80 Turbo Regals in various colors. His assigned Regal stayed in service until fall 1988 when it had about 125,000 miles on it. It was sold soon after at a GSA auction for under $3,000. On page 274 Mr. Kirban recollects seeing one of the ex-FBI Turbo-T's – this one was an 1987 painted dark brown metallic with tan cloth interior. In the headliner was some sort of special sewn-in compartment for concealing a weapon.
Buick T-Types:
The legend doesn't just specify the Buick Grand National. The FBI supposedly had Buick Regal T-Types also. A mechanic in Cedar Rapids Iowa claims to have a gold/tan 1986 Buick T-Type that was used by the FBI in San Francisco. The vehicle was damaged in a wreck while in pursuit across the Golden Gate bridge and was sold at auction. It was purchased by an FBI agent who took it to Iowa when he moved in the 1990's. The car was eventually sold to the Iowa mechanic in 2001. The car has no history prior to 1999. The car came with a bench seat, column shifter, and AM radio. It had cross-bracing that was been added behind the rear seat to stiffen the car.
The Wrecked FBI Regal T-Type:
There was a story about a FBI Buick Regal T-Type in California that was involved in a crash on the Golden Gate Bridge, and then sold at auction. The car was allegedly purchased at auction by an FBI agent that was eventually transferred to Iowa, where the agent sold the car to a Cedar Rapids mechanic.
Click HERE to read the story about it.
FBI or DEA?:
These cars have been rumored to have been purchased by the DEA as well. Supposedly the DEA was using them to chase drug dealers between Miami and New York.
Buick Regal T-Types And The Connecticut State Police:
Fact – The Connecticut State Police (CSP) used 1987 Buick Regal T-types (turbo) and Brand Nationals to help catch "professional speeders". CSP was said to have leased (24) of these cars. The cars had a different chip so the top speed would not be limited to 124 mph.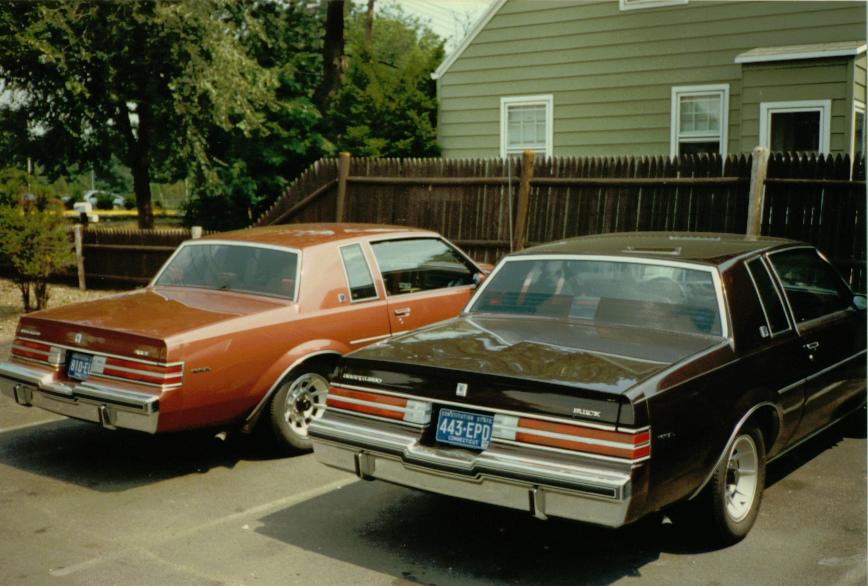 (Connecticut State Police Buick Regal T-Types. Look closely and you'll see lights in the corners of the rear windows)
These cars had the chrome package and a total of (4) options:
Remote passenger side mirror
Rear window defroster
Tilt steering wheel
Soft ray tinted glass
They also had radio delete and aluminum bumper supports.
Connecticut had some Grand Nationals as well as seen in the poster below. One was spotted patrolling I-91 in Enfield.
Connecticut is said to have purchased GN's from dealers as far away as Ohio.

(Connecticut DUI poster. Note the SSP Mustang and Buick Grand National)
Jefferson County Police, Kentucky:
Jefferson County Police – Louisville, Ky. was said to have used a few of these as unmarked cars for highway work. Jefferson County Police is no longer as the city and county merged years ago, and is now Metro Louisville Police Department (LMPD).
I Grand National owned/used by the Forest Hills Police Chief was located in Ohio. Click HERE for more information.
D.A.R.E Cars:
And of course, there's always the unique DARE cars that police agencies have.