Lightbar Collector
Forum Administrator
Retired Law Officer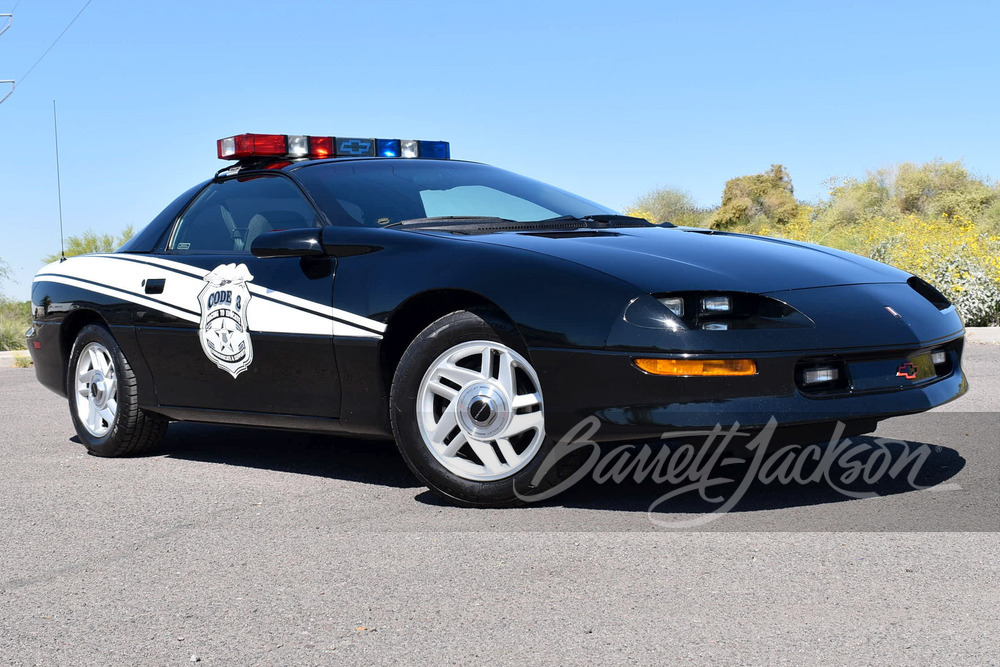 ​
I found this 1995 B4C Chevy Camaro that sold last year (2021) at Barrett Jackson for $13,750.
The Chevrolet Camaro B4C is a Chevrolet Camaro equipped with a "Special Service" police package, also known as B4C Special Equipment Options (SEO) code. The package was offered on the Camaro between 1991 and 2002.
The B4C package has heavier-duty (HD) features over a non-police vehicle as well as some options specific to the installation of police equipment. HD features include:
Oversized front and rear sway bars
High-output alternator
Larger (in years after 1991) four-wheel disc brakes
Separate engine, power steering and transmission oil coolers
Certified 145 MPH speedometer
Most of the heavier duty option parts come from a combination of parts from both the regular Z28 and the racing and handling package of the special 1LE option list.
The B4C Camaro's did not come with Z28 badges.
The B4C's were not typically sold to the general public, but in 2002, the B4C was made officially available to the general public so that the GMMG ZL1 Camaro could be built.
The 1LE Performance Handling Package was offered until 1999. The 1LE's were basically built for road racing, stripped of the creature comforts, such as air-conditioning, stereo systems, power leather seats, automatic door locks, power trunk, cruise control, fog lamps and T-tops.
Along with different coil springs, shocks and bushings, third generation cars came with bigger brakes, manual transmissions, and an aluminum drive shaft.
Fourth generations came with a 6-speed manual transmission, aluminum drive shafts, Koni DA shocks, larger bushings, stiffer control arms, bigger sway bars, and a stiffer transmission mount.
According to Barrett Jackson:
"Lot #375 - This 1995 Chevrolet Camaro is a 47,958-actual-mile, one-owner car that has never been put into police service. It was used as a promotional vehicle for an emergency responder training school and has spent most of its life in sunny California. The car is equipped with a factory-ordered Special Service Package, including a 5.7-liter V8 engine paired with a 4-speed automatic transmission and a 3.23:1 limited-slip differential. Additional features include a roof-mounted light bar, an oil cooler, 16-inch aluminum wheels, and a factory Delco-Bose sound system. The car was equipped with the Ride & Handling Suspension package from the factory as well as 4-wheel disc brakes, which have been fitted with aftermarket line lock. **SOME STATES ISSUE "MILEAGE EXEMPT" TITLES AFTER 10 YEARS - THIS CONSIGNOR REPRESENTS AND THE CURRENT TITLE REFLECTS "ACTUAL MILEAGE"**