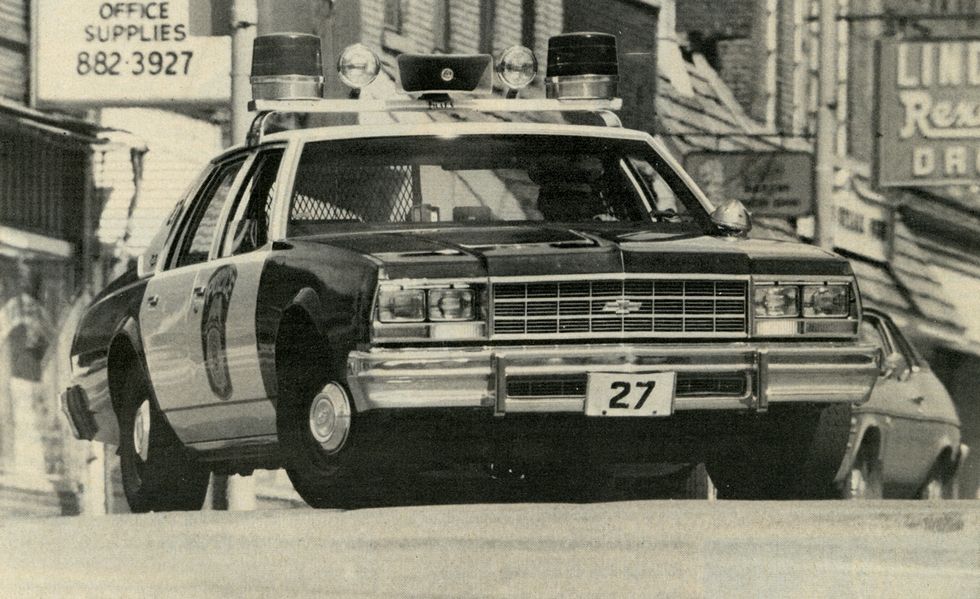 From the July 1978 Issue of Car and Driver
You may have noticed that the police car prowling these pages looks suspiciously like the genuine article. It is. Driving a real live police car is the best way we've found for getting to know the enemy. After all, we're as curious as you about what trick weapons Smokey is packing these days. And if history is any indicator, Smokey's den will be the place to find the very best big sedans America can build.
Police cars are the true American sports sedans, cars in which engineering has clearly been given precedence over aesthet­ic considerations. For once, function counts for more than form. A patrol car's mission in life is clear: to provide maxi­mum levels of speed, road holding, han­dling, braking, and driver comfort—all in the most durable, reliable, and cheap-to-run package possible. That sounds like something every enthusiast would hope to call his own—never mind his temptation to write them all off as glorified taxicabs ev­ery time one looms in his mirrors, lights blazing to notify him of some misdeed. And even if they didn't have exceptional performance, police cars would probably still be more desirable than ordinary cars—just because they always have been, and still are, forbidden fruit.
Which brings us to the car pictured here, the Chevrolet Impala SEO 9C1. It is not verboten. You can buy it—or its com­pact stablemate, the Nova police car—through your regular civilian Chevy deal­er. Dodge, too, has a pair of over-the-coun­ter police cars, the Monaco/Fury and the compact Aspen/Volaré. But those four ba­sic cars are your only choices. And since the Impala is the newest of the group, and logically the most advanced, it seemed an obvious candidate for a test.
With Chevrolet acting as an intermedi­ary, we reached an agreement with the Syl­vania, Ohio, police department to test one of its Impala cruisers. Imagine that: heavy-footed car testers from the East set loose with a police car in Ohio—a state infa­mous for its heavy-handed treatment of speeders, where only last April highway patrolmen were put on overtime to better enforce the 55-mph limit. A police car in Ohio: for once a top-speed run with no fear of tickets.
We were greeted at the Sylvania police station by no less than the mayor, the po­lice chief, a city councilman, the police safety coordinator, and three Chevrolet en­gineers. As it turned out, the Sylvania po­lice were a pretty affable bunch of guys. They generally agree that the 55-mph limit is a counterproductive farce, and so they leave the citation writing on their three and a half miles of Interstate up to the state highway patrol. The Sylvania police confine themselves to checking speeders in high-danger zones like schools and shop­ping areas.
They bent over backward to work with us. Not only did they pull a cruiser out of service for a day just for us, but they were happy to help us get any pictures we need­ed. And sure, we could put our fifth wheel on and test the car right there on the pub­lic roads. "There's only one restriction," City Councilman Dick Hagerty informed us, "You can't exceed 60 mph." We had hoped to push the Impala to the limit, but this was not the limit we had in mind.
The cruiser, a 1977 Impala—which is identical to the 1978 and 1979 models—was waiting in the department parking lot. One quick look at car number 27 erased any doubt as to its purpose. White body with black hood, deck, and fenders, and enough lights on the roof to char-broil New Jersey. If that wasn't enough, peeking ominously up over the dash was the muz­zle of a loaded twelve-gauge Winchester pump shotgun, the sight of which would be enough to make you give up a life of sin.
The interior was a cross between a radio store and a detention cage. Acres of smooth heavy-duty vinyl covered the seats ("It's easier to slide 'em in the back on this slippery stuff," we were told). A certified 120-mph speedometer replaced the stan­dard unit. A radio stand sprouted from the transmission tunnel, supporting the GE police radio, the state-wide LEERN police radio, and speakers for both. A combination roll bar and protective cage was bolted in to keep the prisoners safely contained, and deactivated rear door handles and window cranks made sure they couldn't jump ship. All this equipment adds about 300 pounds and $2500 to the basic 9C1.
Specifications:
Price as tested: $7,955
Engine type: V-8, water-cooled, cast-iron block and heads
Displacement: 350 cu in, 5730cc
Power: 170 hp @ 3800 rpm
Torque: 270 lb-ft @ 2400 rpm
Transmission: 3-speed automatic
Dimensions:
Wheelbase: 116.0 in
Length: 212.1 in
Width: 76.0 in
Height: 56.0 in
C/D Test Results:
Zero to 60 mph: 9.6 sec
Braking, 70-0 mph: 166 ft
Resource: